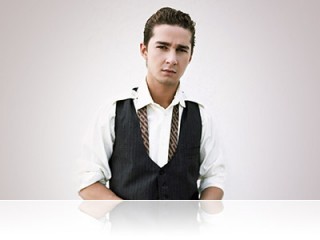 Shia LaBeouf
Date of birth : 1986-06-11
Date of death : -
Birthplace : Los Angeles, California, U.S.
Nationality : American
Category : Arts and Entertainment
Last modified : 2010-05-28
Shia LaBeouf born June 11, 1986 in Los Angeles, California is an American actor, voice actor and comedian. In recent years, Shia LaBeouf has emerged as one of the leading young actors working today. Raised in the Los Angeles neighborhood of Echo Park, he started performing in a street act with his parents when he was a toddler. His father Jeffrey was a professional clown and a Vietnam veteran, and his mother Shayna had been a dancer.

LaBeouf did not have much money growing up, and the family's financial situation worsened after his father developed a substance abuse problem and left the family for a time. Tired of struggling, LaBeouf met a child actor who received a nice payday from doing a guest spot on a television series. He was then inspired to get into the entertainment industry as a way of improving his situation.

Around the age of 10, LaBeouf started doing stand-up at a Pasadena comedy club. His routine involved some profanity as well as some jokes that made light of his personal hardships. The next year, LaBeouf decided to get an agent. He found one through the phone book.

By 14, LaBeouf had a featured role on a popular children's comedy series on the Disney Channel. He appeared as Louis Stevens, a junior high school class clown, on Even Stevens, a family comedy that followed the adventures of Louis and his older sister Ren (Christy Carlson Romano). The rest of the family included their older brother Donnie (Nick Spano), their mother Eileen (Donna Pescow), and their father Steve (Tom Virtue). In 2003, LaBeouf won a Daytime Emmy Award for Outstanding Performer in a Children's Series for his work on the show.

That same year, LaBeouf had his first taste of big screen success with the film adaptation of Louis Sachar novel Holes. He played Stanley Yelnats, a teenage boy who gets wrongly convicted of theft and sent to a juvenile work camp. Jon Voight, Sigourney Weaver, and Tim Blake Nelson played the authorities at the oddly named facility Camp Green Lake since there was no lake and no greenery. For some mysterious reason, the youthful offenders were forced to dig holes in the surrounding desert. The film proved popular with critics as well as young audiences.

Around the same time, LaBeouf had the lead role in the coming-of-age drama, The Battle of Shaker Heights (2003). He also had a small part in Charlie's Angels: Full Throttle (2003). Continuing his career in film, LaBeouf landed several supporting roles. He appeared in the sci-fi action drama I, Robot (2004) with Will Smith. The next year, he played Chas, a sidekick to Keanu Reeves's demon hunter in Constantine (2005).

Taking on a different type of project, LaBeouf had a leading role in the historic sports drama The Greatest Game Ever Played (2005). He played a young golfer who beat his hero at the U.S. Open in 1913. While filming the movie, LaBeouf became romantically involved with one of the producer's daughters, China Brezner. The couple broke up in 2007.

In A Guide to Recognizing Your Saints (2006), LaBeouf played a younger version of Dito (Robert Downey Jr.). The independent film followed Dito's difficult teen years in Queens during the mid-1980s, his escape, and his later return to be with his father (Chazz Palminteri).

In 2007, LaBeouf was named "Star of Tomorrow" at the ShoWest convention, an annual event for the National Association of Theatre Owners. A very appropriate award for a young actor who starred in two box office hits that year. LaBeouf first played a troubled teen who gets put under house arrest after assaulting one of his teachers in Disturbia (2007). Inspired in part by Alfred Hitchcock's Rear Window, the film shows how his character becomes a voyeur and encounters all sorts of trouble from watching his neighbors.

LaBeouf also starred in a huge summer blockbuster Transformers (2007), which was an adaptation of the popular children's animated series. In the film, two different groups of shape-shifting robots—the benevolent Autobots and the evil Decepticons—battle it out with humans caught in the middle. LaBeouf played Sam Witwicky, a young man who discovers that his car is actually an Autobot and becomes involved in the robotic conflict. One of the summer's biggest movies, it took in more than $300 million.

Usually coming across as level-headed in interviews, LaBeouf did something that seemed out of character in November 2007. He was arrested for trespassing after he refused to leave a Chicago drug store. The charges were later dropped.

The next big role for LaBeouf was working with Harrison Ford on the latest installment of the Indiana Jones saga. He told Entertainment Weekly about working on the legendary film series created by Steven Spielberg and George Lucas: "I think my favorite moment was when Harrison flew in and jumped out of his helicopter to come to rehearsal with his whip in his hand."

In Indiana Jones and the Kingdom of the Crystal Skull (2008), LaBeouf plays Mutt Williams, a young man becomes involved in Indiana Jones's latest adventure. His next film is the thriller Eagle Eye (2008) with Michelle Monaghan, which is slated to be released in the fall of 2008.

LaBeouf reprised the role of Sam Witwicky in the 2009 sequel to Transformers, entitled Transformers: Revenge of the Fallen. Filming for the movie began in May 2008 and ended in late 2008. Due to LaBeouf's injury from his car accident, Michael Bay and screen writer Roberto Orci had to rewrite the script to protect LaBeouf's hand throughout filming. LaBeouf said production was only delayed two days after his accident because Bay made up for it by filming second unit scenes, and LaBeouf recovered a few weeks earlier than expected, allowing him to return to the set. Near the end of filming, LaBeouf injured his eye when he hit a prop; the injury required seven stitches. LaBeouf resumed filming two hours later. For his lead role in the film, LaBeouf was reportedly paid around $5 million. The film was a commercial success, making over $800 million worldwide, but received negative critical reviews. Joe Neumaier, of New York Daily News, felt the film showed LaBeouf "finally" proved that he's a "viable leading man".

LaBeouf played Jacob in the romantic comedy New York, I Love You, a collection of short stories about finding love in the five boroughs of New York and the sequel to Paris, je t'aime. The film premiered at the 2008 Toronto International Film Festival in September 2008 and was released in October 2009 to mixed reviews from critics. In June 2009, it was confirmed that LaBeouf had signed on to star as the lead role in the Oliver Stone directed film Wall Street: Money Never Sleeps; the film is the sequel to the Academy Award-winning film Wall Street. In the film, LaBeouf will play Jacob "Jake" Moore, an ambitious Wall Street trader who is in a relationship with Gordon Gekko's daughter, Winnie. The film is set to close the 2010 Cannes Film Festival in May 2010.Co-starring Michael Douglas and Carey Mulligan, the film is set to be theatrically released in September 2010.

LaBeouf has a tattoo reading "1986-2004" -- the years from his birth until he turned 18 -- on the inside of his right wrist. He told the Associated Press in a 2007 interview, "I feel like you forget a lot of your childhood so I put the timeline on my wrist. I just don't want to forget the childhood I did have."
View the full website biography of Shia LaBeouf.