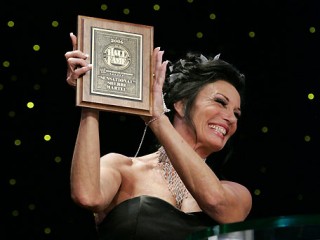 Sherri Martel
Date of birth : 1958-02-08
Date of death : 2007-06-15
Birthplace : Birmingham, Alabama, U.S.
Nationality : American
Category : Sports
Last modified : 2011-04-08
Sherri Schrull, born Sherri Russell was an American professional wrestler and manager, better known by her ring names, Sherri Martel and Sensational Sherri.

Martel began her professional wrestling career as a manager. She joined the American Wrestling Association (AWA) in the mid-1980s and held its AWA World Women's Championship three times. In the late 1980s, she joined the World Wrestling Federation (WWF), where she held the WWF Women's Championship. Also in the WWF, Martel continued to act as a manager to wrestlers such as Randy Savage, Ted DiBiase, and Shawn Michaels.

Sherri's first time in the national spotlight occurred in the AWA. In 1985, she won the Women's Championship from Candi Devine. She would lose and regain the title two more times from Candi Devine before vacating the title when she left the AWA to join the WWE. In addition to just wrestling, she managed "Playboy" Buddy Rose and "Pretty Boy" Doug Sommers to the AWA Tag Team Championship.

On July 24, 1987, Sherri won defeated the Fabulous Moolah to win the WWE Women's Championship. While champion, unknown to most fans, she donned a blonde wig and played the part of Peggy Sue, the valet of the Honky Tonk Man. She lost the Women's Championship on October 7, 1988, to Rockin' Robin. Not long afterwards, the WWE stopped featuring women's wrestling and Sherri was forced to find a new role in the company.

In 1989, Randy Savage parted ways with Miss Elizabeth and formed an alliance with "Sensational" Sherri. With her help, he became the "Macho King" and she was his Queen. For almost two years, she was a vital part of Randy Savage's feuds with Hulk Hogan, Brutus Beefcake, Dusty Rhodes, and the Ultimate Warrior. When Randy Savage lost a retirement match in 1991, Sherri was forced to find a new man to manage.

Her first job after leaving Randy Savage was with the "Million Dollar Man" Ted Dibiase. In 1992, she announced that she was in love with Shawn Michaels. Not only did was become his manager, she also sang his theme song, Sexy Boy. That winter, the tandem split up when Shawn threw her in front of a mirror that was meant to hit him. She left the WWE several months later.

Sherri entered WCW in 1994 and claimed she would manage the top star of WCW. During a match between Sting and Ric Flair, she came to the ring with her face painted in homage to Sting. However, this was a trick and she helped Ric Flair win the WCW Championship. Several months later, Flair lost a retirement match to Hulk Hogan which forced Sherrie to find a new job.

She found a new job quickly as the manager of Harlem Heat and was now known as Sister Sherri. She helped the team win the WCW Tag Team Championship on numerous occasions. One of the highlights of this era of her career was a feud with Col. Rob Parker. During a match, she hit her head and fell in love with the Colonel. They almost got married but the wedding was broken up by Madusa. Sherri left WCW in the summer of 1997.

For the next decade, Sherri made rare national TV appearances. She briefly rejoined WCW in 2000. In 2005, she appeared on SmackDown in the build-up to a WrestleMania battle between Shawn Michaels and Kurt Angle that ended with Kurt attacking her. In 2006, she was inducted into the WWE Hall of Fame. A few months later, in her final national TV appearance, she was on TNA:iMPACT! in a skit that was part of an angle where Robert Roode was looking for a manager.



View the full website biography of Sherri Martel.