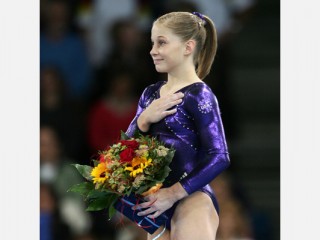 Shawn Johnson
Date of birth : 1992-01-19
Date of death : -
Birthplace : Des Moines, Iowa, U.S.
Nationality : American
Category : Sports
Last modified : 2010-07-06
Shawn Machel Johnson is an American artistic gymnast. She was the 2008 Olympic balance beam champion and all-around silver medalist, the 2007 all-around World Champion, and the 2007 and 2008 U.S. all-around champion. She also won the eighth season of Dancing with the Stars.

U.S. gymnast Shawn Johnson left the 2008 Beijing Summer Olympics with a handful of medals--three silver, one gold--and a heart filled with disappointment. After winning the 2007 all-around world title and dominating the event at nearly every competition thereafter, Johnson--a petite but explosive gymnast known for her potency and precision--was a favorite to win the coveted Olympic all-around gold. In the end, that gold went to her teammate and friend Nastia Liukin.

Heading into the final day of women's gymnastics competition, Johnson had three silver medals, but the gold remained elusive. The U.S. women's gymnastics team had taken second, giving her a silver. She earned another in the floor exercise finals and a third in the all-around. Luckily, Johnson had one more event, the individual balance beam competition. During her routine, Johnson tumbled atop the four-inch-wide elevated beam with unmatched passion and poise. Earning a score of 16.225, Johnson pulled off a gold-medal victory, besting Liukin, the reigning beam world champion, who scored 16.025. "I never felt so proud and so relieved," Johnson told Juliet Macur of the New York Times. "To finish off this whole Olympics by finally getting the gold medal, it's the best feeling in the world."

Johnson was born on January 19, 1992, in Des Moines, Iowa. She is the only child of Doug and Teri Johnson, teen sweethearts who met at the roller rink. Teri Johnson is a public schools accounting clerk, while Doug Johnson makes his living as a carpenter. Johnson displayed athletic prowess early on. As a baby, she bypassed crawling and went straight to walking at nine months. Before she was a year old, Johnson could climb out of her baby bed.

When Johnson was a toddler, her parents signed her up for ballet and tumbling, hoping to find a channel for her excessive energy. At six, they tried gymnastics after stumbling upon Chow's Gymnastics, a new facility that had just opened a few blocks from their home. The gym's owner, an immigrant named Liang Chow (or Qiao), had been a member of China's national men's team. He moved to the United States in 1991 to attend the University of Iowa and help coach its gymnastics team.

Speaking to the New York Times, Chow recalled his first encounter with a young and toothless Johnson, saying she showed no restraint and jumped right onto the uneven bars "like it was her home." Under Chow's guidance, Johnson flourished. His wife, Liwen Zhuang (Li), also worked with Johnson. Like Chow, Li had grown up a gymnast in China.

At eleven, Johnson began to stand out, winning the balance beam title at the USA Gymnastics Junior Olympics Western National Championships. Two years later, Chow decided it was time to reveal Johnson's talents to the world. Training and competing in Iowa, Johnson lived a relatively obscure existence. Chow changed that by sending a tape of Johnson's routines to the U.S. national team coordinator, who in turn invited Johnson to join a training session. In 2005, Johnson made the junior national team.

In 2006, Johnson competed at the U.S. Nationals, or Visa Championships, in the junior division, earning first places in the all-around, vault, balance beam, and floor exercise competitions. She placed second on the uneven bars. To honor her coaches, Johnson competed at Nationals with her name written on her leotard in Chinese. In 2007, Johnson placed first in the all-around at several competitions, including the Pan American Championships, the Tyson American Cup, and the World Championships.

Training with Chow allowed Johnson to maintain somewhat of a normal life. Chosen by state officials to become a gymnast, Chow left home at the age of ten to live and train at a special Chinese school that groomed future gymnasts. Having lost his childhood, Chow wanted Johnson to have a more normal life. Unlike most elite gymnasts who spend their days training and studying with tutors, Johnson has been able to attend public school. Chow had her train about 25 hours a week instead of the 40 typical of most top-notch gymnasts. Skipping study hall, physical education and lunch, Johnson was able to attend school and get to the gym by 2:30 every afternoon. Speaking to People's Nicole Weisensee Egan, Chow summed up his philosophy this way: "I tell them, 'Education is number one. Gymnastics is number two.'"

Johnson shined at the Olympic trials in June of 2008 and easily made the team. She was favored for the all-around gold. In the run-up to the Olympics, newspapers around the globe compared Johnson to Mary Lou Retton. Retton won the all-around gold at the 1984 Olympics, becoming the first gymnast from outside Eastern Europe to capture the all-around title. Retton was gunning for her to win. "She's got the whole package," Retton told People. "She's powerful. She's graceful. She's fun to watch."

With the explosive 4-foot-9, 90-pound Johnson in the lineup, the United States was favored to win the team competition. China, however, took gold following some missteps by U.S. team captain Alicia Sacramone. Having lost out on that gold, Johnson was hopeful when the all-around began. After the first rotation of that competition, which began with the vault, Johnson stood in the lead but fell to fifth place after the uneven bars. Next came the balance beam and with a solid performance, Johnson stood in third place with 47.20 points going into the final rotation--the floor exercise.

Liukin had 47.80 points and Chinese gymnast Yang Yilin had 47.65. The scores were so close, all three stood in contention for the gold. It all came down to the floor competition. Liukin nailed the performance of a lifetime. Confident, athletic and artistic in her execution, Liukin notched a 15.525. Johnson figured she could not beat it. With pressure for the gold off her chest, Johnson was able to relax and focus on her routine. "I'd felt pressure and nerves the whole meet, and at that point it was just about the gymnastics," she told Sports Illustrated's E. M. Swift. "I just wanted to show everyone I left it all out there and that I'd never give up, no matter what." Johnson received a 15.525, the same as Liukin and enough to surpass Yang for the silver by .075 of a point. With Liukin capturing gold and Johnson taking silver, it was the first time in Olympic history the United States had a one-two finish in the event. Finally, on the last day of competition, Johnson got her gold with a stellar performance on the balance beam.

As for the future, Johnson has kept everyone guessing. "It's hard to think about four more years," Johnson told the Los Angeles Times's Diane Pucin. "After not winning the all-around, it hit me pretty hard, not that I got the silver, but just all my emotions came out. I was training to win gold. I'm just proud of myself that I kept my head up."

AWARDS

First place, balance beam, USA Gymnastics Junior Olympics Western National Championships, 2003; first place, all-around, vault, balance beam, and floor exercise, second place, uneven bars, VISA National Championships (junior division), St. Paul, MN, 2006; first place, all-around, balance beam, second place, vault, United States vs. Great Britain International Competition, Lisburn, Ireland, 2007; first place, all-around, balance beam, and uneven bars, second place, floor exercise, Pan American Championships, 2007; first place, all-around, Tyson American Cup, Jacksonville, FL, 2007; first place, all-around, balance beam, and floor exercise, third place, uneven bars, Visa National Championships, San Jose, CA, 2007; first place, all-around and floor exercise, World Championships, Stuttgart, Germany, 2007; first place, floor exercise, balance beam, and vault, second place, all-around and uneven bars, American Cup, New York, NY, 2008; first place, all-around, Italy-Spain-Poland-USA Competition, Jesolo, Italy, 2008; silver medals, team competition, all-around, and vault, Olympics, Beijing, China, 2008; gold medal, balance beam, Olympics, Beijing, China, 2008.

CAREER

Began gymnastics at the age of six; earned a spot on the junior national gymnastics team, 2005; made U.S. Olympic gymnastics team, 2008.

On June 3, 2012, Johnson ended her comeback for the 2012 Olympic team and retired because of her constant problems regarding her left knee.

View the full website biography of Shawn Johnson.