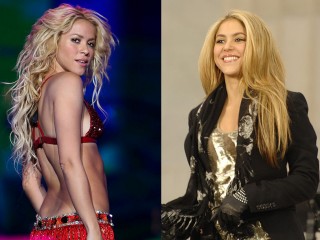 Shakira
Date of birth : 1977-02-02
Date of death : -
Birthplace : Barranquilla, Colombia
Nationality : Colombian
Category : Arts and Entertainment
Last modified : 2011-02-02
Shakira, born Shakira Isabel Mebarak Ripoll is a Colombian singer, songwriter, musician, record producer, dancer, and philanthropist who emerged in the music scene of Colombia and Latin America in the early 1990s

The talented Latin pop singer Shakira was born in Barranquilla, Colombia, on February 2, 1977. Being the youngest daughter in the family, she inherits an exotic look with the mixture of Lebanese-Colombian blood from her parents, William Mebarak Chadid and Nidia del Carmen Ripoll Torrado. At her early age, she listened to the music of her parents' culture as well as English-language songs, preferably those came from Nirvana, Led Zeppelin, The Police, and The Cure. "I was so in love with that rock sound" she said, "But at the same time because my father is of Lebanese descent, I am devoted to Arabic tastes and sounds. Somehow I am fusion of all of those passions and my music is a fusion of elements that I can make coexist in the same place in one song." Shakira began writing her own song when she was merely 8 years old, then at age 10 went to compete in either local or national talent contests in which she always won. Within the year of 1990, this 13-years-old girl, whose name in Arabic means "woman full of grace," moved to Bogota, hoping to establish a career in modeling. Instead of becoming a model, her remarkable talent was noticed by Miguel E. Cubillos and Pablo Tedeschi of Sony Colombia which later offered her to sign a record deal with. In the following year, she released her first album entitled "Magia" (Magic) which was quite successful. It contained the songs she had written on her own between the age of 8 and 13. The second album, "Peligro" (Danger), came to public in 1993 and had the same response with the previous one. Being a perfectionist, Shakira felt dissatisfied with the album's result, thus she turned her attention to acting in 1994, taking the role of Luisa Maria in the Colombian soap opera, "El Oasis."

Apparently, music has taken roots in Shakira's heart for she returned to the business by coming up with her third album, "Pies Descalzos" (Barefeet), in 1995. In this album, she composed her songs with more rock and roll rhythms blended with the Arabic tinges. This particular album surprisingly became number one in eight different countries with its hit single "Esto Aqui" producing platinum in U.S. Focusing her thoughts on music, she finally left "El Oasis" in 1997. In order to develop her career as a singer, Shakira decided to take Emilio Estefan, Jr as her manager and producer. This alliance with Gloria Estefan's husband proved a brilliant movement since her next album, "D ónde Están los Ladrones?" (Where Are the Thieves?) became a phenomenal album when it was launched in 1998, even outnumbered its predecessor. With the hit single "Ojos Asi," this album reached number one spot on U.S Billboard's Latin Chart for 11 weeks and was sold over 4 millions copies, making Multi Platinum in America and Platinum in Spain. As a result of the album's success, Shakira rapidly became a well-known singer worldwide and has been noticed for her uniqueness in involving belly dancing and Arabic rhythms which unbelievably match with her athletic yet intense performance. In the same year, she received World Music Awards as Latin Female Artist of The Year, which led her to be one of the top Latin artists in the end of 90's era. Following the success of the single "Ojos Asi," Gloria Estefan offered to translate the song into English. That was when Shakira realized that she had to master English to keep her control over her materials and be able to translate or write her songs by herself.

While starting to learn English, Shakira had a performance on MTV Channel's MTV Unplugged, which is the first Spanish language broadcast. In early 2000, she released "MTV Unplugged," a live version album of "D ónde Están los Ladrones?" which granted her a Grammy for Best Latin Pop Album and two Latin Grammy Awards as Best Female Pop Vocal for the song "Ojos Asi" and as Best Female Rock Vocal for "Octavo Dia." After getting improved with English, Shakira began working her goal to international market. By the year of 2002, "Laundry Service" was released with its remarkable singles, "Whenever, Wherever" and "Underneath Your Clothes." The album soon became one of the top albums of the year, being sold for over 10 million copies and subsequently went Triple Platinum no more than a year. Furthermore, the album has also led Shakira to achieve another Latin Grammy Awards and 5 MTV Video Music Awards of Latin America. Concerning the title of the album, the singer explained: "Now I am feeling unguarded, and it feels great. I feel washed clean of the way I looked at things in the past, which is why I am calling the album "Laundry Service." Afterwards, she went around the world to hold a tour called "The Tour of the Mongoose." The DVD version of the tour was launched on March 30, 2004, entitled "Grandes Exitos," together with a CD consisting of 10 songs taken from the same tour.

In 2005, Shakira, who is known as the spokesperson for Pepsi Cola, is preparing her latest Spanish album entitled "Fijaci ón Oral, Vol. 1" which will be launched on June 7, followed by her English album entitled "Oral Fixation, Vol. 2" released November of the same year. In these upcoming albums, she works with Luis Fernando Ochoa and Lester Mendez, both men being the co-producer and co-writer of her songs. Her latest Spanish single, "La Tortura" featuring Alejandro Sanz, has already been released and become number one hit on U.S Billboard's Hot Latin Track. What's more, Shakira also appeared in the popular entertainment show "Wetten, Dass..?" in Germany on May 15, performing "La Tortura" with Alejandro Sanz.

Shakira's talent is indeed unique, unusual and impressive, just as the Nobel Prize winning author, Gabriel Garcia Marquez has written about: "Shakira's music has a personal stamp that doesn't look like anyone else's and no one can sing or dance like her, at whatever age, with such an innocent sensuality, one that seems to be of her own invention." Beyond her activities in music, Shakira is also deeply involved in her Pies Descalzos Foundation, which is aimed to promote education and to provide basic needs among displaced children who suffer from the violence in Colombia, besides taking a role as a goodwill ambassador for UNICEF. As for her love life, she has been engaged for 5 years to Antonio de la Rua, who is known as the son of the former president of Argentina.

Entering the year of 2006, Shakira kicked off her music career with an achievement of a NRJ Music Award in the category of Best International Song for "La Tortura." Looking at this good starting point, the singer surely will pass the year with many other great attainments in music industry.

In 2000, she started dating Antonio de la Rúa, a romance that made headline news throughout Latin America. In March 2001, he proposed to her. There have been many rumors regarding the couple over the years. In response to such rumours, a Twitter update from Shakira on September 4, 2009 stated (translated from the Spanish): "We are neither married nor fighting [contrary to rumors]. We are very together and very good. 9 years!" In a 2009 interview, Shakira stated their relationship already worked as a married couple, and that "they don't need papers for that." In June 2010, Latin American media speculated that the couple had finally split up. Soon after, Shakira and Antonio were seen in a restaurant in New York City, denying the rumors one more time. Shakira's future mother-in-law Inés Pertiné claimed the wedding would take place in September 2010 in the mansion that Shakira owns in the Dominican Republic, but the wedding did not happen. She also said that Shakira has already ordered Argentine designer María Pryor to design her wedding dress. All this was denied by Shakira herself in Mexico.

Shakira - LaTortura feat Alejandro Sanz music video :



On January 10, 2011, Shakira announced on her website that after 11 years together, she and de la Rúa had separated in August 2010 after making "a mutual decision to take time apart from our romantic relationship." She wrote that the couple "view this period of separation as temporary and as a time of individual growth as we continue to be partners in our business and professional lives", with de la Rúa overseeing Shakira's "business and career interests as he has always done."

Shakira is interested in world history and frequently studies the history and languages of the countries she visits. After her Oral Fixation tour ended in summer 2007, Shakira attended a class in Los Angeles at UCLA, on the History of Western Civilization. She used her middle and last names, Isabel Mebarak, and told the professor she was visiting from Colombia so as to avoid being recognized as a celebrity.



View the full website biography of Shakira.