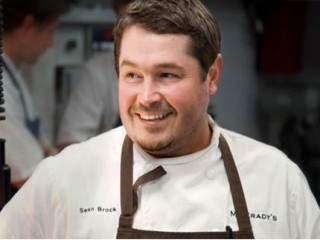 Sean Brock
Date of birth : -
Date of death : -
Birthplace : Charleston, North Carolina
Nationality : American
Category : Famous Figures
Last modified : 2012-07-15

Growing up, Sean Brock was part of a family that grew and harvested everything on its table. When his family wasn't cooking, it was preserving food for the future. Chef Brock has carried over this connection to ingredients at his Charleston, South Carolina, restaurants McCrady's and Husk, where he's known for his fresh, seasonal southern cooking.

Shortly after taking on the role of executive chef at McCrady's, Brock began developing a 2.5-acre farm on Wadmalaw Island, near Charleston. He planted his own crops and became interested in growing heirloom vegetables and fruits indigenous to the area prior to the Civil War that were at risk of extinction. His efforts led him to become an advocate for seed preservation and an enthusiastic student of southern food history. He has also raised his own herd of pigs.

In November 2010, Chef Brock opened his second restaurant with the Neighborhood Dining Group. Husk, just down the street from McCrady's, is a celebration of Southern ingredients, only serving food that is indigenous to the South. "If it ain't Southern, it ain't walkin' in the door," Brock says. The emphasis at Husk is on the ingredients and the people who grow them, and a large chalkboard lists artisanal products currently provisioning the kitchen. Working with local purveyors and vendors has had a great impact on Brock's cooking, and the menu changes twice daily based on what is the freshest that day. "Gone are the days of a chef sitting in the kitchen creating recipes and then picking up the phone to order food from wherever it needs to come from," he says. "At Husk, we might get three suckling pigs, three whole lambs, half a cow, and upwards of 450 pounds of fish, as well as mountains of vegetables. We only take it when it's ready, so it shows up and we have to start piecing the recipes together; it's like a puzzle every day."

Brock is also passionate about wood-fire cooking and a firm believer that "low and slow" imparts the most flavor—evident by his two smokers, barbecue pit and spit, and wood-burning oven at Husk, all fueled by an old fashioned burn barrel. At McCrady's, he cooks food in the dining room fireplaces, originally built for this purpose in the late 18th century. Because the main dining room was actually the kitchen in the 19th century, Brock believes cooking this way brings the historical building full circle. In the future, he sees his cuisine being geared more toward the fireplace–the smell and visual of a chef cooking on an open hearth changes the feel of the restaurant and inspires him a great deal.

Drawing from his early education, the chef also pickles, cans, and makes preserves from the produce that cannot be used immediately, saving it for a later date and for new creations. His favorite old southern preservation techniques include lactobacillus fermentation and making vinegar using his grandmother's 40 year old vinegar as the base. Brock pulls from his memory of ingredients and their flavor profiles to create the menus at McCrady's and Husk depending on what is delivered to the kitchen. It's a modern approach to cooking that comes from a pure appreciation of the food itself. The results are constantly changing offerings for diners that always surprise. "We emphasize the importance of the food from the Lowcountry region and constantly refine our cooking processes to best honor our relationships with the farmers, artisans and fishermen that provide us with their amazing products," he says.

Brock's abilities have resulted in a number of awards and accolades, both locally and nationally. He was nominated in 2008 and 2009 for the James Beard "Rising Star Chef" award and in 2009 and 2010 for the James Beard "Best Chef Southeast" category, winning the award in 2010. Most recently, he was nominated for the James Beard "Outstanding Chef" award for 2012. He wasthe winner of the Next Great Chef episode of the "Food Network Challenge" and appeared on "Iron Chef America" in December 2010, taking on Michael Symon in "Battle Pork Fat."

Bon Appétit magazine named Husk Best New Restaurant in America in September 2011. Later that year, Chef Brock joined an exclusive group of chefs from around the world in Japan to take part in the prestigious Cook It Raw.

When he does carve out free time, he's often at his home just outside of Charleston, which he shares with his two dogs and his wife, Tonya, to whom he proposed while cooking at the James Beard House. Chef Brock sports a full-sleeve tattoo on his arm depicting his favorite vegetables, including Jimmy Red Corn. He is soon to begin work on the other arm, planning a map of Southern food. He is working on a cookbook, due out in 2013.

View the full website biography of Sean Brock.