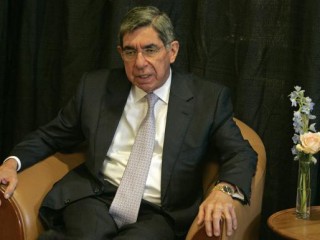 Óscar Arias Sánchez
Date of birth : 1941-09-13
Date of death : -
Birthplace : Heredia, Costa Rica
Nationality : Costa Rican
Category : Politics
Last modified : 2010-07-23
Óscar Rafael de Jesús Arias Sánchez , born September 13, 1941 in Heredia, Costa Rica is a Costa Rican politician who was President of Costa Rica from 2006 to 2010. He previously served as President from 1986 to 1990 and received the Nobel Peace Prize in 1987 for his efforts to end civil wars then raging in several other Central American countries.

"That's the test here in Central American--whether we can demonstrate to the world that rationality should prevail over war."

In February, 1987 President Oscar Arias Sanchez of Costa Rica met with the presidents of Guatemala, Honduras, and El Salvador to put forth his broad peace plan, which called for immediate cease-fires in the guerilla wars in Nicaragua, El Salvador, and Guatemala, plus the suspension of all outside military aid to rebel groups, a general amnesty, and negotiations between conflicting parties. These were to be followed by free elections and an eventual reduction in military forces. "If we arrive at an agreement," Arias said, "and Nicaragua does not fulfill the obligations, then it will put an end to this ambiguity which has permitted the Sandinistas to receive the support of both democratic and totalitarian governments." This plan was endorsed a month later by both the United States Senate and Nicaraguan President Daniel Ortega and, in August 1987, a similar plan was signed by all five Central American presidents. For his efforts to end the nine year old Contra war in Nicaragua and the guerilla wars in El Salvador and Guatemala, perhaps the most comprehensive and successful effort in recent years, Oscar Arias Sanchez was awarded the Nobel Peace Prize in 1987.

Arias Sanchez was born near the capital, San Jose. His parents were Juan Rafael Arias Trejos and the former Lilian Sanchez, and were one of the country's most prosperous coffee-growing families. They also had good political connections. Oscar received his early education in Costa Rica, then came to the United States, originally to study medicine. When he watched the Kennedy-Nixon debates on television in 1959, Arias Sanchez decided to make John Kennedy his role model, and even met him once in Massachusetts. Returning to Costa Rica, Arias Sanchez studied law and economics in San Jose. During the mid-1960s he was active in politics with the Partido de Liberacion Nacional party, helping to organize for the unsuccessful presidential campaign of Daniel Oduber. He then went to England to study economics and political science at the London School of Economics, and received his Ph.D from the University of Essex in 1969 for his study of the socioeconomic origins of Costa Rican political leadership.

Arias Sanchez returned to Costa Rica and took a professorship in political science at the University of Costa Rica from 1969-72. From 1970-77 he served on the board of directors of the Banco Central de Costa Rica. He also served from 1972 to 1977 as planning minister for Costa Rica, and is considered one of the finest such in that country's history, designing and implementing programs to stimulate economic growth and technological development, as well as the building of a cultural park in downtown San Jose. In February, 1978, Arias Sanchez was elected to the national Assembly, a position he resigned three years later to help with presidential campaign of Luis Monge.

In 1984 Arias Sanchez decided to seek the presidential nomination. It was a time of severe economic problems in Costa Rica, coupled with the pressure of having the Contras operating out of Costa Rican territory and having to provide for the 250,000 Nicaraguan refugees in the country. He ran on the slogan "roofs, jobs and peace," emphasizing himself as the "peace" candidate. In February, 1986 Arias Sanchez was elected. He said the people had "chosen bread" over guns. In his inaugural address he said: "We will keep Costa Rica out of the armed conflicts and political means to prevent Central American brothers from killing each other." As president Arias Sanchez has worked for more equal income distribution, for raising taxes on middle and upper income groups, for increasing health care, education, and housing. "What Costa Rica needs as much as anything", he said, "is improvement of its education.... We have to have technical vocational schools.... Perhaps most of all we need a substantial improvement in the quality of teachers."

Arias Sanchez has consistently worked for a negotiated settlement to the conflicts in Central America. Though Costa Rica is relatively stable, has no army, and is by Central American standards prosperous, despite its recent double digit inflation, there has been right-wing pressure from within Sanchez's own country to adopt a militant anti-Sandinista stance. He has resisted this pressure and has strongly opposed U.S. funding of the Contras. "The more you give to the Contras," he said, "the more Ortega gets from the Soviets." He has also been decisive in working against Contra activities inside Costa Rica. "We're going to throw them out no matter who they are if we catch them helping the Contras," he said.

In May 1986 Arias Sanchez met with the other four Central American presidents to discuss the then existing peace plan for the region, the Contadora plan. After that he began working on a plan to resolve key differences that still existed, and presented his own plan in February, 1987. "I told them [the Central American presidents]," he said, "that twenty-four million people in Central America want and deserve peace." He also believes in the region's ability to come to terms with its own problems. "I saw no reason why other nations should tell Central Americans how to solve their problems," he said. Arias Sanchez has also been outspoken in his opposition to the Reagan Administration's policy of supporting the Contras. "As long as Washington is convinced," he says, "that the only way to achieve democracy in Nicaragua is by military aid to the Contras, [it] will remain isolated [throughout] all Latin America." Though Costa Rica receives a large amount of economic aid from the United States, he has not let that sway his views. "I value nothing more than friendship ... [which] implies loyalty, but loyalty is not synonymous with servitude or unconditionality," he says. At a meeting at the White House with Reagan in which the U.S. President was trying to pressure him into supporting U.S. policy, Arias Sanchez told Reagan: "You think the Contras are part of the solution. I think they are part of the problem." At the same time Arias Sanchez is not a supporter of the Sandinistas. He told Nicaraguan President Daniel Ortega: "What you call democracy isn't democracy here or in any other part of the world."

When the Nobel Peace Prize was awarded to Arias Sanchez in October, 1987 it was seen as a blow to Reagan's Contra policy. The Costa Rican president said, "The prize is a catalyst. It's a stimulus so that we don't lapse in our efforts." Sensing new opportunities for peace in the region, he added: "There's a new mood in Central America now. I hope President Ortega will revise his position and accept dialogue."

Arias Sanchez married Margarita Peñon Góngora, a biochemist, in 1973, and the couple has two children. A highly erudite man, he has written several books and numerous articles. He has sought to find a peaceful solution, through dialogue and understanding, to the region's conflicts. Of his approach he says: "I learned to look at things from a different perspective than that of a superpower." Lasting peace, however, remains elusive. In February, 1989 an agreement between the five Central American presidents made plans for the final Contra removal from foreign territory. One signed August 7, 1989 sets plans to end the war in Nicaragua within 120 days, with the Contras to lay down their arms in exchange for free elections, scheduled for February, 1990. Whether or not this plan works as a final solution to the conflict, Arias Sanchez says he will work, as long as he is able, for a peaceful solution to the problems of Central America.
View the full website biography of Óscar Arias Sánchez .