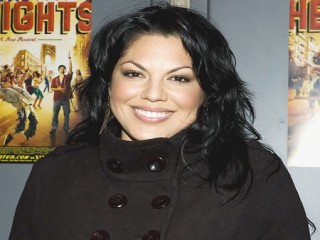 Sara Ramirez
Date of birth : 1975-08-31
Date of death : -
Birthplace : Mazatlán, Sinaloa, Mexico
Nationality : Mexican
Category : Arts and Entertainment
Last modified : 2011-03-31
Sara Ramírez is a Mexican-American actress and singer. She is known for her role as Callie Torres in Grey's Anatomy (2006–present) and as the original Lady of the Lake in the 2005 Broadway musical Spamalot, for which she won the Tony Award for Best Featured Actress in a Musical.

Talented beauty Sara Martinez was on stage playing the Lady of the Lake in the monster Broadway hit, "Spamalot," when she landed the plum role of her career, as orthopedic surgeon Dr. Callie Torres on the hit medical drama, "Grey's Anatomy" (ABC, 2004- ).

Born on Aug. 31, 1975 in Mazatlan, Mexico, Ramirez moved to the United States when her parents divorced in 1983. The daughter of an oceanographer father and an actress/singer mother, Ramirez grew up in San Diego, CA, where she enrolled in a school for the performing arts. After high school, Ramirez moved east to attend the prestigious Julliard School in New York. There, the young performer shined; first as an ingénue, then later, as an alto singer.

Ramirez made her debut on Broadway in Paul Simon's 1998 op-operatic spectacle, "The Capeman." A critical and financial dud, "The Capeman" took a severe beating in the press, but Ramirez was singled out for her work as Wahzinek, the sensitive girlfriend of Ruben Blades. In 1999, Ramirez followed up with another electrifying performance in the musical "The Gershwins' Fascinating Rhythm," a role which garnered her an Outer Circle Critics Award nomination. In the early millennium years, Ramirez continued earning raves for her work in such post-modern classics as "A Class Act" and 2001's "The Vagina Monologues."

Ramirez's crowning moment on stage, however, came in 2004 when she was cast as Lady of the Lake in the Tony Award-winning musical comedy, "Spamalot." Based on the comedic opus film, "Monty Python and the Holy Grail" (1975), "Spamalot" broke Broadway box office history with nearly $20 million in advance ticket sales. For her part, Ramirez's show-stopping turn as Lady in the Lake won her the 2005 Tony Award for Best Performance by a Featured Actress in a Musical.

A relative newcomer to film and television, Ramirez had a gone-in-a-blink cameo as a New York City police officer in 2002's smash film, "Spider-Man." In 2005, however, Ramirez continued to align herself with hits by landing a larger, recurring role on ABC's golden egg, "Grey's Anatomy" as the outgoing Dr. Calliope "Callie" Torres. After her initial six episodes, Ramirez's character proved so popular that her role was expanded significantly. By the start of the series' third season, Ramirez was promoted to series regular in 2006. In this third season, the character of Callie Torres rode a roller-coaster ride of ups and downs as her story was fleshed out. In addition to being forced to secretly live in the basement of the hospital where she worked, Torres embarked on an impulsive romance with her subordinate co-worker, bumbling intern George O'Malley (T.R. Knight). Equal parts vulnerable and pugnacious, Torres was often singled out from her female cast-members, not only for her on screen talents, but also as a "full figured" breath of fresh air, in a hospital filled with extremely svelte female interns.



View the full website biography of Sara Ramirez.