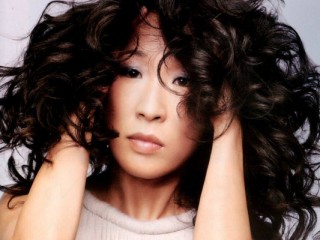 Sandra Oh
Date of birth : 1971-07-20
Date of death : -
Birthplace : Ottawa, Ontario, Canada
Nationality : Canadian
Category : Arts and Entertainment
Last modified : 2011-10-24
Sandra Oh is a Canadian actress. She is best known for the role of Dr. Cristina Yang on ABC's Grey's Anatomy, for which she has won a Golden Globe and Screen Actors Guild award. She also played notable roles in the feature films Under the Tuscan Sun and Sideways, and had a supporting role on the HBO original series Arli$$. Other films she has appeared in include The Night Listener, Blindness and Rabbit Hole.

Sandra became even more widely known in Canada for her lead performance in the Canadian film Double Happiness, for which she won the Genie Award for Best Actress. She then went on to star in the 1997 international feature hit film Bean playing the supporting role of Bernice, the art gallery P.R. manager. Her other Canadian films include Long Life, Happiness & Prosperity and Last Night, for which she again won a Best Actress Genie.

She is most familiar to American audiences from her roles in the films Under the Tuscan Sun and Sideways. She considers Sideways to be one of the two best movies she has made, along with Evelyn Lau.
In the less well-known Dancing at the Blue Iguana, she played a poetry-writing stripper, performed several nude dance routines and received the movie's best reviews. On American television, she is renowned for her current role in the hit ABC medical series Grey's Anatomy, for which she has won both a 2005 Golden Globe Award for Best Supporting Actress in a Series and a 2006 Screen Actors Guild Award for Outstanding Performance by a Female Actor in a Drama Series. In July 2009, she received her fifth consecutive Emmy nomination for her work on the series.

She received critical acclaim for her six seasons as Rita Wu on the HBO series Arli$$. She received an NAACP Image Award for Best Supporting Actress in a Comedy Series and a Cable Ace award for Best Actress in a Comedy for her work on Arli$$.
In theatre, Sandra has also starred in the world premieres of Jessica Hagedorn's Dogeaters at the La Jolla Playhouse and Diana Son's Stop Kiss at Joseph Papp's Public Theatre in New York City. She made several guest appearances on the series Popular (1999) playing a humanities teacher. She has also guest starred in the television series Kung Fu: The Legend Continues, Judging Amy, Six Feet Under, and Odd Job Jack.

In 2006, she costarred in the film The Night Listener as Anna, alongside Robin Williams and Toni Collette. In her only audiobook, she played Brigid O'Shaughnessy in a Grammy-nominated dramatization of The Maltese Falcon (2008), which also featured Michael Madsen and Edward Herrmann.

She also has done a few voice roles in animation, including a few guest appearances in American Dragon: Jake Long, the voice of Princess Ting-Ting in Mulan II and the voice of Doofah in The Land Before Time XIII: The Wisdom of Friends.
Sandra was host of the 28th Genie Awards on March 3, 2008.

In 2009, she performed in The People Speak a documentary feature film that uses dramatic and musical performances of the letters, diaries, and speeches of everyday Americans, based on historian Howard Zinn's A People's History of the United States.

During the off season hiatus from filming Grey's Anatomy in 2010, Sandra Oh took the part of Sarah Chen in the British crime drama Thorne, a role for which she took intensive dialect coaching in order to play her British character.

On June 28, 2011 it was announced that Sandra will receive a star on Canada's Walk of Fame.

Sandra and filmmaker Alexander Payne were in a relationship for five years. They married on January 1, 2003, separated in early 2005, and divorced in late 2006. In 2007, she began a relationship with musician Andrew Featherston.
View the full website biography of Sandra Oh.