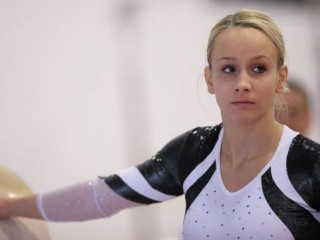 Sandra Izbaşa
Date of birth : 1990-06-18
Date of death : -
Birthplace : Bucharest, Romania
Nationality : Romanian
Category : Sports
Last modified : 0000-00-00

Sandra Izbaşa is a well known Romanian artistic gymnast, talented and ambitious. She is the 2008 Olympic Floor Champion and the 2012 Olympic Vault Champion.

Izbasa began gymnastics in 1994 at the CSS Steaua Bucharest club, after trying out tennis and fencing. In 2002 she joined the Romanian national gymnastics team. At the 2004 Junior European Championships, Izbaşa placed sixth in the all-around event. She also won a silver medal on the floor final event; her compatriot Steliana Nistor won the gold. One year later, at the 2005 Japan Junior International meet, she won the gold medals on the floor and vault.

Has dealt with a multitude of injuries since the 2008 Games. She missed the 2009 World Championships because of a torn Achilles and the 2011 World Championships with a foot injury. In February, she sustained a knee injury while training.

She was on the cover of the April 2009 number of International Gymnast Magazine that celebrated her Olympic achievements. In February, Izbaşa headlined the 1st Nadia Comăneci International Invitational (Oklahoma, USA). Here she won the all around senior title with the competition's highest marks on vault, floor and beam and the team gold medal (with Daniela Druncea). Struggling with injuries to both legs Izbaşa presented herself not at her usual sharp at both Jesolo Trophy and the 2009 European Championships. At the Europeans she qualified second on floor but failed to qualify on beam. In the floor finals she placed a disappointing seventh after an incomplete landing on her triple twist dismount, which the judges credited as a 2 1/2 twist. Since she already had performed a 2 1/2 twist in her third pass, the final pass was given no credit. In the summer of 2009 she focused on the National exams which she successfully passed with an average of 9.71 (out of maximum 10). After the exams she enrolled herself as a student at the Faculty of Sports and Physical Education of the Babeş-Bolyai University in Cluj-Napoca. Izbaşa planned to compete at the 2009 World Championships but, unfortunately in September just before the Romanian Nationals she suffered a torn Achilles' tendon and a hand injury. She was replaced in London by the alternate Gabriela Drăgoi.

At the Paris World Cup in March 2011 she debuted a new floor routine with which she won the gold medal ahead of teammate Diana Chelaru and Anna Dementyeva. In April, she repeated the success on floor at the 2011 European Championships topping Diana Chelaru and Yulia Belokobylskaya for her third European title on this event. Additionally, she won the gold in the vault final and placed eleventh in the qualifications for beam.


View the full website biography of Sandra Izbaşa.