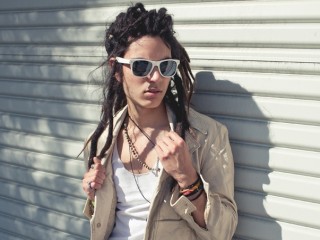 Samuel Larsen
Date of birth : 1991-08-28
Date of death : -
Birthplace : Los Angeles, California,U.S.
Nationality : American
Category : Arts and Entertainment
Last modified : 2011-10-26
Samuel Peter Acosta Larsen is one of the two winners of The Glee Project along with co-star Damian McGinty.
He was born in San Franciso, and raised on music. He started playing the drums at the young age of 2, playing with various artists throughout his adolescence.
At the age of 12, he started to play the bass, naturally progressing to guitar, and was introduced to a new world of melody. Then, when he turned 16, he began to sing. A few months shy of turning 17, he moved to Southern California, where he sang in a local band for 3 years. Towards the end of his time in a band, he began recording songs on his own, performing all of the instruments and vocals.

Today Samuel Larsen is a solo artist that continues to write and perform all of his own music. It is rumored that he will be the character Sue Sylvester has hated most in her life because of yes, his hair. Sam is in a band called 'Bridges I Burn' with band mate Arnold.

His character will probably will be intoduced in episode 10 or 11 and will be a relative of Puck (Mark Salling).

Here are some info's about Sam:
-When he was 3 years old, his dad had to cut his drum sticks in half so that he could hold them to play.
-The first cassette that he ever heard was the Lion King soundtrack when he was 3 years old for Christmas.
-He broke his elbow when he was 4 years old trying to be Superman and is now double jointed.
-He used to dance on Pier 39 in San Francisco when he was 8 years old to Michael Jackson music.
-He sold all of his Star Wars toys in a garage sale when he was 8 years old to buy Michael Jackson's History album.
-His favorite singer/artist ever is Michael Jackson.
-His first rock concert was Van Halen when he was 12 years old.
-His first electric guitar was also his dad's first electric guitar. He gave it to him for Christmas when he was 13.
-he auditioned for the hit reality show, "American Idol" in 2010, the year Lee DeWyze was announced winner. Samuel made it to Hollywood Week but was cut before the semi-finals.


View the full website biography of Samuel Larsen.