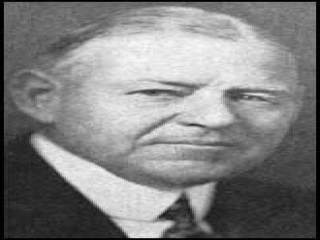 Samuel Hopkins Adams
Date of birth : 1871-01-26
Date of death : 1958-11-15
Birthplace : Dunkirk, New York
Nationality : American
Category : Famous Figures
Last modified : 2011-05-10
Samuel Hopkins Adams was an American writer, best known for his investigative journalism.

Author of books:

The Great American Fraud (1906, nonfiction)
Revelry (1926, novel)
The Godlinke Daniel (1930, biography, of Daniel Webster)
Incredible Era (1939, biography, of Warren G. Harding)
The Harvey Girls (1942, novel)
Canal Town (1944, novel)
Grandfather Stories (1955)
Tenderloin (1959)

CAREER:

Adams was a prolific writer, who wrote fiction as well. "Night Bus", one of Adams's many magazine stories, became the basis for the film It Happened One Night. His best-known novel, Revelry (1926), based on the scandals of the Harding administration, was later followed by Incredible Era (1939), a biography of Harding. Among his other works are The Great American Fraud (1906), The Flying Death (1906), The Mystery (1907), with S. E. White, Average Jones (1911), The Secret of Lonesome Cove (1912), The Health Master (1913), The Clarion (1914), The Unspeakable Perk (1916). Our Square and the People in It (1917), Success (1921), Siege (1924), The Gorgeous Hussy (1934), Maiden effort (1937), The Harvey Girls (1942), Canal Town (1944), Grandfather Stories (1955), and Tenderloin (1959). The Clarion and Success are studies of modern journalism. Average Jones is a series of stories about a detective investigating fraudulent or unusual advertisements.

Tenderloin described the battle between Charles H. Parkhurst and Tammany Hall. New York Times reviewer H. I. Brock called the book an "outstanding period piece" and "a worthy finale to a long and varied writing career." Tenderloin was adapted into a 1960 musical with book by George Abbott and Jerome Weidman and songs by Jerry Bock and Sheldon Harnick, the team that had created Fiorello! Tenderloin ran for 216 performances. New York Times critic Howard Taubman praised the songs, but complained about a "dragging book" and said "The wages of virtue, alas, are largely dullness."

In the 1920s Adams wrote two novels, Flaming Youth and Unforbidden Fruit, dealing with the sexual urges of young women in the Jazz Age: these novels had a sexual frankness that was shocking for their time, and Adams published them under the pseudonym "Warner Fabian" so that his other works would not be tainted by any scandal accruing to these novels. Both of the Warner Fabian novels became best-sellers, and both were filmed: the latter as The Wild Party (not related to a work of the same title by Joseph Moncure March). Adams also published a biography of Alexander Woollcott (1945) and three books for the Landmark Series including The Pony Express (1950), The Santa Fe Trail (1952), and The Erie Canal (1953).

The printing of his 1947 novel Banner by the Wayside is the subject of an Encyclopedia Britannica documentary on the manufacture of hardback books (see external links.)

Adams was a close friend of both the investigative reporter Ray Stannard Baker and District Attorney Benjamin Darrow.

He died in Beaufort, South Carolina on November 15, 1958.
View the full website biography of Samuel Hopkins Adams.