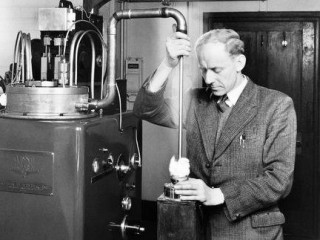 Samuel C. Collins
Date of birth : 1898-12-28
Date of death : 1984-06-19
Birthplace : Democrat, Kentucky, U.S.
Nationality : American
Category : Science and Technology
Last modified : 2011-10-06
Samuel C. Collins was an American scientist and inventor, who developed the first mass-produced helium liquifier, the Collins Helium Cryostat.

At MIT in 1946, Samuel C. Collins designed and constructed the Collins Helium Cryostat, the first practical helium liquefier. The machine, a two-cylinder engine with the cold exhaust from one cylinder cooling the intake gas of the other cylinder, allowed the production of liquid helium without external coolants, and enabled affordable experiments in temperatures descending to near absolute zero. Within a decade more than 200 of the machines were installed in laboratories worldwide. Collins also invented a device for producing high purity oxygen, and an early heart-lung machine used in emergency and rescue operations.


View the full website biography of Samuel C. Collins.