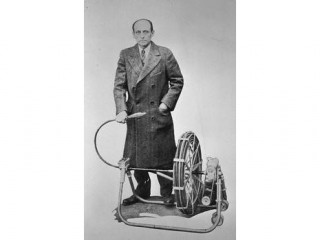 Samuel Blanc
Date of birth : 1883-02-13
Date of death : 1964-12-20
Birthplace : Menominee Falls, Wisconsin, U.S.
Nationality : American
Category : Arhitecture and Engineering
Last modified : 2011-09-28
Samuel Blanc was ten years old when his father committed suicide, and the boy quit school to help his mother put food on the family's table. He grew up in Wisconsin, worked as a lumberjack, telephone lineman, and salesman, and fortuitously took a correspondence course in mechanical engineering. By 1927 he was well into his 40s with a grown son, when his life took an unexpected twist. The kitchen sink in his son's apartment was clogged, and neither father nor son could afford a plumber, so they worked for most of an afternoon using a plunger and a flexible length of cable to extract potato peelings from the pipes. It was a chore that left the elder Blanc physically exhausted, and frustrated. He began drawing plans for a device to make unclogging pipes easier, and converting those plans from paper to reality took about six years in his home workshop.

In 1933, using a cable with cutting augers twisted by a motor pirated from his wife's washing machine, his machine unclogged its first pipe, and he began the arduous task of setting up a facility to manufacture the machines. His wife Leticia came up with the name, Roto-Rooter. The machines originally cost $250, a hefty price at the height of the Great Depression, but an eager market awaited plumbers who purchased the device, as the only other solution for stubbornly blocked drainage and sewage systems involved digging up streets to gain access to the pipes. The company's famous jingle was introduced in 1954, and Blanc died at his Des Moines home in 1964. His family sold the business in 1980.
View the full website biography of Samuel Blanc.