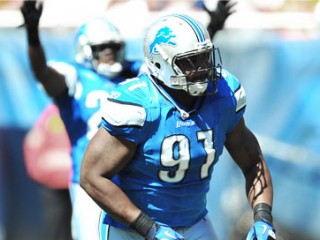 Sammie Hill
Date of birth : 1986-11-08
Date of death : -
Birthplace : West Blocton, Alabama
Nationality : American
Category : Sports
Last modified : 2010-12-13
* Drafted by the Detroit Lions in the fourth round (115th overall) of the 2009 NFL Draft.

PRO:
Hill is a good athlete with outstanding size and bulk and long arms that provided a large presence on the Lions defensive front. Quick and agile, he is stout at the point of attack. In his first pro season, he played 13 games (12 starts) at defensive tackles. He earned one of the team's starting defensive tackle positions to start his rookie season.

2010: Enters season as a back-up defensive tackle.
* Recorded first career sack for a loss of 8 yards in season opener at Chicago (9/12). Also added a tackle-for-loss, 2 quarterback hurries and a fumble recovery.
* Recorded 0.5 sack for a loss of 2 yards and a tackle vs. Philadelphia (9/19).
* Inactive at Green Bay (10/3) due to ankle injury he sustained at Minnesota (9/26).
* Returned to action in Lions 44-6 win vs. St. Louis (10/10) and had 2 tackles.
* Season-high 3 tackles (2 solo) at the New York Giants (10/17).
* Three tackles (1 solo) at Buffalo (11/14).
* Two tackles (2 solo) including one tackle for loss at Dallas (11/21).
* Recorded two tackles (2 solo) against New England (11/25).
* Had two tackles (1 solo) against Chicago (12/5).

2009: Recorded 26 tackles (14 solo) and two fumble recoveries during his rookie season. Was one of four rookie starters in season opener: QB Matthew Stafford, TE Brandon Pettigrew and S Louis Delmas. It was the first time Detroit has had four rookie starters on opening day since 1978 when DB Luther Bradley, DE Al Baker, T William Fifer and G Homer Elias made their starting debut.
* Started in season opener at New Orleans (9/13) and recorded 2 tackles (1 solo).
* Played and started as part of a defensive line that limited Vikings' RB Adrian Peterson to 92 rushing yards vs. Minnesota (9/20).
* Inactive the past two weeks, at Chicago (10/4) and vs. Pittsburgh (10/11), due to an ankle injury.
* Recorded two tackles for the third week in a row at Minnesota (11/15) and notched a career first fumble recovery.
* Set a career-high with five tackles (three solo) vs. Cleveland (11/22).

COLLEGE:
Quick and agile. Stout at the point of attack. Jolts blockers with good hand punch, breaks down well, and easily redirects to the action. Moves well on his feet, quickly changes direction, and strings plays out to the flanks. Fights throughout the play, flashes power, and works to get involved in the action. Was a four-year starter for the Tigers, and he set the school record with 44.5 tackles for loss. During his freshman and sophomore seasons, he played defensive tackle and then was moved to defensive end for his final two seasons at Stillman. Named first-team All-SIAC in 2007 and 2008. Hails from the same program that produced Brian Witherspoon (signed by Jacksonville) in 2008.

2008: In his second year at defensive end, he earned first-team all SIAC honors. During his senior season, he played in 11 games and registered career highs with 59 tackles for loss, 15.5 sacks and 7.5 sacks.
* Scored on a two-point pass play.
* Knocked down seven passes and recorded three fumble recoveries.

2007: Was moved to defensive end as a junior by new head coach Greg Thompson. In his first season at defensive end, he was a first-team all-SIAC selection after collecting 52 tackles, 4.5 sacks and 14 tackles for loss.
* Also caused four fumbles.
* Took an interception back 38 yards for a touchdown after dropping back into coverage as a giant middle linebacker.

2006: As a sophomore, he played in 10 games and garnered 41 tackles, two sacks and nine tackles for loss.

2005: Following a red-shirt season, Hill was a defensive tackle and made a splash with 39 tackles, 3.5 sacks and 6 tackles for loss in the nine games he played.
* He also caught a pass as a tight end for a 16-yard touchdown.

PERSONAL:
* Born November 8, 1986.
* He and two college teammates were heroic in their efforts to save a man from a burning house. The three Stillman players were driving by a house when they noticed a distressed woman who needed help. She told Hill and his teammates that her father was inside and they proceeded to rescue him from the burning building.
* Graduated from West Blockton (Ala.) High School where he was selected all-Conference and All-area.
* He was a versatile player as a prepster, playing both offensive defensive line along with tight end, linebacker and even place kicker.
* Was recruited by some schools to play basketball, and he was a catcher on the school's baseball team.
View the full website biography of Sammie Hill.