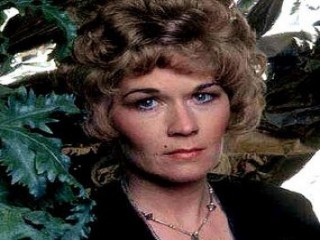 Sammi Smith
Date of birth : 1943-08-05
Date of death : 2005-02-12
Birthplace : Orange, California
Nationality : American
Category : Arts and Entertainment
Last modified : 2011-03-31
Sammi Smith was an American country music singer and songwriter. Born Jewel Faye Smith, she is best known for her 1971 country/pop crossover hit, "Help Me Make It Through the Night", which was written by Kris Kristofferson. She became one of the few women in the outlaw country movement during the 1970s.

By the time she was 12, she was singing in clubs professionally. Three years later, she married for the first time. At the urging of friends in the music business, Smith moved to Nashville in 1967 and soon was signed to Columbia Records. She charted her first single -- "So Long, Charlie Brown, Don't Look for Me Around" -- in 1968. She charted twice more on Columbia but never rose into the Top 50 while recording for the label.

One of her early acquaintances at Columbia was the aspiring songwriter Kris Kristofferson, then working at the label as a janitor. He would later provide Smith her first and only ticket to No. 1.

By 1970, she had signed to Mega Records, a small -- and ultimately transitory -- company. Her first single for the label, "He's Everywhere," did reasonably well, topping out at No. 25 in the fall of 1970.

Then came Kristofferson's lyrical seduction piece, a perfect evocation of the times but a bit bold for a country singer. "Help Me Make It Through the Night" entered the country charts the week before Christmas in 1970 and eased over into the pop rankings less than a month later. It hastened to the top of the country charts, where it stayed for three weeks. On the pop side, it peaked at No. 8. In 1971, the recording won both the Country Music Association's single of the year award and the Grammy for best country vocal performance by a female. It also netted Kristofferson a Grammy for best country song.

Listen here to Sammi's single Help Me Make It Through the Night :



Smith charted 14 more singles for Mega, only two of which cracked the Top 10 -- "Then You Walk In" (in 1971) and "Today I Started Loving You Again" (in 1975). After the Mega period, she spent three unremarkable years on Elektra. During her last eight years on the charts -- from 1979 to 1986 -- she recorded for the independent labels Cyclone, Sound Factory and Step One labels, respectively. None of these efforts, however, restored her to her former prominence.

While Smith was never a headliner in the Outlaw movement of the late '70s, she was a close friend of Waylon Jennings and Willie Nelson and occasionally shared the stage with them. She married Jody Payne, Nelson's guitar player, and bore him a son they named Waylon. A singer and actor, Waylon Payne released his solo debut album in 2004. He and his mother made a guest appearance on the Grand Ole Opry that same year.

Smith devoted considerable time and resources helping Native Americans, particularly the Apaches, a tribe to which she was related.

She died Feb. 12, 2005, in Oklahoma City.


View the full website biography of Sammi Smith.