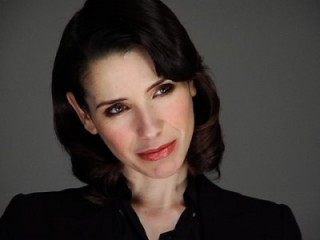 Sally Hawkins
Date of birth : 1976-04-27
Date of death : -
Birthplace : Dulwich, England
Nationality : English
Category : Arts and Entertainment
Last modified : 2011-10-24
Sally Cecilia Hawkins is an English actress. Her performance as Poppy in the 2008 film Happy-Go-Lucky won her several international awards, including the Golden Globe Award for Best Actress – Motion Picture Musical or Comedy.
Other significant roles include Susan in Vera Drake (2004), Sue Trinder in the BBC serial Fingersmith (2005), Anne Elliot in Persuasion (2007), and Rita O'Grady in Made in Dagenham (2010).

Sally's theatre appearances include Much Ado About Nothing (2000), A Midsummer Night's Dream (2000), Misconceptions (2001), Country Music (2004), and David Hare's adaptation of Federico García Lorca's The House of Bernarda Alba in 2005.

She made her first notable screen performance as Samantha in the 2002 Mike Leigh film All or Nothing. She also appeared as Slasher in the 2004 film Layer Cake. She played the role of Zena Blake in the BBC adaptation of Sarah Waters' novel, Tipping the Velvet in 2002.

Her first major television role came in 2005, when she played Susan Trinder in the BAFTA-nominated BBC drama Fingersmith, an adaptation of Sarah Waters' novel of the same name, in which she co-starred with Imelda Staunton, as she had in Vera Drake. Since then she has gone on to star in another BBC adaptation, Patrick Hamilton's Twenty Thousand Streets Under the Sky.

She appeared in three episodes of the BBC comedy series Little Britain, in addition to Ed Reardon's Week on BBC Radio 4. She also has contributed her to the BBC Radio 4 series Concrete Cow.

In 2006, Hawkins returned to the stage, appearing at the Royal Court Theatre in Jez Butterworth's The Winterling. In 2007, she played the lead in a new film of Jane Austen's Persuasion, and followed this with her critically acclaimed performance in Happy-Go-Lucky. Questions and a minor controversy arose when Hawkins was not nominated for an Academy Award for her performance as Poppy. It was the first year since 2000/2001 that the winner of the Golden Globe for Best Actress in a Motion Picture Musical or Comedy was not nominated for an Academy Award, and the first year since 1995/1996 that no one from the category was nominated.

During 2006 she also made uncredited appearances in Richard Ayoade's Man to Man with Dean Learner where she played various uncredited roles from Personal Assistant to Wife of Steve Pising in varying deleted scenes on the DVD.

Hawkins' 2009-2010 films included Desert Flower, Never Let Me Go and Happy Ever Afters. In November 2010, she appeared on Broadway as Vivie in Mrs. Warren's Profession.
In 2011, Hawkins appeared in Submarine and had a supporting role in the film adaptation of Jane Eyre.

At the 2007 Festival de Télévision de Monte-Carlo, Hawkins won the Golden Nymph for Best Performance by an Actress for her role as Anne Elliot in Persuasion.
In addition to the Golden Globe, Hawkins received numerous awards for her starring role in Happy-Go-Lucky, including the Silver Bear for Best Actress at the Berlin International Film Festival, the Los Angeles Film Critics Association Award for Best Actress, and the San Francisco Film Critics Circle Award for Best Actress.
View the full website biography of Sally Hawkins.