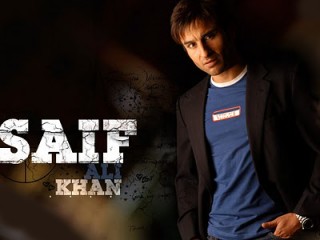 Saif Ali Khan
Date of birth : 1970-08-16
Date of death : -
Birthplace : New Delhi, India
Nationality : Indian
Category : Arts and Entertainment
Last modified : 2010-11-02
Saif Ali Khan is an Indian actor in Bollywood films. He is the son of the Nawab of Pataudi, Mansoor Ali Khan Pataudi, and the actress Sharmila Tagore. He has two sisters; actress Saba Ali Khan and Soha Ali Khan. He is the heir apparent to both royal houses of Bhopal and Pataudi.

Khan made his debut in 1992 with Parampara. He had his first major success with the 1994 films Main Khiladi Tu Anari and Yeh Dillagi. After going through several years of decline in the 1990s, he rose into prominence with his performance in Dil Chahta Hai (2001), which marked his professional turning point. His performance in Nikhil Advani's Kal Ho Naa Ho (2003) won him the Filmfare Best Supporting Actor Award, and he won the National Film Award for Best Actor for his performance in Hum Tum (2004). He then had commercial success with films like Salaam Namaste (2005), Race (2008) and Love Aaj Kal (2009), and starred in critically acclaimed projects such as Parineeta (2005) and Omkara (2006). These successes put him among the most successful actors in the industry. Since 2009, Khan has branched out into film production. He is the founder-owner of his production company Illuminati Films.

Early life

Saif Ali Khan was born into a Muslim Pathan family of the Nawabs of Pataudi and the Bengali Tagore family of Bengal. His paternal grandfather, Iftikhar Ali Khan Pataudi, was the Nawab of Pataudi as well as an accomplished cricketer who played for England and then for India as the captain of the team. His paternal grandmother was Sajida Sultan, Begum of Bhopal and his great-uncle was Pakistani general Nawabzada Sher Ali Khan Pataudi. His father is Mansoor Ali Khan Pataudi, the eighth Nawab of Pataudi and a former captain of the Indian cricket team.

Khan has two sisters Shaba Ali Khan and Soha Ali Khan. Khan's mother is Sharmila Tagore, a Bengali Indian film actress and a member of Bengal's Tagore family. She is also the head of the Indian film censorship board and the grand-niece of Nobel laureate Rabindranath Tagore. Tagore converted to Islam from Hinduism after her marriage to Khan's father, and changed her name to Begum Ayesha Sultana. Khan spent his childhood in a Muslim atmosphere, reading the Quran, with his grandmother being the center of his religious education. Khan says that "Religion played a major role in my upbringing." Khan also states that his family is "cool or rather massively open–minded about religious matters." For example, he acknowledges that his daughter is born into a Muslim family, however he states that he will not decide her religion for her.

Initially Khan studied at the Lawrence School Sanawar and later attended Lockers Park School in Hertfordshire. He followed in his father's footsteps by attending Winchester College, an independent school for boys in the UK. Khan can speak his native languages of Hindi and Bengali fluently, as well as English.

Career

In 1993, he won the Filmfare Best Male Debut Award for Aashiq Awara. His breakthrough role came in 1994 with Yeh Dillagi starring opposite Kajol and Akshay Kumar which was his first major hit. Khan went on to star in many films but they failed at the box office. He only had success with multi-starrer hits like Main Khiladi Tu Anari (1994), Imtihaan (1995), Kachche Dhaage (1999) and Hum Saath-Saath Hain: We Stand United (1999). After some box office failures he had a hit with the film Kya Kehna (2000).

His acting career, more or less, went through a relative slump until 2001, when he was cast in Farhan Akhtar's contemporary drama Dil Chahta Hai. He received much acclaim for his role as Sameer with critic Taran Adarsh calling it his career-best performance. The success of this film firmly established Saif as one of the industry's most bankable stars.

He has since had many box office successes, starting with Nikhil Advani's drama Kal Ho Na Ho (2003), co-starring alongside Shahrukh Khan and Preity Zinta. The film, set in New York, starred Saif as Rohit, Zinta's best friend, who later realises that he loves her. The film was the second top-grossing film of the year, and Khan's performance was praised by critics. He won the Filmfare Best Supporting Actor Award, as well as other awards in that category in other award ceremonies. Khan followed it with the leading role in Kunal Kohli's romantic comedy Hum Tum (2004), his first collaboration with Yash Raj Films. The film follows the encounters of the two main characters until they, after several years and various meetings, become friends and finally fall in love. Khan played the role of Karan Kapoor, a young cartoonist and womaniser whose relationship with Rhea Prakash, played by Rani Mukerji, changes his perception of women and life. Khan's performance was applauded by both critics and audiences. He won the Best Comedian award at the Filmfare, and was conferred the coveted National Film Award for Best Actor in 2005. Khan's next project with the Yash Raj Films production, Salaam Namaste (2005), became India's top-grossing film in the overseas market. The film, which was the first Indian film to be entirely shot in Australia, starred Khan and Preity Zinta as a contemporary cohabiting Indian couple. He was also noted for his performance in a negative role in Ram Gopal Verma's Ek Hasina Thi (2004) and for his role of Shekhar Rai in Pradeep Sarkar's Parineeta (2005), an adaptation of the 1914 Bengali novella, Parineeta by Sarat Chandra Chattopadhyay.

In 2006 Khan played the protagonist in the English-language art film, Being Cyrus. His role as Cyrus got him positive reviews. In that same year, he went on to receive major acclaim for his portrayal of lago in the Indian adaptation of Shakespeare's Othello, Omkara. Rediff.com stated, "Omkara marks Saif's emergence into the very forefront of his acting peers, and we gleefully applaud". Variety film critic Derek Elley called his performance "powerhouse" and further wrote, "It's Khan's movie through and through, in a performance of rugged, contained malevolence which trades on his previous screen persona as a likable best friend as well as his stint as the manipulative outsider in 'Being Cyrus'. It's smart casting, superbly realized." For his work, Khan earned the awards for Best Actor in a negative role at the Star Screen, Filmfare, Zee Cine and IIFA Awards.

Khan next acted in Eklavya: The Royal Guard (2007), co-starring alongside his mother for the second time since Aashiq Awara (1993). The film was India's official entry to the Oscars, and Khan's performance as Harshwardhan was appreciated by critics. Taran Adarsh commented, "watching him emote with amazing precision makes you realise the giant strides he has taken as an actor". He next appeared alongside Rani Mukerji in the family drama, Ta Ra Rum Pum (2007). Directed by Siddharth Anand, the film went on to become a box office success.

In 2008, Khan first starred in the Abbas-Mustan thriller Race, which went on to do well at the box office. This was followed by two projects produced by Yash Raj Films, Tashan and Thoda Pyaar Thoda Magic, both of which were not successful.

In 2009, Khan produced and starred in Love Aaj Kal. The film, directed by Imtiaz Ali, was a critical and commercial success. He then starred in the thriller Kurbaan along with Kareena Kapoor in which he played a terrorist. The following year, Khan was awarded the Padma Shri, which is the fourth highest civilian award given by the Government of India

Khan turned producer when he setup his production company called Illuminati Films in 2009. His first film, Love Aaj Kal was directed by Imtiaz Ali and featured Deepika Padukone opposite him. Upon release, the film was critically and commercially successful. Khan's second film production, Agent Vinod, will be directed by Sriram Raghavan.

Personal life
Khan with Kareena Kapoor at the 53rd Annual Filmfare Awards (2008).

Khan married actress Amrita Singh in October 1991. After thirteen years of marriage and two children (son Ibrahim Ali Khan and daughter Sara Ali Khan), the couple divorced in 2004. His children live with their mother. Khan is currently dating actress Kareena Kapoor.

In 1998, Khan was charged with poaching two blackbucks in Kankani during the filming of Hum Saath Saath Hain along with co-stars Salman Khan, Tabu, Sonali Bendre and Neelam. The charges were dropped soon after Khan was acquitted.

On 18 February 2007, Khan was hospitalised at Lilavati Hospital, Mumbai due to experiencing chest pain while rehearsing for his performance at the Stardust Awards, to be held that night. After hospitalization, he stated he would quit smoking.

In October 2009 Khan publicly spoke of his relationship with Kareena Kapoor and the prospect of marriage stating, that in his opinion people said that marriage does not affect one's career but in fact it does and that today the whole definition of marriage has changed. He said, that he and Kareena were so well connected, so close that marriage is just a stamp of validation for the society.
View the full website biography of Saif Ali Khan.