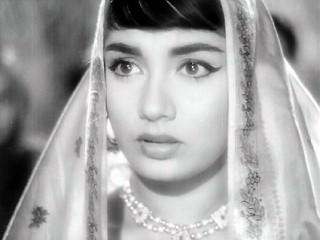 Sadhana
Date of birth : 1941-09-02
Date of death : -
Birthplace : Karachi, Sindh, India
Nationality : Indian
Category : Arts and Entertainment
Last modified : 2011-10-10
Sadhana is an Indian Bollywood actress. She was born in 1941 and named after her father's favorite actress Sadhona Bose. Her father and actor Hari Shivdasani were brothers, and Hari's daughter is actress Babita Kapoor. Sadhana was an only child and her parents made her the center of their lives; in fact, her mother home-schooled her until she was 8 years old. The family fled from Karachi in Pakistan during Post Partition riots. Although they encountered difficult times, their daughter was allowed to see as many as two films a week. When she was 15 years old, she was discovered by some producers who had seen her act in a college play. They cast her in India's first Sindhi film titled Abana (1960), where she played the heroine's younger sister for which she was paid a token of Rps. 1. A photograph of her publicizing the film appeared in a movie magazine. Subodh Mukherji, one of India's leading producers at that time, saw the magazine and gave her the lead role in her first Hindi film Love in Simla (1959), opposite his newcomer son, Joy Mukherjee. The film was directed by another newcomer, R.K. Nayyar, who created her trademark look called the Sadhana fringe.' It was modeled after Audrey Hepburn's hairstyle to cover up Sadhana's flaw, her broad forehead. The film became a great success and Sadhana became an overnight star. She also fell in love with the film's director, but she was only 16 years old, and her parents threatened the 22-year-old Nayyar with legal action if he didn't end the relationship. He became scared and backed away.
Sadhana continued making films and became the one of the biggest stars of the 1960s. In addition to the Sadhana fringe,' she started the trend of the churidar pyjama and kameez with saleem shai in the film Waqt (1965). Her acting in that film was appreciated too, as she was nominated for a Film Fare Award as Best Actress.
Sadhana had stated that she subconsciously modeled her acting style after her idol, Nutan. Most of her films were major hits, and many of them still remembered as all-time classics. Her films such as Mere Mehboob, Ek Musafir Ek Hasina, Raaj Kumar, and Arzoo were known for their romantic plots and beautiful music, but Raj Khosla, her director in Ek Musafir Ek Hasina, saw an enigmatic, mysterious side to Sadhana and cast her in Woh Kaun Thi (1964), which translates in English as "Who is She?" And that's just what the audience did when they watched Sadhana's show-stopping performance. They kept asking, "Is she a ghost? Is she real? Is she good? Is she evil? and who is she?" The film became a huge hit with its themes of the Alfred Hitchcock film Vertigo (1958) and gave Sadhana her signature role of the "mystery girl," where her performance kept everyone guessing till the very end. She was nominated for a Film Fare Award as Best Actress, and she was so identified with the genre of hit mystery suspense thrillers that Khosla later directed her in two more suspense thrillers, Mera Saaya (1965)and Anita (1968).
Sadhana also worked well with her leading men, Shammi Kapoor, Sunil Dutt, Rajendra Kumar, and Raj Kapoor. In fact, it was Raj Kapoor who reintroduced her to her first film director, R.K. Nayyar. They fell in love and wanted to get married. Her mother was against it, since Nayyar wasn't a Sindhi and wanted someone who looked like actor Rajendra Kumar, but Sadhana was adamant and with her father backing her up, her mother eventually came around. Sadhana and Nayyar married in 1966 and it seemed like she retired from films. At first, she was content to be a housewife and took cooking lessons and became well-known in the film industry for her culinary skills. But she had serious health problems with her thyroid, and she went to Boston for treatment and she recovered. Her husband's financial problems propeled her return to films after a two-year absence and delivered the hit film Inteqam (1969)directed by her husband. She had another big hit in 1969 with Ek Phool Do Mali (1969), but the rest of her films weren't hits. She and Nayyar went through a difficult time she suffered a miscarriage, and she almost divorced Nayyar, until he talked her out of it. They had no children. From 1959 to 1974, she starred in 33 Hindi films. She directed and starred in her last film playing dual roles in Geeta Mera Naam (1974). She wanted to end her acting career in Hindi films just as she started, in a starring role as a young heroine. She didn't want to play supporting character roles as a old mother or a bhabhi (sister-in-law), so she retired as an actress and formed a production company with her husband. Their marriage lasted until his death in the 1990s. She has not remarried, quietly living the life of a widow. The real-life "mystery girl" rarely gives interviews and doesn't prefer to be photographed saying that she wants her fans to remember her as a young, beautiful, heroine. Today, Sadhana lives as an tenant in an apartment building owned by singer Asha Bhosle. She also meets regularly with friends but otherwise keeps a low profile.

View the full website biography of Sadhana .