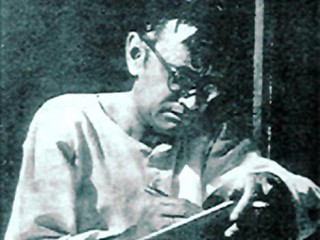 Saadat Hasan Manto
Date of birth : 1912-05-11
Date of death : 1955-01-18
Birthplace : Samrala, British Punjab
Nationality : Hindi
Category : Famous Figures
Last modified : 2010-10-22
Saadat Hasan Manto was an acclaimed but a controversial South Asian literary figure. He was born in Sambrala, in the Ludhiana district of the Punjab in the year 1912. As a young man, Manto began his literary career with an Urdu translation of Victor Hugo's "The Last Days of a Condemned Man". Going through his works it is pretty evident that during the starting of his career; Manto was deeply influenced by French and Russian realist writers such as Hugo, Anton Chekhov and Maxim Gorky. During the 1930s, Manto was also peripherally involved with the Indian Progressive Writers Association. IPWA was a left-leaning literary movement that was committed to the ideals of social uplift and justice through literature.

During his career, Manto wrote more than two hundred stories and a number of essays, film scripts, and radio plays. However, his greatest contributions to Indian literature were his mastery of the short story genre and his use of the Urdu language. Some of his well-known Urdu short stories include "Bu", "Khol Do", "Thanda Gosht", and "Toba Tek Singh," that were promptly translated into English after Manto 's death.

After the partition of India, Manto left his home in Mumbai and migrated to Lahore, Pakistan, in January 1948. Although Manto 's last years in Pakistan were filled with financial hardship and failing health, they were also instrumental in the compilation of some of his greatest literary achievements. Manto died of excessive drinking that led to liver cirrhosis, in the year 1955. His death has left a vacuum in the South Asian Literature genre that is still vacant.
View the full website biography of Saadat Hasan Manto.