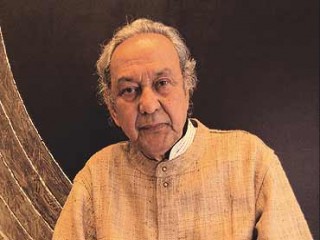 S.H. Raza
Date of birth : 1922-02-22
Date of death : -
Birthplace : Babaria, Madhya Pradesh, India
Nationality : Indian
Category : Arts and Entertainment
Last modified : 2010-11-03
S.H. Raza, who was born in the year 1922 as Syed Haider Raza, is a internationally acclaimed Indian painter. Though he has resided and worked from France since the 1950s, yet he maintains close association with his motherland till date. Though he incepted doing figurative paintings, he gradually moved on to abstract later on. Today, all his works are abstracts in either oil or acrylic with normally use of very vibrant hues. Recently, a painting of SH Raza sold for US 1.4 million dollars in the 2006 auction.

He became India's priciest modern artist on June 10, 2010 when a seminal work, 'Saurashtra' by the 88-year-old sold for Rs 16.42 crore ($3,486,965) at a Christie's auction .

Raza attended the Nagpur School of Art and then the Sir J. J. School of Art in Mumbai before shifting to France in the year 1949 to study at the Ecole Nationale des Beaux-Arts at Paris. In recognition to his marvelous contribution in the sphere of art, the Indian government gave him the Padma Shri in the year 1981. SH Raza is also a Fellow of the Lalit Kala Akademi at New Delhi in India. Further on, the state government of the place of his birth, Madhya Pradesh, awarded him the Kalidas Samman.

Raza is married to a French artist, Janine Mongillat. An active member of the revolutionary Bombay Progressive Artists' Group, the life history of SH Raza's career saw him paint on themes related to Western Modernism and then he slowly shifted from Expressionist towards the abstraction mode. Presently his works feature elements of Tantrism inspired from Indian scriptural texts. In other words, his paintings showcasing landscapes and townscapes during the 40's gradually metamorphosed to become expressive abstract works.

In the inception, SH Raza was very impressed by the picturesque countryside of rural France. His work 'Eglise', thus, captures the undulating terrain and exotic village architecture of this region. If his landscapes earlier were very vibrant looking, now they have donned a more subtle tone. With time, Raza discarded the expressionistic style totally and instead settled for the geometric abstraction and the Bindu or dot.
View the full website biography of S.H. Raza.