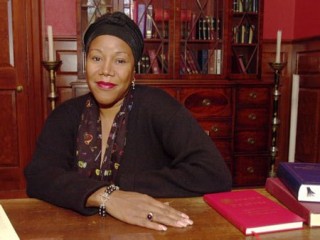 Ruby Bridges
Date of birth : 1954-09-08
Date of death : -
Birthplace : Tyler Town, Mississippi, United States
Nationality : American
Category : Famous Figures
Last modified : 2014-03-12
Ruby Bridges Hall became an integral part of the American civil rights movement on November 14, 1960, when she integrated an all-white public school in New Orleans, Louisiana. Just six years old at the time, her historic ordeal continued to be examined and chronicled years later. Bridges was awarded the U.S. Presidential Citizens Medal in 2001.

Symbol of Change
Bridges came into this world on September 8, 1954, in a cabin in Tylertown, Mississippi. She was the first of eight children eventually born to her then-sharecropper parents, and the family moved to New Orleans in 1957. There, her father, Abon, found work as a gas station attendant and her mother, Lucille, was employed as a domestic. But tremendous change lay just around the corner.

In 1960 the United States, especially in the South, was still struggling with basic racial discrimination issues. One of these was the integration of public schools. Court-ordered integration was instituted in New Orleans in November of that year, and Bridges was one of the four randomly selected black students chosen to put the ruling into practice. Her father was reluctant to allow it, but her mother believed it was something that had to be done. So it was that on November 14, the six-year-old Bridges, accompanied by her mother and surrounded by federal marshals, walked through an angry white mob to enter the William Frantz Elementary School and become an enduring symbol of the civil rights movement.

Bridges's ordeal did not end after that first day, of course. The jeering segregationists continued their protest for a year, and the school remained largely empty for at least that long, because white parents would not permit their children to attend. There was also fallout at Bridges's home. As a result of her participation in school integration, Bridges's father lost his job and was unable to find another for nearly five years. Likely because of the stress, her parents divorced when she was 12. With time, however, life moved on. Bridges graduated from high school, went to work as a travel agent, and bore husband Malcolm Hall four children. In 1995 she founded the Ruby Bridges Education Foundation (now the Ruby Bridges Foundation) to promote education and inter-racial harmony. But even as the years passed and Bridges faded from the public eye, she was not forgotten.

Many people have memorialized, chronicled, and examined Bridges's experience in 1960. John Steinbeck, for instance, wrote of her courage in Travels With Charley, and Norman Rockwell immortalized that first day of school in his famous painting "The Problem We All Live With." Her friend and former counselor, child psychiatrist Robert Coles, included her story in Children of Crises: A Study of Courage and Fear (1964) and The Moral Life of Children (1986), as well as penning a children's book called The Story of Ruby Bridges (1995). Bridges provided her perspective in her own book, Through My Eyes (1999), which won the Carter G. Woodson Book Award. And perhaps most fitting of all, she was awarded a Presidential Citizens Medal in 2001.

View the full website biography of Ruby Bridges.