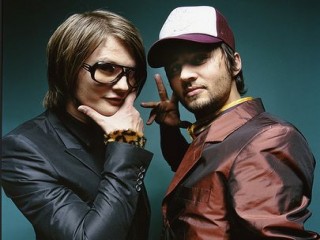 Royksopp (Band)
Date of birth : -
Date of death : -
Birthplace : Tromsø, Norway
Nationality : Norwegian
Category : Arts and Entertainment
Last modified : 0000-00-00

Röyksopp is a well known electronic music duo which formed in 1998 in Tromsø, Norway. The band currently based in Bergen, Norway, consists of Torbjørn Brundtland and Svein Berge. Both members are songwriters, producers and remixers.

They usually rely on the use of other vocalists for their songs and occasionally they perform the vocal parts. The Norwegian word "røyksopp" means puffball fungus (literally "smoke mushroom").

Brundtland and Berge were schoolmates in their hometown Tromsø, experimenting with electronic instruments in the early 90s and being a part of their city's techno scene. As they grew up in northern Norway, they listened to local artists like Bel Canto and Biosphere. The band has also expressed their interest in the music of Kraftwerk, Brian Eno, Giorgio Moroder, Art Of Noise, Vangelis, Erik Satie, and Francis Lai. They were members of various electro acts in their youth, such as Alanïa, Drum Island and Aedena Cycle. After recording as part of Aedena Cycle, Berge and Brundtland left the group to form their own band, Röyksopp.

In 8 October 2001, Röyksopp released their debut album Melody A.M. on Wall Of Sound label. This critically acclaimed downtempo album reached #1 in Norway charts, #9 in UK Albums Chart, #18 in US Top Electronic Albums.

The sound was a big hit with the advertising world and tracks were co-opted for a variety of products including a Apple, an insurance group and broadcasters in the US and the UK.

With their taste for experimentation extending to their videos, they won an MTV Europe award for "Remind Me" from their second album The Understanding.

The band's skills as producers have been utilized with remixes for Beck, Coldplay and Peter Gabriel and they were invited to do a compilation album for the Back To Mine series in 2006.
View the full website biography of Royksopp (Band).