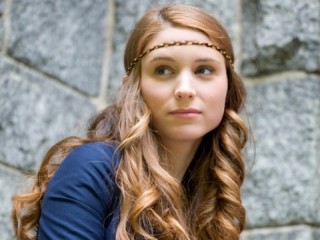 Rooney Mara
Date of birth : 1985-04-17
Date of death : -
Birthplace : Bedford, New York, U.S.
Nationality : American
Category : Arts and Entertainment
Last modified : 2011-12-14
Patricia Rooney Mara is an American film and television actress. Mara made her acting debut in 2005 and has gone on to star in films including A Nightmare on Elm Street, the remake of the 1984 horror film, and The Social Network. Mara will portray Lisbeth Salander, the title character in The Girl with the Dragon Tattoo, the first of three Sony Pictures films based on Stieg Larsson's Millennium book series.

Mara is also known for her charity work. She oversees the charity Faces of Kibera, which benefits orphans from the Kibera slum in Nairobi, Kenya, one of the largest slums in Africa. She is also the younger sister of actress Kate Mara.

Mara was born in an affluent Westchester County town, an unlikely princess of football royalty. Her father is an executive with the New York Giants, and her two great grandfathers founded the Pittsburgh Steelers and New York Giants respectively. Mara has actually gone so far as to say that football is the glue that holds her family together, odd words for the elegant actress who grew up traveling through South America and studying psychology, international social policy and nonprofits at New York University.

Though she remains passionate about charitable work (Mara oversees the charity Faces of Kibera, which provides aid for orphans in Kenya), her early experiences in musical theater as well as watching her older sister Kate succeed in Hollywood inspired Mara to pursue a career in acting.

Judging by the genesis of Rooney Mara's acting career, movie stardom was never a certainty for the young ingenue. Her professional acting debut was in the straight-to-DVD stinker Urban Legends: Bloody Mary, which she followed up with ordinary work in television shows like Law & Order: Special Victims Unit and ER. Her first lead in a feature film was in the forgettable Tanner Hall alongside Amy Sedaris and Tom Everett; however, her standout performance and natural screen presence screamed potential, and turned Hollywood on to a bright young talent.

Though audiences were still unfamiliar with Rooney Mara, casting directors began taking notice of the rising star. She auditioned for the lead in the Michael Cera-starring Youth in Revolt, but director Miguel Arteta cast her in a supporting role instead. In the film her character attempts to bed 50 guys before she goes to college, which sounds like a pretty good idea to us. She also appeared in the films Dare and The Winning Season, which led to her being named on Filmmaker magazine's "25 New Faces of Independent Film" in 2009. But her big break -- or rather the role that led to her big break -- was being cast in David Fincher's rabidly anticipated The Social Network. The film -- in which she plays Facebook founder Mark Zuckerberg's ex-girlfriend -- has been receiving white hot buzz since there was barely a script. Clearly, Fincher enjoyed working with Mara, because his next move would change her life forever.

For months, bloggers (and their older, more respected cousin journalists) speculated as to who would land the immensely coveted role of Lisbeth Salander in David Fincher's screen version of The Girl with the Dragon Tattoo. Stieg Larsson's novel -- and its two sequels -- had officially become the most significant work of pulp fiction since Dan Brown's The Da Vinci Code.

Mara stated to Variety that she doesn't consider the film to be a remake, but an interpretation of the novel: "I plan on giving my interpretation of the character." Mara's long brown hair was cut short and dyed black, in a style reminiscent of 1970s punk and 1980s goth fashions. She also had each of her ears pierced four times, and had her lip, brow, nose, and nipple pierced for the role. Her eyebrows were bleached, and she wears a temporary dragon tattoo.

Mara will again work with filmmaker Francesca Gregorini in the independent drama, Emanuel and the Truth About Fishes. Mara will play a troubled teenager, hired to babysit a lifelike doll in the film. The project will be Mara's first time co-producing, and was scheduled to begin shooting in mid 2011.She also joined the cast of Terrence Malick's Lawless, alongside Ryan Gosling, Christian Bale, Cate Blanchett and Haley Bennett. The film will shoot in 2012.
View the full website biography of Rooney Mara .