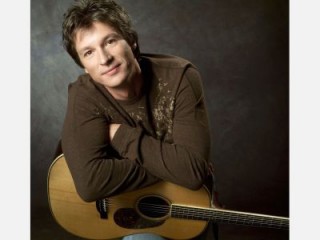 Ronnie Bowman
Date of birth : -
Date of death : -
Birthplace : North Carolina
Nationality : American
Category : Arts and Entertainment
Last modified : 2010-12-29
Ronnie Bowman grew up playing and singing around North Carolina and Virginia in a family gospel band and spent his young adult years making his way up the ladder at an international food conglomerate before joining Lost & Found on the eve of the 1990s. In 1989, he made his recording debut as the acclaimed group's singer-guitarist on their New Day. Luckily, he joined the Lonesome River Band just in time to participate in the making of Carrying the Tradition. The album was released in 1991 and propelled the quartet to instant fame by winning the International Bluegrass Music Association's (IBMA) album of the year attesting that the Bowman-Tyminski vocal pairing would be among the decade's most influential.

Bowman released a series of albums with the Lonesome River Band; Old Country Town (1994), One Step Forward (1996), Finding the Way (1998) and Talkin' to Myself (2000). These albums stand among the most powerful of the decade, blending a dash of contemporary flair and rock 'n' roll energy with a firm base in tradition. This combination brought Bowman and the other members of the band to new audiences. Thanks to his talent, he was also able to contribute to country singer Lee Ann Womack's multi-platinum I Hope You Dance.

Bowman's first solo effort brought further attention, earning Cold Virginia Night album of the year, song of the year for its title track, and his first IBMA male vocalist of the year honor. (He has since won a total of three.) His second solo album, The Man I'm Tryin' to Be (1998), featured the moving "Three Rusty Nails," co-written by Bowman; it won both song of the year and gospel recorded performance of the year. He released his third solo album, Starting Over, in 2002.

In 2005, Bowman secured a No. 1 hit as a songwriter (with producer Don Cook) for Brooks & Dunn's "It's Getting Better All the Time." Bowman issued the album It's Gettin' Better All the Time later that year on Koch.


View the full website biography of Ronnie Bowman.