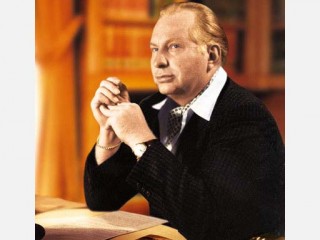 Ronald Hubbard
Date of birth : 1911-03-13
Date of death : 1986-01-24
Birthplace : Tilden, Nebraska, USA
Nationality : American
Category : Famous Figures
Last modified : 2010-05-20
Lafayette Ronald Hubbard (March 13, 1911 – January 24, 1986) was an American science fiction author who developed a self-help system called Dianetics, which was first published in 1950. Over the following three decades, Hubbard developed his self-help ideas into a wide-ranging set of doctrines and rituals as part of a new religion he called Scientology. Hubbard's writings became the guiding texts for the Church of Scientology and a number of affiliated organizations that address such diverse topics as business administration, literacy and drug rehabilitation.


Regarded as the founder of Scientology, L. Ron Hubbard wrote several books in different genres before he worked on his self-proclaimed greatest work in Dianetics. In his writings, he believed that man should use religion as a way to understand and overcome the imprisonment of the human condition. His Church of Scientology was founded in the 1950s.
As a young student, L. Ron attended George Washington University in D.C. While he didn't complete his studies, he did pursue his dream of being a writer and became quite successful. His imagination gave him the chance to contribute to various publications, including the famed pulp magazines (or short fiction publications) of the day. He admired exploration and became a member of the Explorer's Club, where he worked his way to the Master of Sail Vessels.
In 1948, just after his time in Australia in the U.S. Navy, Hubbard published The Original Thesis, which is considered the scriptures, or founding documents, of his later announced church. He came up with the idea that the human spirit stored engrams that fed the survival instincts of humankind. He believed that through a system of one-on-one counseling with an "auditor" of the church, an individual would begin revealing their true emotional state, as indicated by an "e-meter," which was used to measure an electric current in the individual.
The process of "exteriorization" would help the individual match the goals of their spiritual self, referred to as the "thetan". In beliefs slightly related to reincarnation, he believed that these spirits were bred billions of years ago and were the "Cause" of the universe. The final goal of church members is to understand their spiritual energy and the conflicts it has with the internal energy of engrams.
Church members are free to postulate about God, as God is a part of nature and can never be fully comprehended. The church believes and follows the teachings of the Supreme Being, and works towards joining him as a part of the free energy of the universe. The church, however, does not focus upon God, but helps individuals free themselves so that they can understand him better or obtain what is called "Clear". The Church of Scientology, which still looks to L. Ron Hubbard as their prophet, operates much like any church and has missions around the world. The Church's headquarters are now located in Clearwater, Florida, USA. Throughout the years, the Church has seen its own problems, namely from organizations and governments who believe they are practicing a type of "medicine" without a license and are not required to pay taxes. Internationally, they operate in nearly 160 countries.
Scientology
In March 1952, Hubbard moved to Phoenix, Arizona. He claimed that he had conducted years of intensive research into the nature of human existence. He codified a set of ideas that promised to improve the condition of the human spirit, which he called a "Thetan." To describe his findings, he developed an elaborate system of neologisms which he described as Scientology, "an applied religious philosophy".
In December 1953, Hubbard founded the Church of Scientology in Camden, New Jersey. He moved to Washington, D.C. in 1955 and organized the Founding Church of Scientology. His Washington, D.C. residence, the L. Ron Hubbard House, now operates as a historic house museum. In 1952, Hubbard visited England for the first time and started a Dianetic training center in London; the news spread far and wide abroad. In 1959, Hubbard moved to England where he supervised the growing organization from Saint Hill Manor near the Sussex town of East Grinstead, a Georgian manor house once owned by the Maharajah of Jaipur which Hubbard purchased in 1959. This became the world headquarters of Scientology.
Hubbard's followers believed his techniques gave them access to their past lives, the traumas of which led to failures in the present unless they were dealt with in a process referred to as "auditing". By this time, in the 1950s, just after the publication of Dianetics: the modern science of mental health, Hubbard had introduced a biofeedback device to the auditing process, which he called a "Hubbard Electropsychometer" or "E-meter", originally invented in the 1940s by a chiropractor and later Dianetics enthusiast named Volney Mathison and refined to Hubbard's specifications in 1959. This machine is used by Scientologists in auditing to evaluate what Hubbard referred to as "mental masses" which were said to impede thetans from realizing their full potential. Hubbard professed that many physical diseases were psychosomatic, and that a person who had attained the enlightened state of "clear" would be relatively disease free. Hubbard insisted humanity was imperiled by such forces, which were the result of negative memories (or "engrams") stored in the unconscious or "reactive" mind, some carried by the immortal thetans for billions of years.
Church members were expected to pay fixed donation rates for courses, auditing, books and E-meters, all of which proved very lucrative for the Church, which paid emoluments directly to Hubbard and his family. In a case fought by the Founding Church of Scientology of Washington, D.C. over its tax-exempt status (revoked in 1958 because of these emoluments) it was found that Hubbard had personally received over $108,000 from the Church and affiliates over a four-year period, over and above the percentage of gross income (usually 10%) he received from Church-affiliated organizations. Hubbard denied such emoluments many times in writing, stating instead that he never received any money from the Church.
The Church of Scientology founded its own companies to publish Hubbard's works: Bridge Publications for the US and Canadian market, and New Era Publications based in Denmark for the rest of the world. New volumes of his transcribed lectures continue to be produced. There are estimated to be 110 related volumes. Hubbard also wrote a number of works of fiction during the 1930s and 1980s, which are published by the Scientology-owned Galaxy Press. All three of these publishing companies are subordinate to Author Services Inc., another Scientology corporation.
Some documents written by Hubbard himself suggest he regarded Scientology as a business, not a religion.
View the full website biography of Ronald Hubbard .