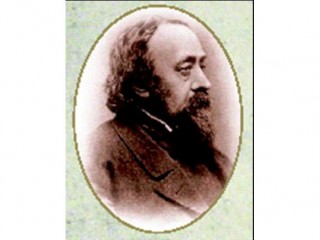 Richard Upjohn
Date of birth : 1802-01-22
Date of death : 1878-08-16
Birthplace : Shaftesbury, England
Nationality : English
Category : Arhitecture and Engineering
Last modified : 2012-01-24
Richard Upjohn was an English-born architect who emigrated to the United States and became most famous for his Gothic Revival churches. He was partially responsible for launching the movement to such popularity in the United States.

Upjohn also did extensive work in and helped to popularize the Italianate style. He was a founder and the first president of the American Institute of Architects. His son, Richard Mitchell Upjohn was also a well-known architect and served as a partner in his architectural firm in New York.

Richard Upjohn was born in Shaftesbury, England, where he was apprenticed to a builder and cabinet-maker. He eventually became a master-mechanic. He and his family emigrated to the United States in 1829. They initially settled in New Bedford, Massachusetts and then moved on to Boston in 1833, where he worked in architectural design. He became a naturalized citizen of the United States in 1836.

His first major project was for entrances to Boston Common and his first church would be St. John's Episcopal Church in Bangor, Maine. He had relocated to New York by 1839 where he worked on alterations to Trinity Church. The alterations were later abandoned and he was commissioned to design a new church, completed in 1846. He published his extremely influential book, Upjohn's rural architecture: Designs, working drawings and specifications for a wooden church, and other rural structures, in 1852. The designs in this publication were widely used across the country by builders, with many examples remaining.

Upjohn, along with 13 other architects, co-founded the American Institute of Architects on February 23, 1857. He served as president of that organization from 1857 to 1876, being succeeded by Thomas Ustick Walter. He went on the design many buildings in a variety of styles. He died at his home in Garrison, New York in 1878. Architectural drawings and papers by Upjohn and other family members are held by the Drawings and Archives Department of Avery Architectural and Fine Arts Library at Columbia University, New York Public Library's Humanities and Social Sciences Library, Manuscripts and Archives division, and by the Library of Congress Prints & Photographs Division.

He died on 16 August 1878 in Putnam County, New York of "softening of the brain".
View the full website biography of Richard Upjohn.