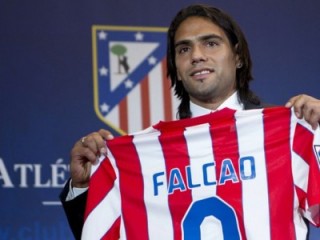 Radamel Falcao
Date of birth : 1986-02-10
Date of death : -
Birthplace : Santa Marta, Colombia
Nationality : Colombian
Category : Sports
Last modified : 2012-03-21
Sometimes called El Tigre, Radamel Falcao is a Colombian talented football striker which currently plays for the Atlético Madrid. He was bought from Portuguese club FC Porto in August 2011 in a Portuguese record transfer deal worth €40m (£34.7m). The Portuguese club said in a statement to the Lisbon stock exchange that the price tag could rise to €47m, depending on unspecified factors.

Born Radamel Falcao García Zárate in Santa Marta, Colombia, he is considered to be one of the best forwards in the world having surpassed Jürgen Klinsmann's record of 15 goals (17) in a single annual international club football European competition UEFA Champions League/(particularly,) UEFA Europa League campaign. He also played a key role in guiding Porto to a second UEFA Cup/UEFA Europa League title, as well as finishing undefeated in the 2010–11 Primeira Liga season. In July 2011, Falcao was regarded as the fifth best player in Europe during the 2010–11 season through balloting by 53 sportswriters of the UEFA member associations. Falcao was considered the second best goal scorer by the International Federation of Football History & Statistics for 2011 superseded only by Argentine Lionel Messi who was first. Falcao had also received the Portuguese Golden Ball award for 2011 becoming the first Colombian to do so.

Radamel prefers to be called by his second name. Falcao is a second generation footballer: his father, Radamel García, played professionally as a defender in Colombia. Falcao is named after the 1980s Brazilian and A.S. Roma legend Falcão. He is a devout Christian and leader of the Church youth groups "Locos por Jesús" and "Campeones para Cristo."

In international career, Falcao represented Colombia at the under-17, under-20 and senior levels. He was called up to the Colombia squad for the 2011 Copa América because of his impressive form at Porto. Falcao proved his worth in their third group game against Bolivia, scoring both goals in a 2–0 win that secured passage into the quarter-finals. This being the first time Falcao has ever scored more than one goal in a game at international level. He missed a penalty kick in the 2nd half of regulation when the match was 0–0 in a loss against Peru, in the extra time, two mistakes of the Colombian goalkeeper making Colombia lose 2–0, besides the elimination of the tournament. Falcao made a goal against Bolivia during the first match of Colombia's qualifying for the 2014 world cup during the final minute of the game, giving Colombia a 2-1 win, the first win of Colombia ever in La Paz. In February, Falcao made another goal against Mexico in a game that ended up 2-0.

View the full website biography of Radamel Falcao.