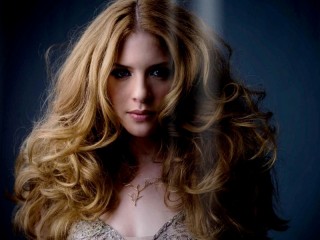 Rachelle Lefevre
Date of birth : 1979-02-01
Date of death : -
Birthplace : Montreal, Quebec
Nationality : Canadian
Category : Arts and Entertainment
Last modified : 2011-10-18
Rachelle Lefevre grew up in a bilingual Montreal household where her interest in performing developed in the home dance routines she performed to the songs of Madonna. Though she couldn't sing, she enjoyed the rush that came with imitating the Material Girl; she became convinced that her future stardom would be accompanied by marriage to Johnny Depp.

Following her graduation from Centennial Academy, a private high school, Rachelle Lefevre got her first taste of the arts as a student at Dawson College, where she studied Creative Arts. During summer months, she studied theatre at Massachusetts' Walnut Hill School, before enrolling at McGill University to study literature and education. She was working as a waitress at a sushi restaurant while in university when a customer, a local TV producer, heard she had acting aspirations and offered her an audition for a series called Student Bodies. While she didn't get the role, the audition opened the door to other opportunities and eventually led to a 1999 gig as Stacey, the cheerleader captain who takes an interest in a teenage vampire, on the TV series Big Wolf on Campus. She remained on the series for a full season before returning to her university studies.

After departing Big Wolf on Campus, Rachelle Lefevre turned her attention to cinema, co-starring in the Canadian effort Stardom (featuring Jessica Pare and Dan Aykroyd), Abandon with Katie Holmes, and Confessions of a Dangerous Mind, the 2002 espionage dramedy starring Sam Rockwell and directed by George Clooney. Eager to seek out more acting opportunities, Lefevre moved to California in 2004 and immediately found work with Penelope Cruz in Noel and Charlize Theron in Head in the Clouds. She later wound up on television on a pair of FOX series, Life on a Stick and Pool Guys, before switching to ABC for What About Brian, though none of the shows found much success.

In 2008, Rachelle Lefevre got a huge break when she joined the cast of Twilight to play villainous vampire, Victoria. Besides offering the chance for Lefevre to perform nifty vampire stunts, the astonishing success of Twilight suddenly gave the actress more fame than she had ever before experienced, as fans lined up for hours to meet her at special appearances. Lefevre returned to the role of Victoria for the hugely successful sequel, The Twilight Saga: New Moon, but a scheduling conflict saw her replaced by Bryce Dallas Howard for The Twilight Saga: Eclipse. While the decision was difficult to take, Lefevre found comfort in the great amount of support that she received from the thousands of fans who supported her.

With Twilight now part of her acting past, Rachelle Lefevre has worked steadily on a number of exciting projects -- each one offering different challenges than those that go along with playing a vampire. In 2010, she played a federal press secretary caught up in political turmoil in the Kevin Spacey-led drama in Casino Jack, as well as Paul Giamatti's mentally unstable love interest in Barney's Version.

Besides enjoying a juicy role in the new horror film The Caller -- opposite Stephen Moyer of True Blood fame -- Rachelle Lefevre will be spending a great deal of time back on the small screen, first as a guest star on The Deep End and then as a full-time cast member in the upcoming medical drama, Off the Map. The latter finds her playing a doctor living and learning about herself in a sparse area of South America. It's a far cry from playing a vampire, but if anything, Off the Map will offer a key turning point in Lefevre's acting career, further showing off her versatility and giving rise to her visibility.
View the full website biography of Rachelle Lefevre.