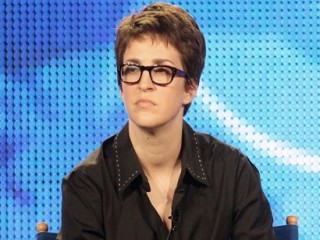 Rachel Maddow
Date of birth : 1973-04-01
Date of death : -
Birthplace : Castro Valley, California, U.S.
Nationality : American
Category : Arts and Entertainment
Last modified : 2011-10-18
Rachel Anne Maddow was born on April 1, 1973, in Castro Valley, California. Rachel Maddow's proclivity toward politics and world news was in place from an exceedingly early age, as she would often read the daily paper in its entirety and confront her teachers with incisive questions about current events.
She also found time to indulge in a variety of athletic pursuits -- including basketball and swimming -- though a shoulder injury sustained during her final year of high school brought a swift end to her physical pursuits.

After obtaining a bachelor's degree in public policy from Stanford University, Rachel Maddow -- spurred on by her interest in contributing to the gay community -- took on a job as an activist for the AIDS awareness group ACT UP.
In 1995, Rachel Maddow became the first openly gay American to win a Rhodes Scholarship, which she used to earn a doctorate in philosophy from Oxford's Lincoln College. Though she was initially forced to support herself by taking on a series of odd jobs, Rachel Maddow's longtime passion for news led her to enter (and eventually win) a contest for an on-air personality on Massachusetts' The Dave in the Morning Show.

Over the next few years, Rachel Maddow's staunchly liberal views proved instrumental in her rise from obscure DJ to recognizable radio personality. Her ever-expanding profile brought her to the attention of executives at the newly created Air America network, where she was hired alongside Chuck D and Lizz Winstead for the station's morning show. Though the show only lasted about a year, Rachel Maddow was out of work for only two weeks, as the network gave her a daily two-hour program entitled The Rachel Maddow Show on April 14, 2005.

The show, which is devoted primarily to Rachel Maddow's unique perspective on a variety of pressing political issues, became an instant success for Air America, with the network eventually expanding the program to three hours to capitalize on Rachel Maddow's burgeoning popularity. In the months following the series' debut, Rachel Maddow began receiving invites to appear as an on-air contributor on a variety of news-oriented TV shows -- including Paula Zahn Now and Countdown with Keith Olbermann.

Rachel Maddow's obvious comfort in front of the camera ensured that she remained in high demand among executives, and, after filling in regularly for Keith Olbermann on his popular MSNBC show, she was given her own program on the network (which, like its radio counterpart, was titled The Rachel Maddow Show).

The show doubled MSNBC's ratings for its time slot within just a few days of premiering, which essentially forced Rachel Maddow to cut back her radio show from three to two hours. The MSNBC has cemented Rachel Maddow's place as a trustworthy and recognizable television pundit, thus placing her side-by-side with such familiar faces as Chris Matthews, Tucker Carlson and Sean Hannity.

Though she's been out since her teens, Rachel Maddow has managed to keep a very tight lid on her private life -- with one notable exception: Back in 1999, Rachel Maddow took on a job doing yard work for an artist named Susan Mikula, and the two began a relationship shortly after. It's worth noting, however, that Rachel Maddow has never allowed her sexuality to define her identity or her work, as she possesses an open, surprisingly lighthearted demeanor that ensures she holds appeal for both sexes. And while she'll probably never be mistaken for a drop-dead gorgeous beauty, Rachel Maddow does come off as a girl-next-door type that one can't help but relate to -- which has certainly proved instrumental in her on-air accessibility and subsequent success.
View the full website biography of Rachel Maddow.