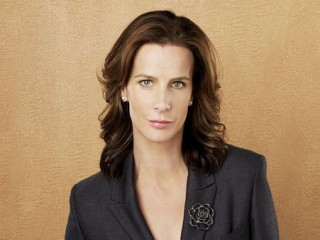 Rachel Griffiths
Date of birth : 1968-12-18
Date of death : -
Birthplace : Melbourne, Australia
Nationality : Australian
Category : Arts and Entertainment
Last modified : 2011-10-18
Born in 1968 in Melbourne, Australia. Griffiths' film career began most auspiciously.
Her movie debut in the hit Oz comedy Muriel's Wedding (1994), won her the Australian Film Critics Circle Award and the Australian Film Institute's Award for Best Supporting Actress.
She followed this with appearances in Jude (1996), Cosi (1996), Children of the Revolution (1996), Welcome to Woop-Woop (1997) and My Best Friend's Wedding (1997).
In 1998, she received a Best Supporting Actress Oscar nomination for her performance in Hilary and Jackie.

Though her film career appears to be on the fast track, Griffiths' roots lie in theater. She graduated from Victoria College in 1990 with a degree in drama and dance, and thereafter joined the community theatre group, Woolly Jumpers, Inc. Now a member of the Melbourne Theatre Company, Griffiths has performed in productions of Grapes of Wrath, Sisters Rosensweig, The Rover, Sylvia and Ibsen's A Doll House. In addition to her film and stage performances, Griffiths has also starred in Australian television series like "Secrets" and "The Jimeoin Show."

In 2000, she joined the cast of HBO's acclaimed original series Six Feet Under. Griffiths plays Brenda Chenowith in the darkly comic show about a dysfunctional family who own and operate a funeral home in Los Angeles.

Griffiths' talents are not in performance alone. She is the first actor to receive financing from the Young Filmmakers Fund and recently wrote, produced and directed Tulip, a 14-minute short based on a story about her great-great-uncle and aunt who were farmers in western Victoria, Australia. She is a vocal supporter of Oxfam's campaign for the Global Charter of Basic Rights and continues to stay active in issues impacting the Melbourne community.

On New Year's Eve 2002, she wed longtime friend, artist Andrew Taylor, in Melbourne, Australia. She returned to television, in Brothers & Sisters, in 2006.
View the full website biography of Rachel Griffiths.