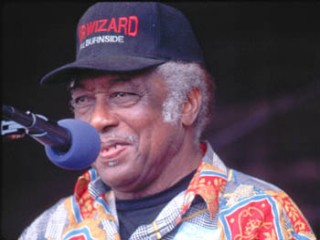 R.L. Burnside
Date of birth : 1926-11-23
Date of death : 2005-09-01
Birthplace : Oxford, Mississippi, United States
Nationality : American
Category : Famous Figures
Last modified : 2011-10-26
R. L. Burnside was an American country blues singer, songwriter, and guitarist who lived much of his life in and around Holly Springs, Mississippi.

R.L. Burnside became a pivotal figure on the contemporary blues scene during the early 1990s after more than 40 years as a musician. His albums on the Fat Possum label, including Bad Luck City in 1991 and Too Bad Jim in 1994, created a raw, edgy blues that purists loved. "Both recordings also adequately capture the feeling of what it must be like to be in Junior Kimbrough's juke joint," wrote Richard Skelly of All Music Guide, "where both men have been playing this kind of raw, unadulterated blues for over 30 years." By the mid-1990s, however, Burnside also showed himself willing to experiment. He recorded and toured with the Jon Spencer Blues Explosion, generating the blues-meets-industrial rock of A Ass Pocket of Whiskey in 1996. The album, along with the techno-tinged release Come on In in 1998, had the effect of alienating older fans while attracting younger ones.

It took more than 40 years for Burnside's musical career to start in earnest. Born on November 23, 1926, in Mississippi, Burnside worked as a sharecropper on a small farm as a young man. He attempted to play the harmonica but never quite mastered it. At the age of 16 he began playing guitar, and by 21, he began performing in public. Burnside's father played guitar, but his biggest influences came from local players like Rainie Burnette and Jesse Vortis. His principal influence, however, was Fred McDowell. "He [McDowell] was a big influence on me," Burnside told Ed Mabe of Perfect Sound Forever online. "He started me. I watched him and he was the first guy I saw play the blues."
Despite Burnside's love of music, there were few opportunities to turn music into a paying occupation. Discouraged with his life as a sharecropper, Burnside moved to Chicago in the mid 1940s. There he lived with his father who had also moved to the city. Though he had put his guitar aside at the time, Burnside nonetheless absorbed the intoxicating sounds of his new environment. He also met Muddy Waters, who had married his first cousin. "I was working during the day at the foundry," he recalled to Kenny Brown of Blues on Stage online, "and every night I'd go over to Muddy's. We only lived a couple of blocks apart." He also caught Waters' Friday night show at the Zanzibar and frequented Mackerel Street on Sundays to hear players like Little Walter, Jimmy Rogers, and Chuck Berry. Tragically, within a year of each other, Burnside's father, uncle, and two brothers were murdered in the late 1940s. Burnside chronicles the losses on Wish I Was in Heaven Sitting Down. Burnside married Alice Mae Taylor in 1949; the couple had 12 children.

During the 1970s and 1980s, Burnside played with Sound Machine, a band consisting of two of his sons, Joseph and Daniel, and then son-in-law Calvin Jackson. His real break would have to wait until the early 1990s, though, when he was featured in former New York Times critic Robert Palmer's documentary, Deep Blues. movie theater must have begun tapping his or her foot."

On Palmer's advice, Matthew Johnson of the fledgling Fat Possum Records sought Burnside out and signed him. In 1991, with Palmer onboard as producer, Bad Luck City was released. Critics warmly embraced Bad Luck City and its follow-up, Too Bad Jim, in 1994. This was down and dirty jukebox blues, deeply felt, and music a listener could dance to. "R.L. Burnside lays down some of the most funky, low down blues coming out of the Delta these days," wrote the Delta Boogie online. Too Bad Jim became one of the most influential blues albums of the 1990s. The music was raw and at times unrehearsed, giving it an immediacy lacking on heavily polished blues albums. "This is unfussy music, hell, it's sloppy in the best way," Nassar noted. Along with artists like Junior Kimbrough, Burnside proved that 1940s and 1950s juke joint blues still had the power to speak to contemporary listeners.

Too Bad Jim also brought Burnside to the attention of Jon Spencer of the Jon Spencer Blues Explosion. These seemingly incongruous players, a bluesman born in the 1920s and a post-punk indie band, joined forces in 1996 to make a record. A Ass Pocket of Whiskey retained the raw, edginess of the earlier Burnside recordings while adding a heavy dose of industrial rock. Some critics loved it. "This is the real stuff--raw, urgent, humorous and spiritual...," wrote George H. Lewis of Popular Music and Society online. Others disliked the change, believing that Jon Spencer's brashness mocked the blues form. The release of Come on In in 1998, complete with trip-hop rhythms provided by producer Tom Rothrock (who also produced Beck's first album), only furthered the controversy for purists. These albums and the video for "Let My Baby Ride," however, also introduced Burnside to a younger audience.

While his latest releases have been more traditional and are less likely to end up on MTV, Burnside continues to receive exposure from "It's Bad You Know," featured on the television series The Sopranos.

Burnside's discography:

Bad Luck City , Fat Possum, 1991.
Deep Blues (soundtrack), Atlantic, 1992.
Too Bad Jim , Fat Possum, 1994.
A Ass Pocket of Whiskey , Matador, 1996.
Mr. Wizard , Fat Possum, 1997.
Come on In , Epitaph, 1998.
Wish I Was in Heaven Sitting Down , Fat Possum, 2000.
Well Well Well , M.C., 2001.
Burnside on Burnside , Fat Possum, 2001.

View the full website biography of R.L. Burnside.