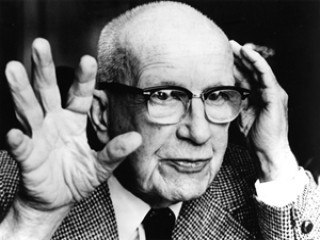 R. Buckminster Fuller
Date of birth : 1895-07-12
Date of death : 1983-07-01
Birthplace : Milton, Massachusetts, U.S.
Nationality : American
Category : Science and Technology
Last modified : 2011-10-04
Engineer, inventor, architect and philosopher R. Buckminster Fuller authored numerous popular books, held dozens of patents, and had a profound impact on subsequent generations of design. He is best known for his 1949 invention of the geodesic dome, which uses interconnecting triangular frames to form a lightweight but sturdy dome which needs no internal support. Described as futuristic in appearance even today, the geodesic dome provides maximum interior space with minimal use of land, raw materials, and construction labor, and is far more efficient than ordinary brick-and-mortar, wood-and-nail homebuilding.

As a designer, Fuller was driven by a philosophy of "more for less", and vehemently opposed waste, superficial styling, and many manufacturers' underlying philosophy of built-in obsolescence. He combined the words "dynamic" and "maximum" to coin the word "Dymaxion", a brand applied to several inventions. The portable Dymaxion House (1929) resembled a large hockey puck, but its interior was breathtaking, with curving walls and windows. The Dymaxion Car (1933) was more like a lightweight bus, seating ten passengers in an aerodynamic body, with three wheels and excellent gas mileage.

Fuller studied mathematics at Harvard but was expelled for "lack of ambition"; he never obtained a college degree, and worked for many years at meat-packing plants until he was able to support himself and his family through teaching, writing, and his inventions. He suffered an extended bout of depression after the death of his daughter in 1922, while his family was near bankruptcy and living in public housing. In his memoirs he wrote that he overcame thoughts of suicide by deciding to make the rest of his life "an experiment to find what a single individual can contribute to changing the world and benefiting all humanity."

Known to all as "Bucky", his experiment ended on 1 July 1983; his wife of almost 66 years, Anne Hewlett Fuller, died two days later. Bucky left behind a meticulous record of his life on Spaceship Earth, the seventy-year Dymaxion Chronofile, and hours of extemporaneous, recorded lectures. He was a grandnephew of both feminist writer and publisher Margaret Fuller and US Supreme Court Justice Melville W. Fuller. His son-in-law, documentary filmmaker Robert Snyder, won an Oscar in 1950 for The Titan: Story of Michelangelo.
View the full website biography of R. Buckminster Fuller.