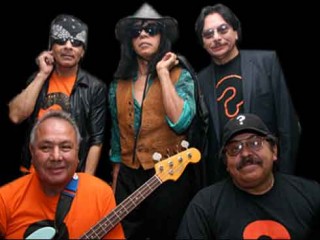 Question Mark & The Mysterians
Date of birth : -
Date of death : -
Birthplace : Bay City, Michigan,U.S.
Nationality : American
Category : Arts and Entertainment
Last modified : 2022-02-28
Question Mark and the Mysterians (rendered ? and the Mysterians on the record label) are an American rock and roll band formed in 1962.

Often scorned as a one-hit wonder, ? & the Mysterians were one of the first Latin rock groups to make the music charts with their hit "96 Tears." The song, considered a garage-rock classic, represents a pivotal period in the evolution of garage rock into punk.

The band, formed in 1962 in Michigan, comprised Texas musicians with Mexican roots who had migrated to the Saginaw and Bay City region: founder and bassist Larry Borjas, his cousin Robert "Bobby" Balderrama on guitar, and Robert Martinez on drums. The enigmatic ? was the group's vocalist. For a very brief time, the group was called XYZ and ?, reportedly at ?'s insistence, but their name was soon changed to ? and the Mysterians, after a 1957 science-fiction film.

? & the Mysterians began playing area clubs in 1964, beginning with a performance in Adrian, Michigan, and moving to Flint about the same time. When Borjas and Robert Martinez were forced to leave the band for compulsory military service, they were replaced by Frank Lugo on bass and Eddie Serrato (Martinez's brother-in-law) on drums. Frank Rodriguez was recruited to play organ.

? wrote a song for the group whose title frequently changed until "96 Tears" finally stuck. The song was well received by crowds at Mt. Holly, a ski lodge with a dancehall where the band was playing at the time. They recorded the tune in 1966 on a local label, Pa-Go-Go, in March of 1966. ? later said, however, in a 1998 National Public Radio (NPR) interview, that that was incorrect. "It was recorded in Bay City, Michigan, April the 14th, in 1966, in a [sic] outdoor patio.... No acoustics, no headphones, no separation, nothing. And if you listen to the recording, you can't even hear the bass drum.... [B]ut it cost us $50 to do." Other sources, however, say this was not the band's first recording. A month earlier, they recorded "(Hey Little Girl) Are You for Real?" with "I'll Be Back" on the B side.

Once "96 Tears" was a hit at radio stations in the state, national record companies began courting the group. They signed to Cameo-Parkway and the single was distributed nationally. At the heart of "96 Tears" is an unmistakable organ riff that prompted some questions among music historians. Was that signature sound played on a Farfisa or a Vox Continental keyboard? It was a Vox Continental. "The instant it burst onto the radio in 1966, ? and the Mysterians' '96 Tears' was a rock 'n' roll classic," wrote Steve Hochman in the Los Angeles Times, "a slice of primal urgency with a dark edge built on a pulsing, insistent Vox organ figure drawn from Mexican polkas, all shrouded in a purposefully sketchy image keyed to the band's name."

"96 Tears" hit the top of the record charts in fall of 1966. Their subsequent album, also called 96 Tears, was released at the end of the year. Another single, "I Need Somebody," fell just shy of the top 20, reaching 22 on the charts in 1967. "Can't Get Enough of You Baby," released in the same year, fared well, but their sophomore album Action did not.

By this time, Cameo-Parkway was having financial problems. Allen Klein, the notorious head of ABKCO, assumed control of the label. The Mysterians left Cameo-Parkway in 1968 and released several one-off singles on numerous small labels, but were unable to reproduce their initial success. Their one claim to fame in this dismal era was that Mel Schacher played briefly with the band. When he left to join Grand Funk Railroad, the band called it quits in 1968.

Vocalist ?'s decision to change his name to a glyph predates Prince's. Often referred to as "Question Mark," his real name is not known, although many speculate that he is Rudy "Reeto" Martinez, Robert Martinez's brother. The New Rolling Stone Encyclopedia of Rock & Roll noted that "? has refused to say whether [Rudy Martinez is] his name, and he has never revealed his background. Some believe that Martinez is a name he invented to collect royalties."

What little is known about ? is that he once wanted to dance on American Bandstand, the popular music and dance show hosted by Dick Clark. Additionally, "he frequently claimed he had been born on Mars and lived among the dinosaurs in a past life, and that voices from the future had revealed he would be performing '96 Tears' in the year 10,000," according to Steve Huey in All Music Guide. He has never been seen publicly without dark, wraparound sunglasses.

? tried to regroup the Mysterians in the 1970s, but to no avail. (He then decided to breed Yorkshire terriers, which he reportedly still does.) Bobby Balderrama formed a group in the early 1970s called Inflight, and at the end of the decade, another incarnation of ? & the Mysterians cut some demos. Covered by another artist in 1980, "96 Tears" elicited some renewed interest in the band, which reformed with ? as the only original member. An additional bit of interest was generated by a 1984 reunion show in Dallas. The re-formed band opened a few performances for Joe "King" Carrasco, a rocking cult favorite in Texas in the mid 1980s, who also covered the cult classic in live performances.

By 1997 ? was still hearing voices, which told him to re-form the group yet again. The group---Balderrama, Rodriguez, Lugo, Robert Martinez, and ?---rerecorded the songs from their debut, a release entitled ? & the Mysterians Featuring 96 Tears. A year later the group recorded the live CD Do You Feel It Baby? They recorded or rerecorded other material as well, but Balderrama eventually left to found a blues band.

About the time of this 1997-98 reunion, Hochman noted that the band deserved a unique spot in popular music history. Along with Texas' 13th Floor Elevators, L.A.'s the Seeds, Chicago's Shadows of Knight, San Jose's Count Five and dozens of others around the country, the Mysterians forged "a rough-hewn alloy of James Brown shouts, bubble-gum pop hooks and nascent psychadelia---not the peace 'n' love kind but anger 'n' confusion. Though acknowledged as a punk progenitor, the genre has largely been obscured through wave after wave of [19]60s nostalgia by Beatlemania and flower power."

Because Klein still controls the group's material, as of 2003, the original ? & the Mysterians material has not yet been released on CD. The single "96 Tears" has been blocked from official reissue, which explains its absence from Nuggets, a boxed set renowned among garage rock aficionados for its near-complete compilation of singles from the genre.

On January 10, 2007, a fire destroyed Rudy Martinez's house on his farm in Clio, Michigan, destroying all of his memorabilia and killing the Yorkshire Terrier dogs that he bred as his business. To help Martinez, his friends held several benefit shows for him, with Martinez performing at some of these events.

In May 2007, Rudy Martinez and Gary Fury revived their musical collaboration for a benefit show at New York's Highline Ballroom. The backup group, known as The Playthings, featured Fury on guitar, Jim Baglino on bass, Jimi Black of Cheetah Chrome and Sylvain Sylvain on drums, and Brian Leonard on keyboards. The concert encore featured CBS Orchestra leader Paul Shaffer on keyboards and Robert Martinez on drums. Many well-known rock musicians came to the concert to pay tribute to Rudy Martinez, including Tommy Ramone of The Ramones, Joe Bouchard of Blue Öyster Cult, John Hawken of Strawbs, and Gary Lucas of Captain Beefheart's Magic Band.

Guitarist Dennis Dean Lack joined the band in 1985 and was Martinez's main guitarist and music director, and still collaborates on new songs with Martinez into 2010. Lack has been active in the band for over 13 years; he now resides in Northern Michigan, currently working on a solo album due to be released sometime in 2011.

The Mysterians, without Rudy Martinez, still play shows in Michigan and around the country. A documentary film about the band is slowly being assembled by longtime friend and photographer Terry Murphy, who runs the official Question Markand the Mysterians website. The working title for Murphy's film is Are You For Real?.

On February 24, 2011, former Mysterians drummer Eddie Serrato (born Eduardo Serrato, December 5, 1945) died from a heart attack at age 65.

Here's a list of albums from Question Mark & the Mysterians:

-96 Tears Cameo-Parkway, 1966.
-Action Cameo-Parkway, 1966.
-96 Tears Forever: The Dallas Reunion Tapes (live), ROIR, 1985.
-? & the Mysterians Featuring 96 Tears Collectables, 1997.
-Do You Feel It Baby?: The Capitvating Live Sounds of ? and the Mysterians Norton, 1997.
-More Action (double CD), Cavestomp!, 1999.
-Feel It!: The Very Best of ? and the Mysterians Cavestomp!, 2001.
View the full website biography of Question Mark & The Mysterians.