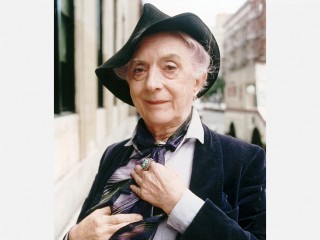 Quentin Crisp
Date of birth : 1908-12-25
Date of death : 1999-11-21
Birthplace : Suuton, England
Nationality : British
Category : Famous Figures
Last modified : 2010-08-19
Quentin Crisp, also known as Denis Pratt born December 25, 1908 in Sutton, England - died November 21, 1999 in Manchester, England was a British actor and author.

With his sharp wit and flamboyant style, writer and actor Quentin Crisp became an eccentric gay icon after the publication of his autobiography, The Naked Civil Servant, in 1968. Admired for his unwavering devotion to being himself, no matter what the consequences, he sported silk blouses, upswept hair, painted fingernails, and lilac eyeshadow even in the face of hostile comments and physical torment from others during his many years in his native England. He once noted, according to a New York Times obituary, that people in London "stood with their faces six inches from mine and hissed, `Who do you think you are?' What a stupid question. It must have been obvious that I didn't think I was anybody else." He found a much more tolerant atmosphere in New York's East Village, where he lived from the 1970s to his death.

Crisp was born in a suburb of London on Christmas Day, 1908. He was the youngest of four children of a lawyer and former nursery governess. As a child, he became fond of dressing in his mother's apparel and pretending to be a princess. His family withstood his antics well, but once he was thrust into mainstream society, he was taunted. Though his family was often in debt, they managed to send him to a boarding school, where he was unpopular and feared his classmates. Crisp compared his student years to being imprisoned. Later, he attended King's College and studied journalism for a short time, but soon dropped out.

Struggling with the need to find a job and his awareness of his homosexuality, Crisp soon fell in with a crowd of male prostitutes in London's West End. He modeled his appearance after their exaggerated style, with heavy make-up and flamboyant clothing. Later, his mother helped him find work first as a book illustrator, then in a series of clerical jobs with the government. Still, he did not give up his affinity for outrageous dress or his mingling in the gay underworld. He refused to moderate his dress or actions just to fit in.

Finally, at age 34, Crisp found a job that perfectly suited his temperament: He became a nude model for life drawing courses at art schools subsidized by the government, and continued this work for the next 35 years. This gave rise to the title of his autobiography, The Naked Civil Servant. Its publication marked what was thought to be the first time that an author so openly discussed his homosexual identity. The work not only provided a glimpse into his lifestyle and the perils it wrought, including violent attacks, but it also offered an intriguing overview of British society from the Depression era through the post-World War II recovery. In addition, The Naked Civil Servant established Crisp as a keen wit, and won him acclaim as a man who was dedicated to being true to himself in spite of the negative repercussions from the greater society.

In 1975, Crisp's autobiography was adapted for television starring John Hurt, and it received positive reviews. This led to Crisp staging a one-man show, An Evening with Quentin Crisp, in London's West End in 1978. Afterward, he took the production to the United States and performed it at Players Theatre in 1979, earning a special Drama Desk Award for unique theatrical experience. Meanwhile, realizing that New York was a haven for eccentrics, he decided to remain in America. Thus, at about age 70, he left his tiny Chelsea apartment and took up residence in Manhattan's East Village area. He immigrated to the United States his proudest achievement, he has said, and legally changed his name.

After his move, Crisp continued to write, penning numerous articles, reviews, and opinion pieces as well as several books. They included How to Have a Lifestyle, 1979; How to Become a Virgin, 1984; and Resident Alien: The New York Diaries, 1997, which was a collection of his contributions to New York Native, a gay publication. He also has appeared in ads for Calvin Klein's CK1 fragrance and in the film Philadelphia as Oscar Wilde, with whom he was often compared. In addition, he played Queen Elizabeth I in the 1992 film Orlando, based on Virginia Woolf's novel about a gender-bending time traveler.

In spite of the fact that Crisp is considered to be an early gay activist, he was derided by some in the gay community for his belief that homosexuality was perhaps an illness, and for his refusal to be more active in gay issues and culture. As he once noted in a Contemporary Authors interview, "I think it is true that the gay people now seem to have deliberately separated themselves from the rest of the world. They want gay bars; they want gay clubs. They want to write gay books and gay plays. I just want to live in the world. So I feel the deliberate separation is not much help . What one wants is to creep out into the world. And I think this is more easily done, not by retreating, by any means, but by not threatening the world."

A regular on the party circuit, Crisp was noted for his outgoing nature. However, he was outspoken about the fact that he had never fallen in love. According to a New York Times obituary, he once stated, "I've spread my love horizontally, to cover the human race, instead of vertically, all in one place. It's threadbare, but it covers." Crisp died at age 90 in Manchester, England, the day before he was scheduled to open a new run of An Evening with Quentin Crisp.

Crisp died, apparently of natural causes, on November 21, 1999, at a house in Manchester, England, where he was due to appear on stage the next evening. His usual residence was in an apartment on New York's East Side.

PERSONAL INFORMATION

Born Denis Pratt, December 25, 1908, in Sutton, Surrey, England; died November 21, 1999, in Manchester, England. Author and actor.

View the full website biography of Quentin Crisp.