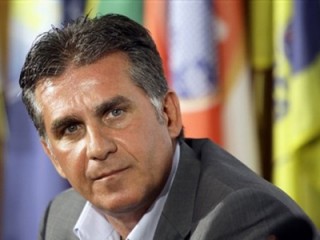 Queiroz Carlos
Date of birth : 1953-03-01
Date of death : -
Birthplace : Nampula, Portuguese East Africa (now Mozambique)
Nationality : Portuguese
Category : Sports
Last modified : 2010-05-07
Carlos Queiroz ( born 1 March 1953) is a Portuguese football coach. He is currently coach of the Portugal national football team.
He was Alex Ferguson's assistant manager at English club Manchester United, where he has enjoyed two spells. Queiroz was the fifth assistant Ferguson had during his 20 years at the club, following Archie Knox, Brian Kidd, Walter Smith, and Steve McClaren.

Queiroz has won several awards as a coach in junior levels, and he has been fairly successful at senior and club levels, mainly as Alex Ferguson's assistant manager. He is considered the discoverer of the Portuguese "Golden Generation" in the early 1990s, which most prominently include Luís Figo and Rui Costa, who were both selected for the FIFA 100 celebrations. In 1998, he authored the Q-Report, which detailed plans to enhance football player development in the United States.

Born in Nampula, the Portuguese Overseas Province of Mozambique (now Mozambique), to Portuguese settlers, Queiroz had a short professional career as a player, playing in Mozambique before turning to management. He moved to Portugal following Portugal's Carnation Revolution on 25 April 1974, and Mozambique's declaration of independence in 1975 and there he built up a reputation for working with youth players. He coached the Portuguese national under-20 youth team to two Football World Youth Championship wins, in the 1989 and 1991 tournaments. As head coach of the Portuguese under-20 youth team, Queiroz was credited with discovering the "golden generation" of Portuguese football, including Luís Figo, Rui Costa, Fernando Couto, João Vieira Pinto, Jorge Costa and Vítor Baía who went on to become the six most-capped players ever for the senior Portugal national football team.

In 1984, Queiroz was appointed as assistant manager of Estoril-Praia. Following his success with the Portuguese national youth teams, Queiroz was appointed senior national coach in 1991. Following a record of 14 wins in 31 matches, Queiroz failed to qualify Portugal for Euro-92 (losing the qualifying spot to Holland) and for the World Cup-94 (knocked out by Italy and Switzerland). After coaching his last national team game (a 0-1 defeat in Italy that sealed the elimination of Portugal) Queiroz left somewhat acrimoniously, famously declaring "there is a need to sweep away the dirt in the Portuguese football Federation". He then went on to manage the Portuguese SuperLiga team Sporting in 1994, in a controversial replacement of Bobby Robson at the helm of a team which then topped the league. At Sporting, Queiroz inherited a star-studded team boasting talents such as Luís Figo, Krasimir Balakov, Stan Valckx, Nuno Capucho, Paulo Sousa, Pacheco, Jorge Cadete and many others, considered by many to be one of the best squads of Sporting in recent years. In spite of very impressive performances, Queiroz lost the League Title in a famous home 3-6 drubbing by rivals Benfica. In this match, although João Vieira Pinto ran the game against Queiroz's side with a formidable performance (scoring a hat trick), most analysts considered Queiroz's half-time replacement of Paulo Torres, a left-back, for António Pacheco, an attacking midfielder (with the score at 2-3), as a very poor tactical move that completely unbalanced the team and led to the final historical score. Although he stayed on for the 1994-1995 and 1995-1996 seasons, the lack of results (his only piece of silverware being a Portuguese Cup in 1995) despite heavy investment led to the board losing patience on Queiroz. He finally left in 1996.

He subsequently coached NY/NJ MetroStars in the United States and Japanese team Nagoya Grampus Eight. In between, he found time to author the "Q-Report" detailing plans to professionalise the development of football players in the United States. Queiroz returned to coaching national teams in 1999, when he took a job as coach of the United Arab Emirates, before becoming coach of South Africa in 2000. Under Queiroz, South Africa qualified for the 2002 FIFA World Cup, but Queiroz resigned before the finals after falling out with the South African Football Association.

Queiroz became a coach at English club Manchester United in June 2002. He began his work at the start of the 2002–03 season, working alongside Alex Ferguson, who had gone without an assistant manager since the departure of Steve McClaren in the summer of 2001. Following Queiroz's arrival, Manchester United succeeded in catching league leaders Arsenal and claim the Premier League title.

Real Madrid

His work at Manchester United attracted the attention of Real Madrid, who wanted Queiroz as their manager to replace the exiting Vicente del Bosque in the summer 2003. It was an opportunity to work with the likes of FIFA World Player of the Year award winners Zinedine Zidane, Ronaldo and Luís Figo; an opportunity which Queiroz was unable to turn down. He was appointed on a two-year contract, only a week after the arrival of Manchester United player David Beckham. Although Real Madrid was playing some of their best football in recent years, many believe that Queiroz's failure at Madrid was down to the pressure from the Real Madrid president. Some believe that he was forced to pick the star players, therefore having no input into tactical decisions. Famously, he didn't want to sell Claude Makélélé, as he felt he was too important to the team. However, he was overruled. Another example of the clash between manager and president came when Queiroz informed Real Madrid officials that Pepe (now a Real Madrid player) was going to be one of the most vibrant players in his position (centre back) and was available for 2 million Euros. However, Real Madrid rejected his request because, according to Queiroz, at the time, centre backs didn't sell shirts. However, just three years later, Real Madrid bought Pepe for 30 million Euros.

Real Madrid got off to a good start of the 2003–04 season winning the Spanish Supercup against Mallorca with a 3-0 victory in 27-08-2003 for the 2º leg and at mid-season the team topped the La Liga table and was still in contention for the Spanish Cup and UEFA Champions League trophies. However, they went on to lose their final five matches and finished in 4th place, which gave Valencia the title. Real Madrid also disappointed in the Spanish Cup and UEFA Champions League tournaments, and only won the Spanish Supercup. Following 10 months at Real Madrid, Queiroz would join the long list of managerial failures at the Santiago Bernabéu Stadium, as he was sacked in May 2004.

Back at Old Trafford

Reforming the old partnership with Alex Ferguson proved an attractive option to both sides. United had trailed 15 points behind Arsenal, and Ferguson was forced to bring in temporary help from Walter Smith during the tough end of season run-in. Subsequently, Queiroz returned to United as assistant manager on 1 July 2004, signing a three year deal.

Queiroz was heavily rumoured to be one of the main reasons for team captain Roy Keane's departure from Manchester United in November 2005. According to Keane, he did not like the way Queiroz was given so much responsibility as if he were manager of the club and Keane did not like the tactics that Queiroz employed. One of the main outbursts of Keane's now infamous MUTV interview was aimed directly at Queiroz. As nobody in the media has ever seen this tape it is difficult to gather what was said.

He was linked with managerial roles with Portuguese side Benfica[4] and the United States national team in 2006 but he remained with Manchester United to help them win the Premier League in 2007. Queiroz was often seen conducting interviews with BBC programmes, such as Match of the Day, as Alex Ferguson currently refuses to speak with the BBC after allegations by the BBC's Panorama programme that Ferguson's younger son Jason, and then Portsmouth manager Harry Redknapp, had been involved in corruption regarding cuts in transfer fees. The urbane Queiroz has proven to be popular with viewers with his insight and honesty and comfort in front of the television camera, although some of his post-match opinions on refereeing have been seen by some as unsavory. For example, in 2008 Queiroz was – unsuccessfully – charged with improper conduct by the Football Association after describing referee Martin Atkinson's performance in a match as "a disgrace".

In late March 2008, it was reported that Benfica had, once again, approached Queiroz to become their manager and had made a formal request to Manchester United. Since United were heavily involved in the 2007-08 Premier League title race, five points clear at the top, with just seven games remaining, and also the Champions League - being in the quarter-finals at the time of the enquiry - it seemed unlikely that Queiroz would make any public response to his decision to avoid destabilising the team, and indeed he didn't.

Following on from the attempts of Benfica, and rumors about an opening as the Portuguese National Coach, Alex Ferguson started to push for Queiroz to be his successor in the Old Trafford hot seat and discouraged any possible suitors from approaching him. However, rumours over the summer of 2008 continued to link Queiroz with the Portugal national football team managers' role, following the departure of Luiz Felipe Scolari. On 11 July 2008, Manchester United agreed to release Queiroz from his contract, and he was appointed manager for the Portuguese national team.

Portugal

On 11 July 2008, it was announced that Queiroz was leaving Manchester United, having agreed to a four-year contract to become the head coach of the Portuguese national football team.

Portugal struggled under his management during the qualification for the World Cup 2010. Despite kick starting their World Cup Qualification campaign with a comfortable 4-0 win against Malta in La Valetta, Queiroz's team failed to win any of their subsequent four matches. Home form has been especially poor, with a 2-3 defeat to Denmark being followed by 0-0 draws against Albania and Sweden. Together with another goalless draw in Stockholm against Sweden, these results left Portugal with only 6 points out of a possible 15 and on the brink of missing a major international tournament for the first time since 1998. However, Portugal defeated Albania in Tirana 2-1 with the goal being scored late in the game. However, Portugal only able to tie 1-1 versus Denmark on September 5. But got a 1-0 win over Hungary and defeated them 3-0 once again in the return match. They defeated Malta 4-0 to finish the campaign with 19 points second in the group, 1 point ahead of Sweden for the UEFA Play-off. They played Bosnia and Herzegovina in a 2-game series. Portugal won 1-0 in Lisbon and followed up with a 1-0 victory in Zenica, Bosnia, and as a result they have advanced to the finals of the 2010 FIFA World Cup.


View the full website biography of Queiroz Carlos.