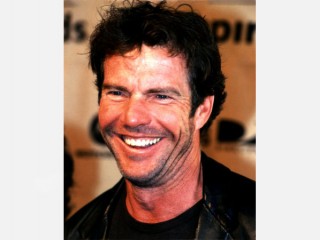 Quaid Dennis
Date of birth : 1954-04-09
Date of death : -
Birthplace : Houston, Texas, United States
Nationality : American
Category : Arts and Entertainment
Last modified : 2010-03-31
Dennis Quaid was born in Houston, Texas, the son of Juanita Bonniedale "Nita" Quaid, a real estate agent, and William Rudy Quaid, an electrician. He is the younger brother of actor Randy Quaid. Quaid has Irish and Cajun ancestry. He attended Pershing Middle School in Houston. He studied Chinese and dance at Bellaire High School in Bellaire, Texas, and later in college, at the University of Houston, under drama coach Cecil Pickett.

Career

After his brother, Randy, was nominated for an Academy Award for Best Supporting Actor for his role in The Last Detail (1973), Quaid dropped out of the University of Houston before graduating and moved to Los Angeles to pursue an acting career of his own. He initially had trouble finding work but began to gain notice when he appeared in Breaking Away (1979) and earned good reviews for his role in The Right Stuff (1983).

Known for his grin, Quaid has appeared in both comedic and dramatic roles. Quaid had starring roles in the films Enemy Mine (1985) and Innerspace (1987). He also achieved acclaim for his portrayal of Jerry Lee Lewis in Great Balls of Fire! (1989).

Quaid's career lost steam in the early 1990s, after he fought and kicked a cocaine addiction. He continued to garner positive reviews in a variety of films, however, such as Doc Holliday in Wyatt Earp (1994). He starred in the remake of The Parent Trap (1998), playing the part of the twins' father, and as an aging pro football quarterback in Oliver Stone's Any Given Sunday (1999). Some of Quaid's more recent film credits include Far From Heaven (2002), The Flight of the Phoenix (2004), In Good Company (2004), The Day After Tomorrow (2004), Yours, Mine and Ours (2005), Vantage Point (2008), G.I. Joe: The Rise of Cobra (2009), and Pandorum (2009).

He will portray U.S. President Bill Clinton, alongside Michael Sheen as Tony Blair and Hope Davis as Hillary Clinton, in the 2010 film The Special Relationship.

Awards

For his role in Far From Heaven (2002) he won the New York Film Critics Circle Award for Best Supporting Actor, the Chicago Film Critics Association Award for Best Supporting Actor, the Online Film Critics Society Award for Best Supporting Actor and the Independent Spirit Award for Best Supporting Male. He received nominations for Best Supporting Actor from the Golden Globe Awards, the Phoenix Film Critics Society Awards and the Screen Actors Guild Awards.

Personal life

Quaid was raised in the Baptist faith and is currently a practicing Christian.

Quaid and actress P.J. Soles were married on November 25, 1978. The couple were divorced on January 23, 1983. On February 14, 1991, he and Meg Ryan were married. Quaid and Ryan have a son, Jack Henry (born April 24, 1992). They were divorced on June 16, 2001.

Quaid married Kimberly Buffington, an Austin, Texas, real-estate agent, on July 4, 2004. The couple had twins, born via a gestational carrier, on November 8, 2007, in Santa Monica, California. Their son Thomas Boone was born first at 8:26 a.m. and weighed six pounds, twelve ounces (3.06 kg). Daughter Zoe Grace was born two minutes later weighing five pounds, nine ounces (2.52 kg).

On November 18, 2007, hospital staff mistakenly gave Quaid's twelve-day-old twins a dosage of heparin 1,000 times the common dosage for infants. Their attorney said the newborns will "be fine now", but Quaid filed a lawsuit against the drug manufacturer, Baxter Healthcare, claiming that packaging for the two doses of heparin are not different enough. In May 2008, the Quaids testified before the United States House of Representatives' Committee on Oversight and Government Reform, asking U.S. Congress not to preempt the right to sue drug manufacturers for negligence under state law.

In addition to acting, Quaid is a musician and plays with his band, the Sharks. Quaid also has a pilot's license and is a scratch golfer. In 2005, he was named as the top golfer among the "Hollywood set" by Golf Digest. He lends his name to the annual "Dennis Quaid Charity Weekend" (formerly the "Jiffy Lube/Dennis Quaid Charity Classic") in Austin. The golf tournament attracts numerous celebrities with the proceeds split among local children's charities. He is a member of the Bel-Air Country Club in Bel-Air, California, and tries to stay at homes on private courses when he is on the road.

Quaid works with the charity, International Hospital for Children in New Orleans, Louisiana. He makes trips to Central America to help build medical clinics and transport sick children back to the U.S. for treatment they cannot get locally.
View the full website biography of Quaid Dennis.