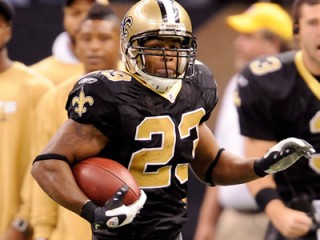 Pierre Thomas Jr.
Date of birth : 1984-12-18
Date of death : -
Birthplace : Chicago, Illinois
Nationality : American
Category : Sports
Last modified : 2010-10-15
CAREER TRANSACTIONS

Re-signed (RFA), 6/16/10; Signed a three-year contract 4/30/07 as an undrafted rookie free agent.
HONORS – 2008: NFC Special Teams Player of the Week (Week 14).

2009 - Played in 14 games and started six, leading the team with a career-best 793 yards on 147 rushing attempts (5.4 avg.) with six touchdowns and also caught 39 passes for 302 yards with two touchdowns. Also had one kickoff return for 19 yards and made one tackle on special teams. Detroit (9/13): Inactive with a knee injury. at Philadelphia (9/20): Saw limited action in his return from a knee injury, playing on special teams and caught one pass for a loss of four yards. at Buffalo (9/27): Saw extended playing time in the backfield for the first time on the season and ran for a career-best 126 yards on 14 carries with a pair of fourth-quarter touchdown runs of 34 and 19 yards, marking his fifth career multi-touchdown game. Also made one tackle on special teams. vs. NY Jets (10/4): Started at RB and led the team both in rushing and receiving, carrying 19 times for 86 yards and a touchdown along with catching four passes for 46 yards and a career-long 36-yard gain on a screen pass. vs. NY Giants (10/18): Led the team with 72 rushing yards on 15 attempts. at Miami (10/25): Gained 30 yards on eight rushing attempts and also caught one pass for 14 yards. vs. Atlanta (11/2): Scored two touchdowns in a game for the sixth time in his career, rushing for 90 yards on 14 carries with a 22-yard touchdown and catching two passes for nine yards with an acrobatic one-yard scoring reception that saw him take a swing pass and leap into the end zone. vs. Carolina (11/8): Led the team with 50 yards rushing on 13 carries with a 10-yard touchdown and also caught five passes for 31 yards. at St. Louis (11/15): Played in the running back rotation and rushed for 37 yards on 11 carries and additionally caught one pass for five yards. at Tampa Bay (11/22): Started at running back and led a balanced rushing attack with 92 yards on 11 carries to go with three receptions for 11 yards. vs. New England (11/30): Started at running back and posted a team-high 64 rushing yards on 11 carries with three reception for 23 yards, including an 18-yard touchdown on a swing pass early in the second quarter that gave the Saints a lead they would not relinquish in the 38-17 victory. at Washington (12/6): Carried the ball six times from his starting RB spot, gaining 18 yards and caught a season-best eight passes for 64 yards in the victory. at Atlanta (12/13): Posted 100 yards of offense, gaining 47 yards on 13 carries from his starting RB position and also tied for the team-lead with six receptions for 53 yards. vs. Dallas (12/19): Played in a running back rotation, gaining 20 yards on six carries and caught five passes for 50 yards. vs. Tampa Bay (12/27): Started at running back and carried six times for 60 yards with an eight-yard touchdown in the first half before leaving the game with bruised ribs. at Carolina (1/3): Inactive with the rib injury. vs. Arizona (1/16 – Divisional Playoff): Started at running back and carried the ball 13 times for 52 yards along with making four catches for 18 yards in the win. vs. Minnesota (1/24 – NFC Championship Game): Scored two of the team's four touchdowns in the win, first on a 38-yard reception on a screen pass and later on a nine-yard run as he led the team with 14 carries for 61 yards along with two catches for 38 yards. He also played a key factor in the game-winning field goal drive in overtime, first setting up the drive with a 40-yard kickoff return and converting on a key fourth-and-one with a two-yard dive over the line. vs. Indianapolis (2/7 – Super Bowl XLIV): Started in the team's two-back set and carried nine times for 30 yards, also catching six passes for 55 yards with a 16-yard touchdown on a screen pass early in the third quarter that gave the Saints their first lead of the game...
2008 – Led the club in rushing with 625 yards on 129 carries (4.8 avg.) with nine touchdowns, finished seventh with 31 catches for 284 yards (9.2 avg.) and three TDs and led the team with 31 kickoff returns for 793 yards (25.6 avg.)…Also led the team in scoring with 72 points…Played in 15 games, with five starts, inactive for the finale with back and wrist injuries…Rushed for 475 yards and six touchdowns, had three TD receptions and added an 88-yard kickoff return in his final six contests…Scored a touchdown in six-straight games (11/16-12/21), tying a team record held by Dalton Hilliard, who reached the milestone twice. Thomas enters 2009 with the streak still active after missing the finale…In opener vs. Tampa Bay, pounded out 52 yards on 10 carries and added a special teams tackle…At Denver, Sept. 21, reached end zone on runs of five and 10 yards…Top kick return day of year came vs. Minnesota, with five for 168 yards, including a 56-yarder…Emerged as club's top backfield threat at Kansas City, with 16 carries for 88 yards and a TD, and four catches for 56 yards, including a 24-yard catch-and-run…Nov. 24 vs. Green Bay, had 87 yards on 15 attempts with two TDs and hauled in three passes for 34 yards…Scored on a 20-yard touchdown catch at Tampa Bay and added 34 rushing yards, Nov. 30…Posted the Saints' lone 100-yard performance of the season with 102 on 16 carries with a touchdown vs. Atlanta, Dec. 7. Added a seven-yard TD catch and an 88-yard kickoff return, and was named NFC Special Teams Player of the Week…At Chicago, Dec. 11, had a season-high 22 carries for 87 yards, including a 42-yard burst for a TD, and added seven catches for 59 yards and a TD. His 146 yards of offense were a season-high, and he added three kickoff returns for 63 yards…Posted 77 yards on 13 attempts with a TD at Detroit, Dec. 21. Performance included a 29-yard run, and he added three grabs for 26 yards. Tied team record by scoring a touchdown for his sixth-straight game, but injuries to back and wrist kept him on the inactive list for the finale.

2007 – One of only two rookie free agents to make opening day roster…Played in 12 games with one start, and inactive for four games…Rushed for 252 yards on 52 attempts (4.8 avg.) with a touchdown, caught 17 passes for 151 yards and a TD, returned 36 kickoffs for 865 yards (24.0 avg.) and made five tackles on special teams…Also scored on a fumble recovery on special teams and added a two-point conversion run, scoring 20 points on the year…Inactive for first three games…Made NFL debut Oct. 7 vs. Carolina, averaging 25 yards on four kickoff returns and also had a carry for three yards…Scored a touchdown in just the second game of his career at Seattle, Oct. 14, scooping up a loose ball on a botched punt snap and carrying it five yards into the end zone to give the Saints a 7-0 lead less than three minutes into a 28-17 victory…Against Atlanta Oct. 21, scored his first career offensive touchdown on a 24-yard draw and totaled two rushes for 26 yards…Tied a team record with eight kick returns against St. Louis, Nov. 11, totaling 233 yards (second-highest single-game total in team history) to average 29.1 yards, with a season-best 64-yard return…Inactive Dec. 2 vs. Tampa Bay with a bruised kidney suffered the previous week at Carolina…Playing in hometown of Chicago, Dec. 30, made first career start and turned in one of the finest statistical performances by Saints RB in club history. Posted 20 carries for 105 yards and caught 12 passes 121 yards and an 11-yard touchdown, becoming the first player in team annals to gain more than 100 yards rushing and receiving in the same game. His 226 total yards from scrimmage marked the third-highest total in club history. Also ran for a two-point conversion following his fourth quarter TD catch, gained 16 first downs on his 32 touches and stripped the ball from CB Charles Tillman on an interception return that Lance Moore recovered, setting up a Saints field goal just before halftime.

COLLEGE

Played 40 games at Illinois and ranks sixth in school's history with 2,545 rushing yards…Averaged 5.6 yards per carry over his career and ran for 20 TDs…Also caught 57 passes for 411 yards and three TDs…Led team in rushing in each of the final three seasons, and had eight 100-yard games… Had a school-record 1,495 career kickoff return yards…Averaged 24.1 yards as a kick returner for his career including a 99-yard return for a touchdown…Second in school history with 4,451 all-purpose yards…Majored in sports management.

PERSONAL

Prepped at Thornton Fractional South (Lansing, Ill.) HS, where he was a two-time all-state selection by the Chicago Tribune and Chicago Sun-Times…Totaled 5,565 yards in his career and scored 88 touchdowns, with 27 100-yard games and 11 of over 200…Racked up 2,365 yards and 38 TDs as a senior and was named the Champaign News-Gazette Player of the Year…A native of Lynwood, Ill., Charles Pierre Thomas, Jr. was born Dec. 18, 1984 in Chicago.

View the full website biography of Pierre Thomas Jr..