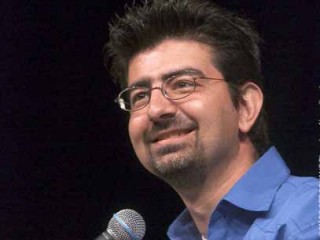 Pierre Omidyar
Date of birth : 1967-06-21
Date of death : -
Birthplace : Paris, France
Nationality : French
Category : Famous Figures
Last modified : 2010-06-21
Born Pierre Morad Omidyar on June 21, 1967 in Paris, France is a French business figure, entrepreneur, philanthropist. Best known as the founder and chairman of Ebay, the online auction website.

Unlike many other high-tech entrepreneurs, Omidyar didn't set out to become an Internet tycoon. Born in Paris, he moved to Maryland as a child when his father accepted a residency at Johns Hopkins University Medical Center. He wrote his first computer program at age 14, to catalog books for the school library. He graduated from Tufts University in 1988 with a degree in computer science and went to work for a company that developed Macintosh software. Later, he worked for the Apple subsidiary Claris, then helped start a software company in 1991 called Ink Development Corp. The company later changed its name to eShop and was purchased by Microsoft in 1996.

Ebay, the multibillion-dollar online auction company that changed e-commerce, all started with Pez. Software developer Pierre Omidyar was having dinner one night in 1995 with his girlfriend, an avid Pez collector. She bemoaned the lack of fellow collectors in the San Francisco Bay area, and he suggested using the Internet to find trading partners. To help her, he posted a page called Auction Web on his personal Web site letting people list items for auction—including his girlfriend's Pez dispensers. To his amazement, the site attracted so many buyers and sellers that he soon had to set up a separate site devoted to auctions, which he dubbed eBay. By charging between 25¢ and $2 to sellers for posting their auction notice, and taking a small percentage of the sale, the company made money simply by setting up a place for buyers and sellers to meet.

Omidyar then joined General Magic, an Internet phone venture backed by Apple. However, by then his auction site was growing by leaps and bounds. Nine months after the company's first auction launched, he quit his day job to devote himself full time to eBay.

In May 1998, Omidyar was named eBay's chairman, at which time he announced the appointment of Meg Whitman as president and chief executive officer. Ebay continued to thrive under the direction of Whitman, who expanded eBay's services through new site launches (in Australia, Canada, Germany, Japan, and the United Kingdom), acquisitions, and joint ventures.

By the end of 1998, the company boasted 2.1 million members and generated $750 million in revenues, enough business to attract the attention of e-commerce giant Amazon.com, which started running its own auctions in 1999. Smaller auction sites have joined the fray, as have conventional marketers like clothing companies, who started offering auctions on surplus products. So successful did the online auction site become that some industry observers predicted that Internet auctions would become the dominant e-commerce model in the future.

In January 2000, Omidyar accepted his first board position outside of eBay. He joined the board of directors of ePeople, an online marketplace for technical support.

In 1999, Omidiyar married his girlfriend, who now has more than 400 Pez dispensers in her collection.
View the full website biography of Pierre Omidyar.