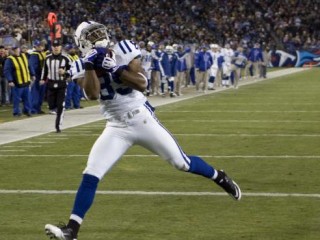 Pierre Garcon
Date of birth : 1986-08-08
Date of death : -
Birthplace : Carmel, New York
Nationality : American
Category : Sports
Last modified : 2010-12-20
Pierre Garçon is an American football wide receiver for the Indianapolis Colts of the National Football League.

CAREER

2010: Started 11 games at WR…was inactive at Denver 9/26 and at Jacksonville 10/3…was 3-43 receiving at Houston 9/12…was 1-11 receiving vs. NY Giants 9/19…was 6-57 receiving vs. Kansas City 10/10…was 4-103, 1 TD receiving at Washington 10/17…was third career 100+-yard receiving game…was 7-78 receiving vs. Houston 11/1…was 2-15 receiving at Philadelphia 11/7…was 5-37 receiving vs. Cincinnati 11/14…was 5-62 receiving at New England 11/21…was 5-72 receiving vs. San Diego 11/28…was 8-56, 1 TD receiving and 1-11 rushing vs. Dallas 12/5…receptions total was regular season career high…was 6-93, 2 TDs receiving at Tennessee 12/9…was first career multiple-touchdown game.

2009: Opened 13 of 14 games at WR…started games 2-14…was inactive vs. NYJ 12/27 and was active but did not play at Buffalo 1/3…was 47-765, 4 TDs receiving and 2-10 rushing…was 3-24 in reserve role vs. Jacksonville 9/13…was 1-48, 1 TD at Miami 9/21…48t reception with 3:18 left was game-winner in first career start…was 3-64, 1 TD (53t) and 1-17 rushing at Arizona 9/27…was 3-50, 1 TD vs. New England 11/15…was 6-108 at Baltimore 11/22…66-yard reception was career-long…was first career 100+-yard game…was 5-63, 1 TD at Houston 11/29 and 6-136 vs. Tennessee 12/6…136 receiving yards marked career-high and second career 100+-yard game. POST-SEASON: Started three games at WR…was 21-251, 2 TDs…was 5-34 vs. Baltimore 1/16 in Divisional Playoffs…also had one FF after chasing down defender on INT return…was 11-151, 1 TD vs. NYJ 1/24 in AFC Championship Game…recorded fourth 10+-reception game in franchise history (12, Raymond Berry; 10, Joseph Addai; 10, Reggie Wayne)…had 3rd-most receiving yards in Colts post-season history (221, Wayne; 178, Berry)…marked 4th time in franchise post-season history that team had two 100+ receivers in same game (123, Austin Collie)…was 5-66, 1 TD (19t) vs. New Orleans 2/7 in Super Bowl XLIV.

2008: Appeared in 14 games…was inactive vs. Chicago 9/7 and vs. Detroit 12/14…was 4-23 receiving, 22-21.6 KOR avg. and 1-5 PR…also ranked third on team with 15 special teams tackles, 12 solo…had season-high three special teams tackles in first NFL appearance at Minnesota 9/14…was 6-25.0 KOR and 1-5.0 PR at Tennessee 10/27…was 5-17.0 KOR and 1-2 receiving at Pittsburgh 11/9…was first career reception…recorded two special teams tackles and was 1-32 KOR at Jacksonville 12/18…was 3-21 receiving, 1-22 KOR and had one special teams tackle vs. Tennessee 12/28. POST-SEASON: Was inactive in Wild Card Playoffs at San Diego 1/3.

COLLEGE

Four-year player who saw action in 51 games at Norwich (Vt.) and Mount Union…played one year at Norwich before transferring to Mount Union as sophomore…was combined 246-4,380, 60 TDs receiving and 19-176, 4 TDs rushing…also was 20-24.6, 1 TD KOR and 10-10.0 PR…60 TD receptions rank 2nd in NCAA Division III history…also became sixth player in Division III history to surpass 4,000+ yards receiving…started 39 of 41 games in three seasons with Mount Union and led team to two national titles…set school records with 202 receptions and 47 TD receptions…ranked 2nd in school history with 3,363 receiving yards…saw action in 14 games as senior…was 67-955, 14 TDs receiving and 19-176, 4 TDs rushing…was First-Team All-Ohio Athletic Conference choice and Ed Sherman Award winner as league's most outstanding receiver for second consecutive year…was 7-119, 1 TD vs. Marietta and had two three-touchdown games…appeared in 15 games as junior…was 67-1,212, 17 TDs receiving and 7-106, 2 TDs rushing…also had 18t pass…saw action in 12 games as sophomore…was 68-1,196, 16 TDs receiving and 10-24.1, 1 TD KOR…was Second-Team All-OAC choice…appeared in 10 games and was 44-1,017, 13 TDs as freshman at Norwich…holds degree in communications.

PERSONAL

Full name Pierre Andre Garcon…born in Carmel, NY.…attended John I. Leonard (Green Acres, Fla.) High School…earned two letters in football, while also competing in track and soccer…single…resides in West Palm Beach, Fla.


View the full website biography of Pierre Garcon.