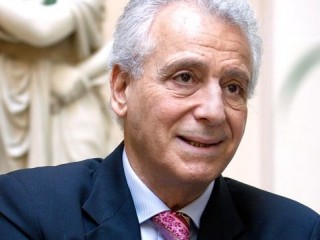 Pierre Dukan
Date of birth : -
Date of death : -
Birthplace : France
Nationality : French
Category : Famous Figures
Last modified : 2011-07-20
French doctor Pierre Dukan has over thirty years of research and practice behind him with huge success in France and now the UK, the Dukan Diet has finally come stateside. His research and work with patients led him to develop the Dukan Method or Dukan Diet – an incredible diet and lifestyle plan for losing weight fast and maintaining a weight that is healthy for each individual.

He has written 19 books, selling over 2 million copies and is a renowned doctor and nutritionist.

Interestingly, Pierre Dukan never set out to be a weight loss guru, or even a weight loss doctor. He trained as a neurologist and then specialized in treating paraplegic children. It wasn't until a patient asked his advice, and followed it with great results that his avid curiosity led Dukan to have interest in nutrition and weight loss.

The patient who Dukan treated for asthma begged the doctor to give him a diet to lose weight. Dukan refused stating that he knew nothing of diets. The patient absolutely insisted on diet advice and finally Dr. Dukan sent him away telling him to eat all the lean meat he wanted, drink tons of water and come back in 5 days. The patient came back in 5 days having lost 10 pounds.

Dr. Dukan is against counting calories and doesn't think it is in our nature to sacrifice all of the time and limit what we eat so he thinks the Dukan Diet allows you to eat as much as you want of the right things to get to the healthy slim weight you desire.

Dukan Diet Phases:

1. Phase one: Attack
Using Dr. Dukan's True Weight calculator, dieters determine a reasonable and healthy weight loss goal. Then they begin the Dukan Attack phase a two-to-seven-day period during which only unlimited lean protein and a daily Oat bran galette (or pancake) are consumed and dramatic weight loss is achieved.

2. Phase Two: Cruise
Dieters alternate days of unlimited lean protein with days of protein combined with healthful vegetables until they reach their True Weight.

3. Phase Three: Consolidation
Dieters stay on this phase for 5 days for every pound lost. At this point the diet allows unlimited protein and vegetables, and other foods (such as cheese and bread) are reintroduced. Dieters are also allowed two weekly celebration meals to stave off boredom.

4. Phase Four: Stabilization
This is the maintenance portion of the plan, in which followers are allowed to eat whatever they like without regaining weight -- provided that they follow 3 unbreakable rules including eating only unlimited lean protein one set day per week.

For each phase, The Dukan Diet offers clear simple guidelines for long term success. The Dukan Diet is the perfect diet for people who want fast weight loss, that can be maintained without counting calories or weighing portions.

View the full website biography of Pierre Dukan.