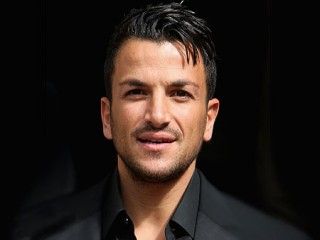 Peter Andre
Date of birth : 1973-02-27
Date of death : -
Birthplace : Harrow, London, England
Nationality : English
Category : Arts and Entertainment
Last modified : 2011-10-18
Peter James Andrea is an English-born Australian-raised Cypriot singer-songwriter, television personality and businessman.
He was born in the United Kingdom to Greek Cypriot parents and raised in Australia.
From the 2000s, he has been a resident of the United Kingdom. He also has a successful career in music, achieving four top 10 UK albums and ten top 10 singles.

Peter Andre first came to our attention when he appeared wearing very little and showing off his abs under the guise of pop stardom. Peter had a string of hits in the 1990's, including a number 1 album, gracing teenage girls' bedroom walls worldwide.

His most famous song was Mysterious Girl which he reluctantly still performs. Despite being born to Cypriot parents, Peter was raised in Australia which explains the accent.

After that things went a bit quiet for Peter and his life was pretty much normal. He hung up his showbiz shoes and kicked back, even working in a gym for a bit.

Then in 2002 he appeared in I'm a Celebrity, Get me out of Here! And suddenly Peter Andre was relevant again. In between singing Insania (which was later released) at every given opportunity, Peter fell for glamour model Katie Price, and their romance unfolded before our very eyes.

After leaving the jungle the pair embarked on a series of reality TV shows following their lives and even the births of their two children, Junior and Princess.

They married in a glitter fuelled typical Jordan style wedding in 2005. During this time Peter even allowed Katie to sing on an album of duets called A Whole New World.

However, the relationship wasn't to be and Peter decided to end his marriage and divorced Katie in 2009. Since this time, Peter has kept pretty quiet on the lover front, despite a number of women selling stories to the tabloid newspapers.

In 2010 Peter went public with Frank Lampard's ex, Elen Rivas. However, the couple went their separate ways after just a few months after Peter felt he just didn't have enough time for a relationship.

To be fair, he has been pretty busy carving out a pretty impressive name for himself in the world of TV and music, landing presenting jobs on The 5 'O Clock show, This Morning and live from the red carpet at the Brit Awards.

Despite regularly getting snubbed by mainstream radio, his album Revelation reached no7 in the charts and his single Behind Closed Doors reached number 4. However, his song Unconditional, about his step-son Harvey, only managed to peak at 50.

The album Accelerate was released on 1 November 2010. It reached number 10 in the UK album charts in its first week, becoming Andre's third top 10 album in a year, and fourth overall.
On the album, Andre collaborates with Urban artists such as Labrinth, Taio Cruz and Roll Deep member J2K. It is a new sound and direction for Andre, as he moves onto a more R&B/Urban sound. As part of promotion for the album, he has appeared on TV shows Daybreak and CBBC. He also had three album signings in Derby, Bristol and Manchester.

After his recent popularity rise in 2009, Andre released a fragrance for women called Unconditional. To promote the fragrance Andre signed copies across stores in the UK.
Following the success of Unconditional Andre released a male fragrance Conditional.

The summer of 2010 saw Andre release a book, My World: In Pictures and Words. This was his first book since his divorce from Katie Price. The book tells of Andre's life story in his own words and selected pictures, it goes through his music career, marriage and divorce. The book reached number two on the UK book charts and stayed there for a number of weeks.

In 2010, Andre then released a second perfume, called Mysterious Girl, named after his hit single. He did several signings of the perfume across the UK.

View the full website biography of Peter Andre.