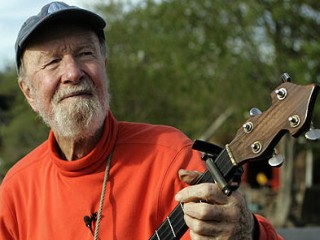 Pete Seeger
Date of birth : 1919-05-03
Date of death : 2014-01-27
Birthplace : Manhattan, New York, U.S.
Nationality : American
Category : Arts and Entertainment
Last modified : 2014-01-28
Peter "Pete" Seeger is an American folk singer and was an iconic figure in the mid-20th century American folk music revival. A fixture on nationwide radio in the 1940s, he also had a string of hit records during the early 1950s as a member of The Weavers, most notably their recording of Lead Belly's "Goodnight, Irene", which topped the charts for 13 weeks in 1950.

The indomitable Pete Seeger has weathered a number of storms to become, in his eighties, the most influential folk artist in America. Seeger was instrumental in popularizing both the five-string banjo and the songs of populist America that could be played on it; his own works such as "If I Had a Hammer," "We Shall Overcome," and "Where Have All the Flowers Gone?" served as anthems in the anti-establishment protests of the late 1960s. In Best of the Music Makers, George T. Simon calls Seeger "an uncanny mixture of saint, propagandist, cornball, and hero" whose "emotional generosity and companionship with his audiences around the world has invariably been returned affectionately by the ... people he has entertained and inspired."

Through his father's friends Seeger met the finest folksingers of the Depression era, Huddie "Leadbelly" Ledbetter and Woody Guthrie. Guthrie became Seeger's mentor, and the youth quit college to travel with him. Together Guthrie and Seeger sang for the striking workers and displaced farmers of the nation; they proudly associated themselves with the Communist Party and other left-wing groups. "I knew it wasn't a quick way to get jobs--to sing for the Communist Party," Seeger told the Philadelphia Inquirer. "It was something that you do, because you think it's the right thing at the time. And in the long run, you realize the value in doing what you think is right."

After wartime service as an entertainer for enlisted men, Seeger formed a quartet, the Weavers, in 1948. A full decade before the so-called "folk revival," the Weavers placed several songs on the pop charts, including the winsome "On Top of Old Smokey" and a country favorite, "Goodnight, Irene." The Weavers were also the first to perform "If I Had a Hammer," and as the Cold War era dawned, the group--and Seeger in particular--faced a hostile government. Linn writes that as anti-communist sentiment rose, "simple concerts turned into melees between a rising tide of 'patriots' and the people who were branded as commies. Hundreds of concertgoers and singers ... were caught in the violence, including Pete Seeger and his family. Cars were overturned, crosses burned, a man was stabbed. It was an omen."

One year after compiling four million record sales, the Weavers found themselves blacklisted as communist sympathizers. Seeger was called before the dreaded House Un-American Activities Committee in 1955 and questioned about his communist activities. When he evoked his First Amendment rights of free speech, rather than the Fifth Amendment rights against self-incrimination, he was charged with contempt of Congress and sentenced to ten years in prison. The sentence was overturned on appeal, but the blacklisting endured. Undaunted, Seeger continued to perform wherever he was welcome, and he wrote numerous songs and books about music.

A changing political and musical climate brought Seeger back into prominence in the mid-1960s. The younger generation--many of them rootless as Seeger had been--embraced the simplicity and passion of folk music. Seeger was one of the organizers of the prestigious Newport Folk Festival, and one of its most popular performers. Having stood his ground in the McCarthy era, he finally achieved respect for his strength--and his music.

With civil rights activists singing "We Shall Overcome" and anti-war demonstrators singing "Where Have All the Flowers Gone?" Seeger found himself compared to his former teacher, Woody Guthrie, in terms of influence. Although he did not appear on television again until 1967--some 12 years after his appearance before the House Un-American Activities Committee--he was a favorite at outdoor festivals and on college campuses. Beginning in 1965 he launched a campaign to save the environment, especially the filthy Hudson River. With a cadre of friends Seeger organized a series of "sloop concerts," the proceeds from which he donated to a foundation. In 1968 the sloop Clearwater was built to carry the environmental message along the Hudson, and the river's conditions began to improve significantly.

Seeger still makes many personal appearances each year, most of them at intimate concerts in small theatres. Linn writes that the artist "is as capable as ever of getting a crowd to sing along." Seeger has said that the term "folk music" has lost its meaning through misuse--he prefers to think of his work as aurally-transmitted music, the kind learned "by ear." Seeger told the Philadelphia Inquirer that he relishes the participation possibilities that folk music offers the audience. "The modern world has a tendency to say, 'Just pay your money and let the experts do it for you.' Or, let the machines do it for you," he said. "My father used to tell me that one must not judge the musicality of a nation by the number of its virtuosos, but by the number of people in the general population who are playing for themselves."

Though well into his seventies, Seeger continued to win accolades during the 1990s. He was awarded the National Medal of the Arts and Kennedy Center Honors in 1994, won a Grammy Award for Best Traditional Folk Album for Pete, and was inducted into the Rock and Roll Hall of Fame in 1996. "[W]hen it came time for Pete to give his acceptance speech [at the Hall of Fame ceremony] ... he didn't say a word. He just refused. He understood that there was really nothing worth saying about an event like this," Woody Guthrie told Warren Berger about the event in Booklist. Seeger also published his autobiography, Where Have All the Flowers Gone: A Singer's Stories, Songs, Seeds, Robberies in 1993, as well as Pete Seeger's Storytelling Book, with Paul Du Bois Jacobs, 2000.

Called "America's tuning fork" and "the living embodiment of native folk tradition," Seeger has certainly left a mark on music in the twentieth century. The motto etched on his banjo--"This machine surrounds hate and forces it to surrender"--perhaps best sums up the essence of his musical message. "He's moved a little here and there," said Seeger's longtime manager Harold Leventhal about the folk music icon's philosophy in Billboard, "but the basic overall humanism remains, and he's always used his music as an exponent of that philosophy. He's also kept up with the times, which is why he still commands a tremendous audience...."

On October 21, 2011, at age 92, Pete Seeger was part of a solidarity march with Occupy Wall Street to Columbus Circle in New York City. The march began with Seeger and fellow musicians exiting Symphony Space (95th and Broadway), where they had performed as part of a benefit for Seeger's Clearwater organization. Thousands of people crowded Pete Seeger by the time they reached Columbus Circle. Pete Seeger performed with his grandson, Tao Rodriguez-Seeger, Arlo Guthrie, David Amram, and other celebrated musicians. The event, promoted under the name #OccupyTheCircle, was LiveStreamed, and dubbed by some as "The Pete Seeger March".

He contributed a spoken version of Forever Young to the 2012 album Chimes of Freedom: Songs of Bob Dylan Honoring 50 Years of Amnesty International.

The folk singer dies on January 27th, 2014 aged 94. He died at a New York hospital after a short illness, according to his grandson. Renowned for his protest songs, Seeger was blacklisted in the 1950s for his leftist stance.

Seeger is the only singer in the Rock and Roll Hall of Fame who was convicted of contempt of Congress. In 1955, he refused to testify about his past membership in the Communist Party. (He later said he quit the party in 1949 and "should have left much earlier. It was stupid of me not to...I thought Stalin was the brave secretary Stalin and had no idea how cruel a leader he was.")

In 1961, his conviction was overturned on appeal, but Seeger continued to be blacklisted by commercial TV networks until 1967. Even then, CBS censored parts of his anti-Vietnam War musical allegory, Waist Deep in the Big Muddy, when he sang it on the Smothers Brothers' Comedy Hour.

View the full website biography of Pete Seeger.