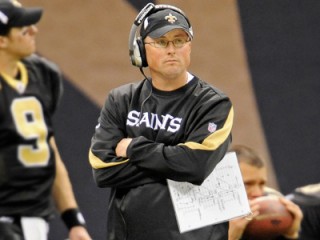 Pete Carmichael Jr.
Date of birth : 1971-10-06
Date of death : -
Birthplace : Framingham, MA
Nationality : American
Category : Sports
Last modified : 2010-10-18
Pete Carmichael Jr. is in his second season as the Saints' offensive coordinator after tutoring the club's quarterbacks the previous three years. Throughout this time he has been a key figure in the planning and preparations of an offensive attack that has been ranked first in the NFL in yardage in three of the last four seasons, while leading the league in scoring for the past two campaigns.

In his first season with his new title, The Saints continued to compile impressive numbers on offense. The Saints finished in the top five in seven offensive categories and eight single season and single game team records were set or tied. They scored a club-record and NFL-best 510 points, the ninth-highest total in league record books. At least 45 points were scored four times, a fifth time in the postseason, with four straight outputs of at least 30. They ranked first in the league with 6,461 net yards, the second-best total in club history. The Saints' 348 first downs was the second-best total both in 2009 league rankings and in team record books. The Saints also finished the season ranked sixth in the NFL in rushing yardage with 131.6 yards per game on a club-best 4.5 yards per carry, an improvement from 28th in 2008 and their highest ranking since 1987 when they were third with a 146.0 average.

The offense continued to flourish in the postseason, averaging 35.6 points per game and scoring eight-of-nine times inside the red zone. QB Drew Brees keyed the run, completing 70.6 percent of his passes and throwing eight touchdowns, tied for the fifth-highest postseason total in NFL history and a 117.0 passer rating. He was selected Most Valuable Player in Super Bowl XLIV, as he led the Saints back from a ten point deficit, completing 18 of his last 19 passes and engineering the fourth quarter game-winning drive, culminating in the go-ahead touchdown pass to Jeremy Shockey with under five minutes left.

In 2008, Carmichael's title was quarterbacks/passing game – with duties that included assisting in the pass routes, protection schemes and quarterback responsibilities. He tutored the signal callers his first three seasons with the club. In 2008, the offense went on to rank No. 1 in the NFL in passing, and Brees threw for 5,069 yards – the second-highest total in league history and tossed a club-record 34 touchdowns.

Carmichael has worked closely with Brees since both arrived in New Orleans in 2006, and since then the majority of the franchise's career, single-game and single-season passing records have fallen. Brees has led the NFL in passing yardage twice, set NFL records for completions (440-2007) and completion percentage (70.6-2009) and has thrown for a club record 122 touchdowns over the last four seasons.

Carmichael brings the perspective of having a wide range of coaching experiences, including working with nearly every position group on offense during his career. With the Chargers, he assisted wide receivers coach James Lofton for an offense that ranked 10th in the NFL in 2004 and 2005. Carmichael joined the Chargers in 2002 and served as offensive assistant/quality control until being promoted.

In 2001, Carmichael was quality control coach for the Washington Redskins, and in 2000, he was the tight ends and offensive assistant coach for the Cleveland Browns. From 1995-99, Carmichael was the quarterbacks coach at Louisiana Tech, and during his tenure the Bulldogs' QBs broke almost every passing record at the school. He began his coaching career as the assistant offensive line coach at the University of New Hampshire in 1994, with the Wildcats winning the Yankee Conference championship.

Born Oct. 6, 1971 in Framingham, Mass., Carmichael attended Medway (Mass.) HS where he played football and baseball. He went on to a collegiate playing career in baseball and was a four-year letterman at Boston College. As a senior, Carmichael was a team captain and Most Valuable Player. He graduated with a degree in mathematics in 1994.

Carmichael and his wife, Tina, have sons, Peter and John and a daughter Allison.

COACHING CAREER: New Hampshire, 1994; Louisiana Tech, 1995-99; Cleveland Browns, 2000; Washington Redskins, 2001; San Diego Chargers, 2002-05; New Orleans Saints, 2006-.
View the full website biography of Pete Carmichael Jr..