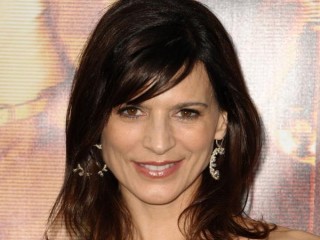 Perrey Reeves
Date of birth : 1970-11-30
Date of death : -
Birthplace : New York City,U.S.
Nationality : American
Category : Arts and Entertainment
Last modified : 2011-10-18
Born in New York City, Perrey Reeves was brought up in the New Hampshire countryside by parents who felt their kids would be better off without a television. Instead, they guided her toward books -- an education that no doubt contributed to her years spent in Europe and her later Ivy League education.

Among the earliest credits in Perrey Reeves' career were two appearances on the seminal Fox series 21 Jump Street. From there, she made guest spots on Doogie Howser, M.D., The X-Files and the racy Showtime series Red Shoe Diaries, to name just a few, before landing a role on the short-lived NBC drama The Lyon's Den in 2003.

On the big screen, her notable credits include Child's Play 3, the Will Ferrell comedy Old School (which also featured Jeremy Piven) and the underrated Paul Weitz flick American Dreamz.

As Mrs. Ari Gold on Entourage, Perrey Reeves may not be the only woman Ari Gold respects, but she is likely the only woman that he fears on some level. Since Entourage has been renewed for a sixth season, we hope to see a whole lot more of Perrey Reeves.

For the past two years, Perrey Reeves has been nominated, along with the rest of Entourage, for a SAG Award for Outstanding Performance by an Ensemble in a Comedy Series. She has also carved out a steady career as a working actress since 1989.
View the full website biography of Perrey Reeves.