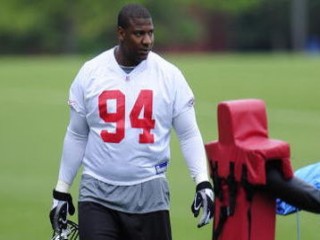 Peria Jerry
Date of birth : 1984-08-23
Date of death : -
Birthplace : Batesville, Mississippi
Nationality : American
Category : Sports
Last modified : 2010-10-30
Peria Jerry is an American football defensive tackle for the Atlanta Falcons in the National Football League

TRANSACTIONS
Selected as a first round (24th pick overall) draft choice by Atlanta in 2009.

CAREER

In 38 career games at Ole Miss, totaled 132 tackles, 11.5 sacks, 33 tackles for loss, three passes defensed, two forced fumbles, two fumbles recoveries and one interception. Named to the All-SEC team twice in his collegiate career (first team in 2008 and second team in 2007). Received the 2008 Most Dedicated Player Award from the Ole Miss Alumni Association.

2009 (FALCONS)
Competed in two games with one tackle before his rookie season was cut short due to a knee injury. Was placed on injured reserve on September 21.

2008 SEASON
Named first-team All-America by the Associated Press and ESPN and second-team by CollegeFootballNews.com and Rivals.com. A consensus first-team All-SEC selection. Earned a school-record four SEC weekly awards. Finished the season first in the SEC in TFLs (18.0), fifth in QB sacks (7.0) and tied for sixth in forced fumbles (two). Also tied for 11th in the nation in TFLs. Helped the Rebel defense rank No. 2 in the SEC and No. 4 in the nation in rush defense (85.5 ypg.) and tie for first in the NCAA in TFLs (8.62 pg.). One of three finalists for the Conerly Trophy, given to Mississippi's top collegiate player. Served as team captain. Named Midseason All-SEC second team by Phil Steele. Against Vanderbilt (9/20), recorded six tackles, 2.5 tackles for loss and forced a fumble, which was returned 13 yards for a touchdown. Tallied five total tackles, a career-high four tackles for loss and two sacks vs. Mississippi State (11/28).

2007 SEASON
Named second-team All-SEC by the Associated Press and Rivals.com. Started all 12 games at defensive tackle. Ranked sixth in the SEC in TFLs with 14.0. Finished second on the team in TFLs , sacks (3.5) and hurries (four) and eighth in total tackles (58). Established a career-high eight tackles (six solo) and three tackles for loss at Georgia (9/29). Was named Rebel Quarterback Club Defensive Player of the Week for the second straight week. Totaled seven tackles (six solo), one tackle for loss and his first career interception vs. Northwestern State (11/3).

2006 SEASON
Battled through injuries to appear in eight games, making six starts along the defensive line. Made starts at end, tackle and nose tackle. Totaled 22 tackles on the season with one TFL and one sack. Posted a season-high six tackles at Kentucky (10/16).

2005 SEASON
Appeared in six of the final seven games of the season and totaled three tackles.

PERSONAL

Competed at Hargrave Military Academy before joining the Ole Miss roster. Played in eight games at Hargrave in 2004 and was credited with 30 tackles and five sacks. Attended South Panola High School in Batesville, Mississippi and was selected as a first-team all-state and Class 5A Defensive Player of the Year by the Mississippi Association of Coaches. Made Mobile Register's Super Southeast 120 and was a member of Max Emfinger's Super South Top 200, which rated Jerry as the No. 6 inside linebacker in the region. Career statistics at South Panola included 255 tackles and 16 QB sacks. A three-year starter who capped off his senior season by leading South Panola with 104 tackles, which included seven tackles for loss and three QB sacks. Helped South Panola finish with a perfect 15-0 record in 2003, which was good enough to win the Class 5A state championship and earn a final No. 9 national ranking by USA Today. Full name is Peria Edward Jerry. Son of Anita Jerry. His brother, John, is an offensive lineman at Ole Miss and his cousins Eddie Strong and Toward Sanford both played at Ole Miss. Made the U.M.A.A. Honor Roll in Fall of 2006.
View the full website biography of Peria Jerry.