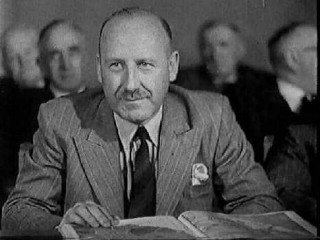 Patrick Abercrombie
Date of birth : 1879-06-06
Date of death : 1957-03-23
Birthplace : Ashton upon Mersey
Nationality : English
Category : Arhitecture and Engineering
Last modified : 2012-01-19
Leslie Patrick Abercrombie was an English town planner. Educated at Uppingham School, Rutland; brother of Lascelles Abercrombie, poet and literary critic.

Patrick trained as an architect before becoming the Professor of Civic Design at the Liverpool University School of Architecture in 1915, and later Professor of Town Planning at University College London. Afterwards, he made award-winning designs for Dublin city centre and gradually asserted his dominance as an architect of international renown, which came about through the replanning of Plymouth, Hull, Bath, Edinburgh and Bournemouth, among others.

Sir Patrick was closely involved in the founding of the Council for the Preservation of Rural England (CPRE). After its formation in December 1926, he served as its Honorary Secretary.

He is best known for the post-Second World War replanning of London. He created the County of London Plan (1943) and the Greater London Plan (1944) which are commonly referred to as the Abercrombie Plan. The latter document was an extended and more thorough product than the 1943 publication, and for Abercrombie it was an accumulation of nearly 50 years of experience and knowledge in the field of planning and architecture.

In 1945 he published A Plan for the City & County of Kingston upon Hull, with the assistance of Sir Edwin Lutyens. Lutyens had died the year before publication whilst much of the plan was being finalised, and the plan was ultimately rejected by the Councillors of Hull.

From the Abercrombie Plan plan came the New Towns movement which included the building of Harlow and Crawley and the largest 'out-county' estate, Harold Hill in north-east London. Patrick Abercrombie was knighted in 1945.

In 1949 he published with Richard Nickson a plan for the redevelopment of Warwick, which proposed demolition of almost all the town's Victorian housing stock and construction of a large inner ring road.

During the postwar years, Sir Patrick was commissioned by the British government to redesign Hong Kong. In 1956 he was commissioned by Haile Selassie to draw up plans for the capital of Ethiopia, Addis Ababa.

In 1948 he became the first president of the newly formed group the International Union of Architects, or the UIA (Union Internationale des Architectes). The group now annually awards the Sir Patrick Abercrombie Prize, for excellence in town planning.
He died in 1957.
View the full website biography of Patrick Abercrombie.