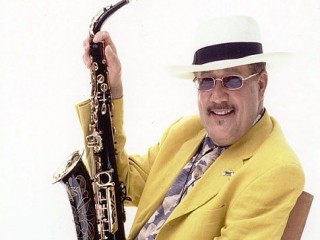 Paquito D'Rivera
Date of birth : 1948-06-04
Date of death : -
Birthplace : Havana, Cuba
Nationality : Cuban
Category : Arts and Entertainment
Last modified : 2011-11-08
Paquito D'Rivera is a Cuban alto saxophonist, clarinetist and soprano saxophonist.
According to Margo Nash in the New York Times, Ed Berger of the Institute of Jazz Studies at Rutgers University called Paquito D'Rivera "one of the most universally acclaimed jazz figures today." The gifted clarinetist and saxophone player is equally at home in the worlds of jazz and classical music, both as a player and a composer. A professional musician since the age of six, he defected from Cuba to the United States in 1981. He has performed and composed jazz and classical music for groups and orchestras all over the world and has recorded dozens of albums. By 2003, he had six Grammy Awards to his credit.

A child prodigy, he got a head start from his father, Tito D'Rivera, a well-regarded classical saxophonist and conductor. His father taught D'Rivera to play classical music and jazz with equal ease--the elder D'Rivera was comfortable in both genres, as his young son would later become.
When D'Rivera was five years old, his father taught him music theory and saxophone, and when he was six years old, D'Rivera played in his first concert, performng a piece written by his father. The following year, he became the youngest musician to endorse a product, Selmer saxophones. "Music," he later told Jerry Duckett in the Allentown, Pennsylvania, Morning Call, "was in my soul and in my heart. I never had the idea to do anything else."

D'Rivera was just ten years old when he played with the National Theater Orchestra of Havana in 1958. Initially trained to play the soprano saxophone, D'Rivera found that he liked the alto sax better, and he taught himself the new instrument with the help of a book. He received more formal training in 1960 at age 12, when he enrolled in the Havana Conservatory of Music to study clarinet as well as music composition.

Five years later, already a virtuoso on the clarinet and the saxophone, the 19-year-old D'Rivera played as a featured soloist with the Cuban National Symphony Orchestra in a concert that was broadcast throughout Cuba. He played with numerous ensembles throughout his teen years, including the Cuban Army Band, before going on to co-found the Orchestra Cubana de Musica Moderna with piano player Chu Chu Valdez. For two years he served as conductor for this group.

In 1973 D'Rivera took eight other Orchestra Cubana de Musica Moderna members with him, along with three additional musicians, to co-found a musical group called Irakere. This group combined jazz, rock, classical, and traditional Cuban music to create a sound that was all their own. The group became known outside of Cuba, playing at jazz festivals in the United States and Europe. It also made history by becoming the first Cuban group to sign with an American record label after Fidel Castro took control of Cuba in the late 1950s. In 1979 this group won a Grammy Award for Best Latin Recording for its self-titled first album. Also in 1979, D'Rivera's group played with American rock and jazz musicians in a music festival called Havana Jam, which was recorded and made into an album of the same name.

D'Rivera liked the taste he got of the opportunities available in the United States, and in 1981, while on a concert tour in Spain, he defected from Cuba, requesting political asylum with the U.S. Embassy. After his successful bid to settle permanently in the United States, D'Rivera began playing gigs with Dizzy Gillespie, David Amram, Mario Bauza, and other well-known American musicians. He also recorded his debut solo album in 1981, Paquito Blowin', which he followed the next year with Mariel. D'Rivera found an enthusiastic following among American audiences and critics, and after being featured in Time magazine, on PBS, and on CBS Sunday Morning, his success in his adopted country was assured.

Continuing his association with Dizzy Gillespie through the 1980s, D'Rivera became a founding member of the Gillespie-led United Nations Orchestra in 1988. This was a 15-piece band that was soon cutting its own albums. D'Rivera still found time in 1988 to pursue his solo career, including a gig as guest soloist with the National Symphony Orchestra. In addition to his solo work and his appearances with the United Nations Orchestra, D'Rivera played with numerous other groups, including two groups that fed his twin passions for jazz and classical music, the Paquito D'Rivera Big Band and a chamber music group called the Paquito D'Rivera Quintet. Other groups that D'Rivera played with included Triangulo, which played calypso and salsa music, and the Caribbean Jazz Project. D'Rivera also began to compose music for other groups, including the Gerald Danovich Saxophone Quartet and the Aspen Wind Quintet.

D'Rivera has continued to record and to perform live throughout the 1990s and into the 2000s, winning acclaim all over the world. He won his fifth and sixth Grammy Awards for his work in 2003, for the jazz album Brazilian Dreams and for the classical album Historia del Soldado. He is equally well regarded as a composer and as a performer, both in the jazz and classical arenas. Among his compositions is "Gran Danzon," a concerto commissioned by the Rotterdam Philharmonic, which premiered in 2002 at the Kennedy Center for the Performing Arts in Washington, D.C. Other notable compositions include "Panamericana Suite," commissioned by New York City's Jazz at Lincoln Center in 2000 and heard on National Public Radio, and "Rivers," which was premiered by the New Jersey Chamber Music Society.

D'Rivera has served as artist in residence at the New Jersey Performing Arts Center, and as artistic director for jazz programming for the New Jersey Chamber Music Society. Each year he directs Uruguay's Festival International de Jazz en el Tambo. He is the author of a book of memoirs called Mi Vida Saxual (My Sax Life), published in Spain in 2000.

In addition to his other activities, D'Rivera continues to enjoy a busy touring schedule, playing with several ensembles around the world, including the Paquito D'Rivera Big Band, the Paquito D'Rivera Quintet, and the Chamber Jazz Ensemble. He makes regular appearances as a guest soloist with orchestras around the world, including the London Philharmonic and the Costa Rican National Symphony.

D'Rivera lives in North Bergen, New Jersey, with his wife, singer Brenda Feliciano. His son Franco is also a composer, and the two have collaborated on compositions for the American Saxophone Quartet of New York. One of D'Rivera's stated goals for his career has been to make jazz an integral part of classical music. His awards and wide acclaim in the fields of both jazz and classical music attest to his success in this endeavor.

In 2005, D'Rivera wrote a letter criticizing musician Carlos Santana for his decision to wear a t-shirt with the image of Che Guevara on it to the 2005 Academy Awards, citing Guevara's role in the execution of counter-revolutionaries in Cuba, including his own cousin.
D'Rivera was a judge for the 5th and 8th annual Independent Music Awards to support independent artists.

Selected discography:
-Irakere CBS, 1978.
-Havana Jam CBS, 1979.
-Blowin' CBS, 1981.
-Mariel CBS, 1982.
-Live at the Keystone Korner CBS, 1983.
-Why Not! CBS, 1984.
-Explosion CBS, 1985.
-(Contributor) Le Quatuor de Saxophones (Gerald Danovitch Saxophone Quartet), CBC, 1987.
-Celebration CBS, 1988.
-Return to Ipanema Town Cryer, 1989.
-Tico, Tico Chesky, 1989.
-(Contributor) Autumn Leaves--Severi Comes (Severi Pyysalo), Selecta, 1989.
-(Contributor) Live at Royal Festival Hall (Dizzy Gillespie and the United Nations Orchestra), Mesa/Blue Moon, 1990.
-Who's Smoking?! Candid, 1990.
-(Contributor) Live at Birdland (Claudio Roditi), Candid, 1990.
-Reunion Messidor, 1991.
-Havana Cafe Chesky, 1992.
-(Contributor) La Habana-Rio Conexión Messidor, 1992.
-Paquito D'Rivera Presents 40 Years of Cuban Jam Sessions Messidor, 1993.
-A Night in Englewood Messidor, 1993.
-Achango's Dance (Caribbean Jazz Project), Heads Up International, 1995.
-Portraits of Cuba Chesky, 1996.
-(Contributor) Cuban Jazz RMM, 1996.
-(Contributor) Island Stories (Caribbean Jazz Project), Heads Up International, 1997.
-Paquito D'Rivera: Chamber Music from the South Mix House, 1997.
-Paquito D'Rivera and the United Nations Orchestra Live at MCG Blue Jackel, 1997.
-(Contributor) For Winds (Robert Baksa), Newport Classic, 1997.
-100 Years of Latin Love Songs Heads Up International, 1998.
-Tropicana Nights Chesky, 1999.
-Cubarama Termidor Musikverlag, 1999.
-Habanera Enja, 1999.
-Paquito D'Rivera Quintet Live at the Blue Note Half Note, 2000.
-(Contributor) Danzon (Turtle Island String Quartet), Koch International, 2001.
-(Contributor) The Commission Project (American Saxophone Quartet with Paquito D'Rivera), Sons of Sound, 2002.
-The Best of Paquito D'Rivera Legacy/Sony, 2002.
-The Clarinetist Universal, 2002.
-Brazilian Dreams Manchester Craftmen's Guild, 2002.
-Historia del Soldado Karonte, 2002.
-Big Band Time Timba, 2002.


View the full website biography of Paquito D'Rivera.