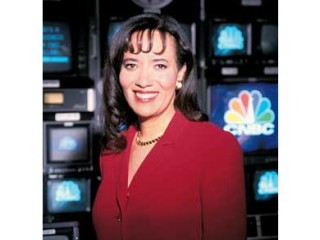 Pamela Thomas-Graham
Date of birth : 1963-06-24
Date of death : -
Birthplace : Detroit, Michigan, United States
Nationality : American
Category : Famous Figures
Last modified : 2011-09-22
Pamela Thomas-Graham is a Harvard-educated business executive and consultant who also pens popular murder mysteries set at Ivy League colleges. In the mid-1990s, she became the first African-American female partner at McKinsey & Co., a major strategic management consulting company. She later served as the head of CNBC.com and the cable network CNBC before being hired away by Liz Claiborne to be a group president for the company.
Born in 1963 in Detroit, Michigan, Thomas-Graham was the daughter of parents who were active in the civil rights movement and who passed on the values of the movement to their daughter and her older brother. Raised in Detroit in a middle-class household, Thomas-Graham's father worked in real estate while her mother was a social worker. Her parents pushed her to achieve all she could, especially in education, and Thomas-Graham wanted to be an attorney for much of her childhood.

Thomas-Graham attended Detroit's Lutheran High School West, where she enjoyed reading, drama, and singing in the choir. Though her high school guidance counselor tried to dissuade her, Thomas-Graham applied to Harvard, the first student from the school to submit an application to the Ivy League school. She was accepted and became the first Lutheran West student to attend Harvard. Thomas-Graham later told Toddi Gutner of BusinessWeek , "I learned from my parents to set very high standards. If you have to be the first, be the first, and take it as a challenge, not something to discourage you."
While a student at Harvard, Thomas-Graham's focus shifted to business. She grew to love the subject while taking an economics class. Thomas-Graham majored in economics, earning her B.A. magna cum laude and Phi Beta Kappa in 1985. She then applied and was accepted to a joint graduate program at Harvard which allowed her to earn her J.D. and M.B.A. in four years. During graduate school, she served as editor of the Harvard Law Review and held several summer positions at various business and law firms. Thomas-Graham worked for one summer each as an associate in the corporate finance division of Goldman Sachs in New York City, at the Boston law firm of Sullivan & Worchester, and at the management consulting firm of Bain & Co.
Thomas-Graham found her calling in 1989 when she spent her last summer in graduate school working at McKinsey & Co. McKinsey & Co. was the largest strategic management consulting privately held firm in the United States and also had consultants in at least 35 countries. She enjoyed working in this corporate position as it incorporated elements of the law that she appreciated as well. Tonia L. Shakespeare of Black Enterprise wrote, "[Thomas-Graham] felt the business challenges, the intellectually stimulating environment and the structure of McKinsey's corporate culture mirrored the law firm environment." Thomas-Graham remained with McKinsey & Co. as a consultant, advising businesses, after graduating from Harvard in 1989.
While moving her way up the corporate ladder at McKinsey & Co., Thomas-Graham married Lawrence Otis Graham in 1992. The couple met while attending graduate programs at Harvard; Graham was a student at Harvard Law. He worked as a nonfiction author of note as well as a lawyer. The couple eventually had three children, son Gordon and a set of twins.
Thomas-Graham achieved a first in the history of McKinsey & Co. when she was named partner in December of 1995. She was the first black woman to achieve this status in the company's history. By this time, Thomas-Graham also served as the head of the retail practice group in the New York office. She led teams which worked with a handful of clients at a time to develop business strategies, do market research, and guide companies on what kind of changes to make to improve their business.
By 1999, Thomas-Graham was regarded as one of the leading consultants in the United States. The director of the McKinsey & Co.'s New York office, Peter B. Walker, told Black Enterprise , "Pamela has a line manager mind-set, and really knows how to connect with clients and their needs. She is highly entrepreneurial and extraordinarily pragmatic. She focuses on getting the job done."
Around the same time Thomas-Graham made partner at McKinsey & Co., she decided to do something creative in her free time. Though she had no experience or passion for writing before, she began writing her first murder mystery, A Darker Shade of Crimson in 1995. The novel was published in 1998. Set at Harvard, A Darker Shade of Crimson centers around an African-American economics professor named Nikki Chase, who becomes involved in a murder when she finds the murdered body of the Dean of Students, Rosezella Fisher, and investigates who killed her.
While Chase had many similarities to the author, including a Detroit-based background, Thomas-Graham admitted to using the Chase character to explore race-related issues. The author told Charles Strum of the New York Times , "The mystery needs to succeed or fail as entertainment. But I did want to make certain points about being a successful black woman." Critics were less kind. Rosemary Herbert of the Boston Herald called the novel "a hackneyed romantic saga posing as a murder mystery." Despite such harsh reviews, A Darker Shade of Crimson became a best seller.
In 1999, Thomas-Graham published her second murder mystery, Blue Blood . This novel was set at Yale, but again featured Nikki Chase as the sleuth. In this book, a young female professor is stabbed to death and a Yale dean is the prime suspect. Chase comes to Yale from Harvard to investigate the murder. Like A Darker Shade of Crimson, Blue Blood was not critically acclaimed. Robin W. Winks of Boston Globe found the book fun, but noted, "The plot is remarkably silly, the writing flat, and though Thomas-Graham has clearly done some eyeball research on the Yale campus, she gets a good bit wrong…."
While Thomas-Graham was launching a secondary career as an author, her primary career was undergoing some changes. By 1999, Thomas-Graham wanted to take on new challenges and to run her own organization. That year, she was hired by NBC as an executive vice president as well as the president and chief executive officer of CNBC.com. This move made her the highest-ranking female executive in charge of an NBC division. She was the head of all of CNBC's Internet-related activities.
Thomas-Graham was charged with turning the CNBC website in particular into more than a means of promoting the cable business network. The corporation wanted to make CNBC.com a vital source of financial information and a place offering related services. Within two years, the website was winning awards and attracting more than four times the number of visitors than before Graham took over.
Early in 2001, Thomas-Graham was promoted to president and chief operating officer of CNBC, though she remained in charge of the CNBC website as well. Within a few months, CNBC decided to partner with MSN Money, which was run by Microsoft, for its website and she was released from those duties. Later in 2001, Thomas-Graham was promoted again to president and chief executive officer of the CNBC cable network. In this position, she was in charge of the day-to-day operations of the cable business news network in the United States. She controlled programming and was charged with increasing ad sales and ratings. She was also responsible for branding CNBC on television and the Internet. Thomas-Graham worked to ensure that the network stayed ahead of the curve and kept on top of the latest information so that it could sell ads and programs in a weak economy. As president and CEO of CNBC, Thomas-Graham was the most powerful African American and one of the most powerful women in cable news in the United States.
Thomas-Graham found some immediate accolades for her work in 2001. She did her best to pump in new ideas, remain open to input from her employees, and help CNBC grow. Her success in this position led Black Enterprise magazine to name her its executive of the year in 2001. One CNBC anchor, Sue Herera, told Black Enterprise magazine, "She really understands the competitive nature of this business and what we have to do to get this done. She gets it."
Shortly after taking over the helm of CNBC, however, Thomas-Graham faced challenges. Cable business and finance channels like CNBC lost a significant part of their audiences in the wake of the September 11, 2001, terrorist attacks and the dot com bubble bursting. Thomas-Graham tried to adjust programming to reflect this reality, changing CNBC from a channel which focused on the stock market to one that highlighted business, more global programming, and more current events analysis. Thomas-Graham continued to repeatedly shake up the network's programming between 2002 and 2004. In 2004, for example, she added new talk shows during prime time hosted by such celebrities as John McEnroe and Dennis Miller, but these shows failed to increase CNBC's audience or ad sales. These two areas continued to freefall in the early 2000s.
While trying to revive CNBC, Thomas-Graham continued to write and publish mystery novels. In 2004, she published her third Nikki Chase title, Orange Crushed . This novel was set at Princeton where Chase investigated the murder of an academic there. Rising in the early morning hours to write on a regular basis, Thomas-Graham planned on writing additional novels in the series.
Within a few months of the publication of Orange Crushed , Thomas-Graham's position at CNBC changed. In February of 2005, she was named chairman of CNBC, but lost the title of president to Marc Hoffman, who began running the network on a daily basis. Thomas-Graham left CNBC in September of 2005 to take on a new business venture far from corporate business cable news.
That fall, Thomas-Graham was named a group president for Liz Claiborne, Inc. She was in charge of Liz Claiborne, which focused on women's and men's fashion, as well as several other companies under the Liz Claiborne umbrella including Sigrid Olsen, J.H. Collectibles, Emma James, Intuitions, and Tapemeasure. This company was facing declining sales in the United States when Thomas-Graham was hired to help turn things around. Liz Claiborne's executive vice president Trudy Sullivan told Diane Brady of BusinessWeek , "We're excited to have someone with fresh eyes."
Thomas-Graham was always ready for new challenges in life. She told Suzanne C. Ryan of the Boston Globe , "I truly believe that if you're going to do something, you should try to do the best that you can. My parents worked hard and set high standards. That's a core part of who I am."

Selected writings:
Novels:
A Darker Shade of Crimson, Simon & Schuster, 1998.
Blue Blood, Simon & Schuster, 1999.
Orange Crushed, Simon & Schuster, 2004.

Awards:
- Captain Jonathan Fay Prize, Harvard, c. 1985;
- Corporate Executive of the Year, Black Enterprise magazine, 2001.
View the full website biography of Pamela Thomas-Graham.