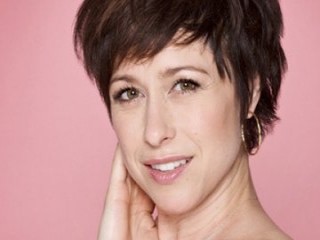 Paige Davis
Date of birth : 1969-10-15
Date of death : -
Birthplace : Philadelphia, Pennsylvania, United States
Nationality : American
Category : Arts and Entertainment
Last modified : 2011-10-05
Mindy Paige Davis, billed as Paige Davis, is an American actress best known as a host of the reality television series Trading Spaces.
Former Broadway actress Paige hosts the cult-favorite home-decorating reality-TV show Trading Spaces on cable staple The Learning Channel (TLC). The show invites pairs of neighbors to re-decorate one room in each other's house, and Davis is on hand to walk them through the "reveal," or moment of truth at the end of the show when they return home to a sometimes spectacular, sometimes stomach-turning new room. The show has attracted a devoted fan base, with season DVDs available and even a behind-the-scenes tell-all from its perky host published in 2003. Prior to joining the show, the onetime Beauty and the Beast dancer and singer Paige Davis had little experience with tools or paint. "Home improvement was not my specialty at all," the Manhattanite confessed in an interview with Thomas Nord of the Courier-Journal . "Now I hear myself saying things like, 'No! That needs to dry first.'"

Born in 1969, Davis grew up in several different locales. She was born in Philadelphia, Pennsylvania, spent some elementary-school years in Sun Prairie, Wisconsin, and finished high school at the Youth Performing Arts School of Louisville, Kentucky. A dedicated gymnast, Davis found a new calling at the age of 13 when she discovered her mother's West Side Story cast recording. "I would play Anita, Maria, Tony-the whole bit. I would do the whole show," Davis said of the ill-fated romantic characters in the Courier-Journal interview with Nord. "That's how it started."

Davis was a performing-arts major at the Southern Methodist University in Dallas, Texas. When she graduated, she moved to Los Angeles, California, and began winning television commercial and video work. Once, she landed a job as a back-up dancer for a Beach Boys tour, but her first real break came when she was cast in the role of Babette the Feather-duster in the national touring company of Beauty and the Beast, the Disney musical that premiered on Broadway in the early 1990s. Davis also served as an understudy to Chita Rivera and Marilu Henner in a tour of the hit musical Chicago.

The Trading Spaces job came to Davis almost by accident-a friend of hers who enjoyed the show during its first season learned that the host had quit, and suggested that Davis try to get an audition. Her effusive personality won over the show's producers, though she had little on-camera experience to date. Based on a hit British television show called Changing Rooms, Trading Spaces debuted on TLC in September of 2000. Its premise involves a pair of neighbors who exchange house keys for two days and buckle down to a major room re-do with the help of a design professional. Each are given a $1,000 budget to work with, and a carpenter is on hand to help out as well, but the guest homeowners do much of the grunt work.

With her cheery enthusiasm, Davis seemed a natural for the job, and the show climbed steadily in the ratings after she joined in 2001. She was stunned by this turn of events, as she told the Sarasota Herald Tribune 's Charlie Huisking. "When I auditioned, I had no idea what it would become," Davis said. "I figured it would be a chance to spread my wings and cut my chops on TV, hidden away on cable on a show no one would see. Boy, was I wrong." Soon, Trading Spaces 's Saturday-night new-episode slot began landing No. 1 regular-cable ratings numbers, luring an average of 6.4 million viewers, and TLC executives increased the episodes per season from 45 to 60.

Essentially, Davis's job is to introduce the couples and their room challenges to viewers, and then show the renovation project in its speeded-up stages, but she is also the soother when the situation warrants it. Despite the potential for tears, there seemed to be no shortage of Americans who were willing to spend a weekend with Davis and the Trading Spaces team for a free room re-do. When the show's crew arrives in a neighborhood, people often sit outside on lawn chairs. The crux of the show comes at the end, when Davis takes the homeowners through to see what their neighbors did to their house. "A traditional how-to show says your home is an expression of your personality," Time critic James Poniewozik asserted in trying to define the show's appeal. " Trading Spaces says your home is an expression of your personality-and not everybody likes you."

Sometimes those rooms are changed back the same day, Davis divulged in her book, Paige by Paige: A Year of Trading Spaces. Published as the fourth season's taping schedule was underway in mid-2003, the tome contains an insider's view of the show, based on a diary she kept for several months. In it, she also recounts some episodes that became legendary among the show's cast, crew, and viewers. One participant could be heard sobbing off-camera when she saw that her beloved fireplace mantle had been hidden, and Davis admitted that was part of the show's allure for viewers. "It does make good television," she told the Courier-Journal 's Nord. "I have friends who tell me they love it when that happens. I hate it. It's terribly awkward and sad."

Trading Spaces has spun off into special celebrity-week shows and even a "sequel," Trading Spaces: Family, which features the brutally frank opinions of teenagers on aesthetic matters. Davis also has a minor celebrity following herself, and has appeared on The Tonight Show and Hollywood Squares. Davis's most memorable small-screen performance, however, was on another TLC staple, A Wedding Story, which aired in December of 2001. She wed fellow stage actor Patrick Page, whom she met while on the Beauty and the Beast tour. Forced to keep her maiden name, lest she become "Paige Page," Davis and her husband share a Manhattan apartment whose decorating scheme is mundane, she claims. "It's very Pottery Barn," she told Boston Herald 's Stephanie Schorow. "I want Ligne Roset [a contemporary-furnishings company]."
View the full website biography of Paige Davis.