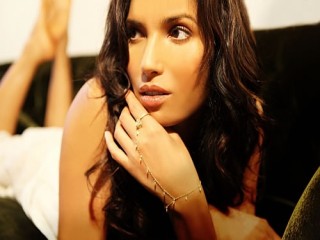 Padma Lakshmi
Date of birth : 1970-09-01
Date of death : -
Birthplace : Chennai,India
Nationality : Indian
Category : Arts and Entertainment
Last modified : 2011-10-17
Padma Parvati Lakshmi also Padma, Lady Rushdie is a cookbook author, actress, and model in U.S.A.

Lakshmi's career began at age 16, when she was discovered by a modeling agent in India while sitting in a café. As she has stated, "I was the first Indian model to have a career in Paris, Milan and New York. I'm the first one to admit that I was a novelty." She became more popular with her nude poses.

She has modeled for top designers such as Emanuel Ungaro, Ralph Lauren, and Alberta Ferretti and appeared in ad campaigns for Roberto Cavalli and Versus. She was a favorite model of the photographer Helmut Newton, whose photographs of her often highlighted the large scar on her right arm.

She has appeared on the cover of RedBook, Vogue India,FHM, Cosmopolitan, L'Officiel India, Asian Woman, Avenue, Industry Magazine, Marie Claire (India Edition), Harper's Bazaar, Town & Country, and Newsweek. Lakshmi also posed nude for the May 2009 issue of Allure magazine.

Her first cookbook Easy Exotic was awarded Best First Book at the 1999 World Cookbook Awards at Versailles. She was host of the Food Network series, Padma's Passport, which was part of the larger series Melting Pot, in 2001. She also hosted two one-hour specials on India and Spain for the British culinary tourism show Planet Food, which have been broadcast on the Food Network in the US and internationally on the Discovery Channels. Her second cookbook, Tangy, Tart, Hot and Sweet, was released October 2, 2007.

Lakshmi had a comical supporting role as the lip synching disco singer Sylk in the 2001 American movie Glitter with Mariah Carey. She starred with Amitabh Bachchan and Jackie Shroff in the 2003 Hindi action film Boom as Shiela Bardez, one of a trio of super models accused of stealing diamonds.
Lakshmi was last seen on screen with Aishwarya Rai and Dylan McDermott, as Geeta in Paul Mayeda Berges' 2005 film The Mistress of Spices. She will be starring in Deepa Mehta's upcoming film, Komagata Maru which was earlier titled Exclusion.

Lakshmi made a 2002 guest appearance as alien princess Kaitaama in "Precious Cargo", the 37th episode of the science fiction TV series Star Trek: Enterprise.
She was also hostess of Domenica In, Italy's top-rated television show. She portrayed Sean Bean's nemesis in the 2004-2005 iTV TV series Sharpe's Challenge. In 2006, Lakshmi appeared in ABC's TV series The Ten Commandments with Dougray Scott, Naveen Andrews, and Omar Sharif. She took over as host of the popular TV cooking competition series Top Chef in 2006 during its second season and has continued every season since then.

Since her Tamil pronunciation is spot on, in an interview she was asked whether she will do any Tamil films in future. Lakshmi said such an offer would be cool and she also said that she would love to meet Kamal Haasan.

Combining her culinary and fashion style tastes, Lakshmi launched her first line of jewellery in 2009. Titled "Padma", the first collection consisted of forty pieces.

She has been the host of the US reality television program Top Chef since season two in 2006, for which she received a nomination for the Primetime Emmy Award for Outstanding Host for a Reality or Reality-Competition Program. In 2010, Top Chef won the Emmy Award for Outstanding Reality-Competition Program.

On April 17, 2004, in New York City, Lakshmi married the novelist Salman Rushdie, to whom she was introduced at a party in 1999 hosted by the journalist and editor Tina Brown. On July 2, 2007, the couple filed for divorce.

On October 1, 2009, after years of struggling with a gynaecological medical illness known as endometriosis, a condition that causes pelvic pain and has been associated with infertility, Lakshmi confirmed that she was pregnant.
Lakshmi also co-founded The Endometriosis Foundation of America, which is a nonprofit organization focused on increasing awareness, education, research, and legislative advocacy against the disease. On February 20, 2010, Lakshmi gave birth to a baby girl named Krishna Thea Lakshmi. Although the father's identity was not initially given, it was later revealed to be Adam Dell. In January 2011, Dell sued Lakshmi for full custody of their daughter.
View the full website biography of Padma Lakshmi.